Ghastly's alter-ego Ghengar is leveling up with a coast-to-coast tour promising dominating deathcore and heavy bass.
---
Los Angeles-based producer Ghastly has been substantially subjective and self-scrutinizing throughout his career while becoming a massive player in the bass scene. With releases like The Mystifying Oracle and Haunted Haus spanning several subgenres, it's no surprise that Ghastly's creative prowess has been hard to contain at times. A progressive and continued path in evolution is found in his alias Ghengar, who offered up a twist on the standard sets and was featured at the likes of Bass Canyon, Imagine, and Goldrush Music Festival throughout 2022.
Ghengar's first EP, Necromancer, hits hard with an instant focus on death and destruction via the title track. Not to be forgotten, "Count Dankula" opens with a familiar (to some) bubbling sound and calls of the wild. "Poison" serves grungy movement and an insanely spinning build before the first drop, which could serve as a textbook example of what bass heads crave.
"Exile" provides metallic tri-chords and beats listeners into the slaughterhouse of driving rhythmic traps set carefully by Ghengar. Any sterility or calm toward the beginning of "Brain Washer" is drowned out with a psychotic melding of bass and vocals and screaming wrath supersedes all else in "Disrespect," which closes the EP with sheer power.
Fans caught shadows of Ghengar's darker, sucker-punching style at Thunderdome last weekend in Seattle, with the remainder of the tour's dates due to start in March. The Final Boss Tour picks back up in Washington DC and he will be wrecking a slew of cities like Chicago, New York, Dallas, Tampa, Atlanta, and Los Angeles with support from Emorfik, Jkyl & Hyde, and MUERTE along the way.
Listen to the Necromancer EP on Spotify, and make sure to grab tickets to the Final Boss Tour so you can catch Ghengar live.
---
Ghastly Presents Ghengar, Final Boss Tour 2023 – Dates & Venues: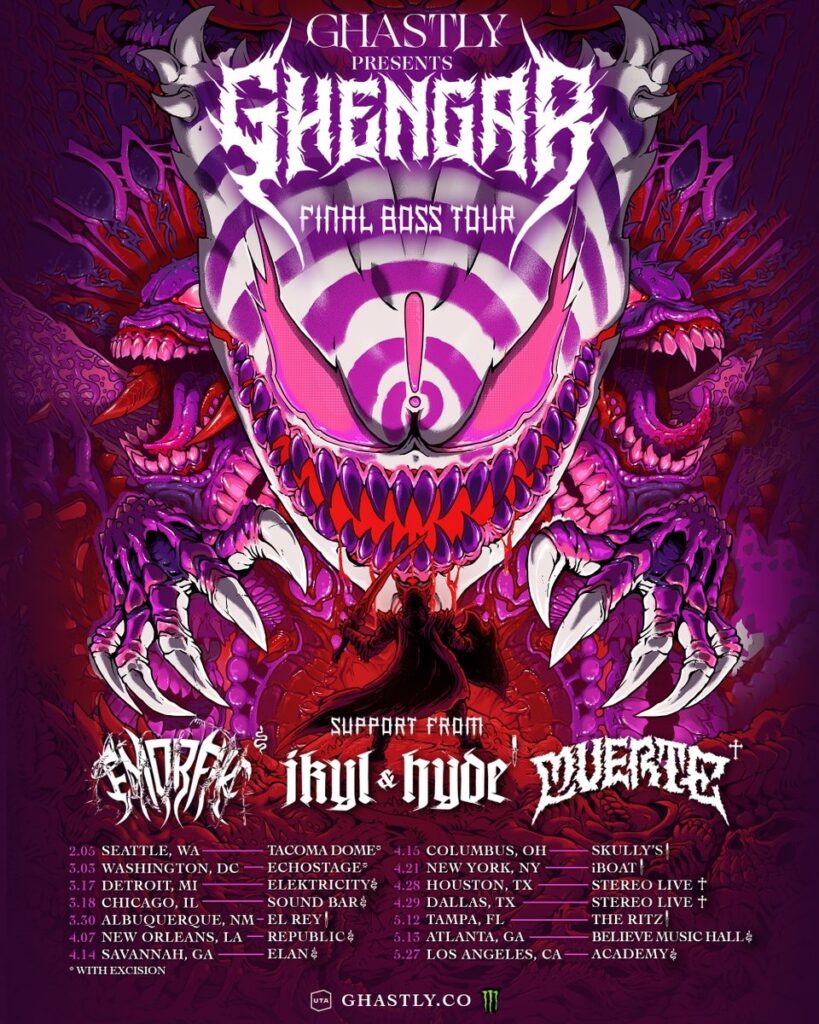 ---
Follow Ghengar: