Ghastly invaded Academy LA with the epic sounds of bass house and a surprise appearance from his alter ego, GHENGAR!
---
These days, Ghastly is busy making big moves. The momentum around him is at an all-time high following the release of his sophomore album, Haunted Haus, back in April. The album is packed with 15 wicked tracks that'll make you dance like no other and include collaborations with other talented artists. After the release of his album, Ghastly kicked off his headlining North America tour and recruited a stacked lineup of support.
The Haunted Haus tour is making 17 stops along the way, and so far, Ghastly has made stops in Oregon, Texas, Wisconsin, Minnesota, and California. Although the Arizona native isn't a stranger to touring, it's awe-inspiring how artists like Ghastly endure and give their all with a demanding tour schedule. Luckily for me, I had the pleasure of checking out our favorite ghoul during his Los Angeles stop at Academy LA. 
The night kicked off with electrifying ALLIESUN, the rising starlet coming to claim her throne.
From start to finish, ALLIESUN put on a stellar set and got the crowd ready for Hekler. The moment Hekler stepped behind the deck was when the earplugs went in my ears. Hekler is known for high-energy sets with explicit bass bound to blow the speakers out. Besides, the relentless bass and heavy bits included flawless, euphoric melodic transitions.
Hekler knows how to pace out his sets, and his sets are always a treat. He brought out Gravedgr as a special guest, and their friendship and endless support for each other brought the biggest smile to my face. Overall, Hekler was a gem, and people need to quit sleeping on him because he's something special.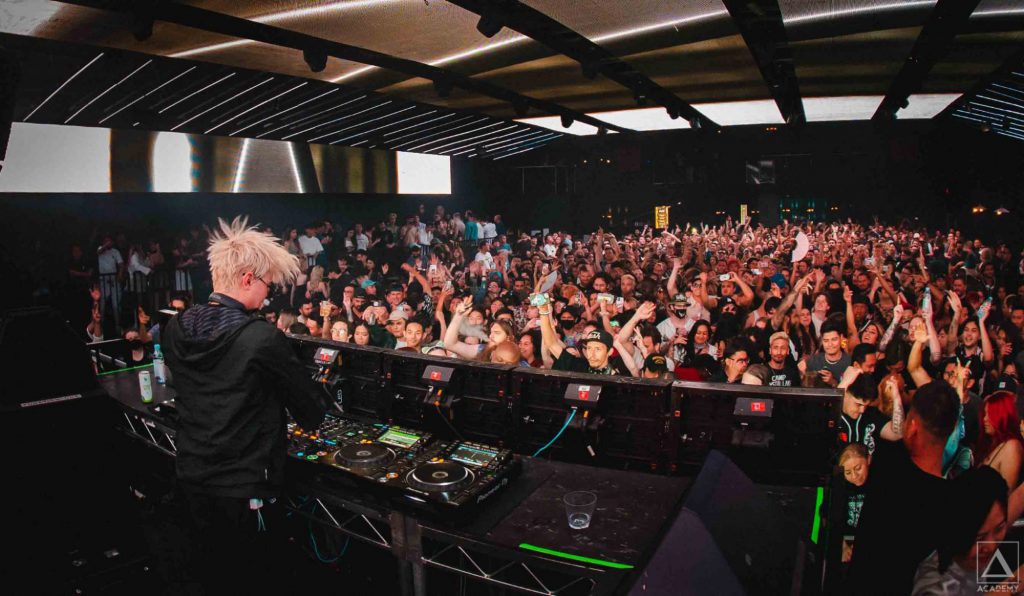 The sold-out crowd erupted when the man of the hour, Ghastly, entered the chat.
Instantly, you can tell the bass house extraordinaire loves to produce and play in front of a crowd. He dropped endless bangers like "In My Zone," "Dance" with Lil' Jon, "Fangs" with ALRT, and his remix of Zomboy's "Lights Out" and "Warning" by SLANDER and Nghtmre. He even surprised us with a special appearance by the beloved JOYRYDE, and Ghastly made my entire evening when he dropped JOYRYDE's "BROOKLYN."
Academy LA was packed and lively throughout his set. All tables were occupied, and bottle service was pretty busy. In addition, Insomniac seemingly cracked the code on crowd management and organization, so it's way easier to move around the venue. And another great thing about this venue is the patio, the perfect place to escape the crowd and catch a breather from sensory overload. I found myself back there a few times when I needed a moment.
The real magic occurred when he transitioned into his alter ego, GHENGAR.
Ghastly introduced GHENGAR to the world back in March as a way to pay homage to his screamo, death metal roots. Ghastly used to be the frontman for The Irish Front, and this side project empowered Ghastly to morphe the worlds of bass and metal together. Artists like Kayzo, Rezz, Sullivan King, and Excision are riding a similar wave, so it's nice to see Ghastly joining the crew.
Once Ghastly put on the mask, GHENGAR was officially in the driver seat. He dropped relentless bass music during this bit that made the crowd mosh and headbang. He mixed in tunes from Linkin Park and A Day To Remember, which opened up the door to nostalgia, and I was here for the endless growls and screams. It was a great way to close this impressive show at Academy LA.
Tickets for the Haunted Haus Tour are still available, so secure yours via Ghastly's website. Our favorite ghoul will make his way over to San Diego, Boston, Tampa, Houston, Atlanta, and more until June. Until next time, Ghastly.
---
Follow Ghastly on Social Media:
Facebook | Twitter | Instagram | SoundCloud