unKnown pHestival is bringing ENiGMA Dubz, Slynk, Dillard, Hyroglifics, Josh Teed, and more to central Tennessee this spring.
---
unKnown pHestival will return for its second year at Further Farms in Nashville on April 28-29, with camping, activities, and a massive lineup. The goal of this festival is to showcase some of the best names in underground music, and they're doing it in style with designer sound courtesy of Funktion-One and HSD sound systems. From bass music to funk to hip-hop beats, this festival covers it all on its 2023 lineup and this is only the first phase of artists to be announced.
Sitting on top of the lineup for this year's headlining spots are ENiGMA Dubz, Slynk, Hyroglifics, The Gradient Perspective Live Band, and the special guest appearance will be none other than Mac Miller's DJ, Clockwork DJ. The bill continues with a slew of underground talents who are making waves in the scene as of late, including Dillard, Kirby Bright, Josh Teed, Murkury, Lavier, and Xenotype.
Fans from Tennessee and surrounding areas will also recognize some of their local favorites on the lineup, with names like Strained Rootz, Cubex, Thug Hippie, Strangewav, and Worm. Additionally, the Nashville-based cleanup experts over at Manifest Green will be in charge of the waste management so you can expect that Further Farms will be kept spotless all weekend, and attendees can learn more about staying green at festivals at their booth.
This lineup announcement is only phase one, so be sure to keep an eye on the festival's official social channels to stay in the loop on festival updates and more artists to be revealed in the coming weeks. Tickets, camping, and pre-party/after-party add-ons for unKnown pHestival are on sale now via The Ticketing Co, so be sure to grab yours if you plan on joining in on this unique lineup this spring.
---
unKnown pHestival 2023 – Phase 1 Lineup: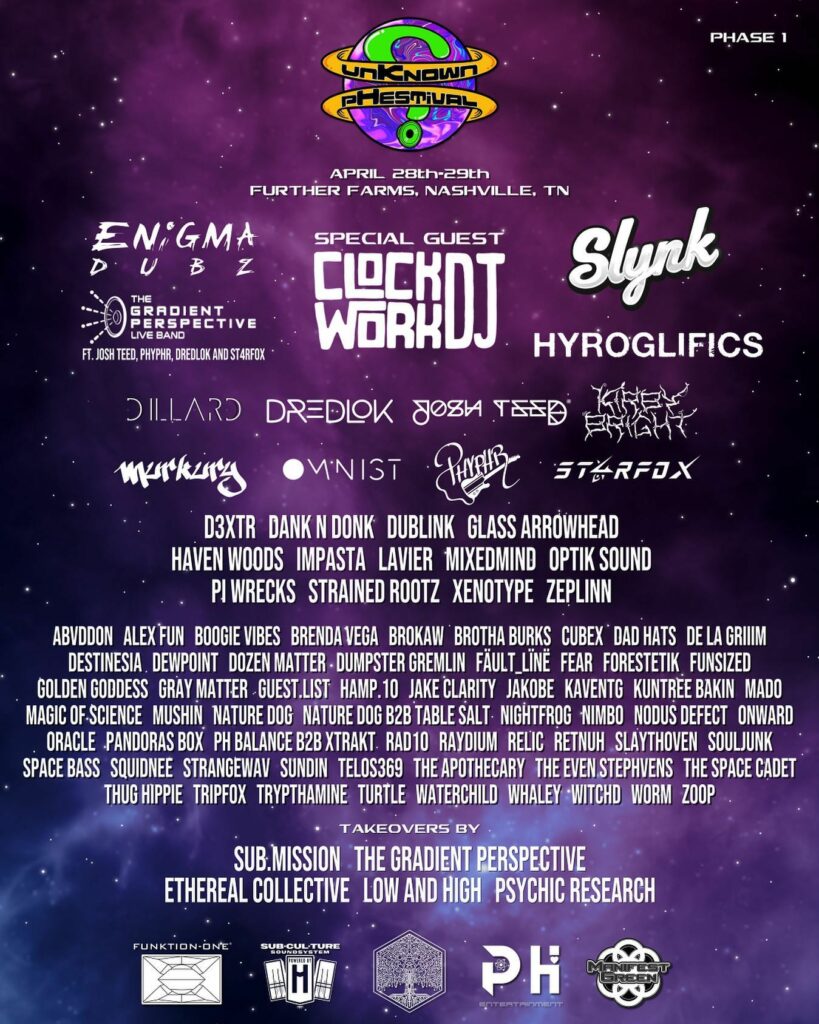 ---
Follow unKnown pHestival: