Gabriel & Dresden, Adventure Club, Madeon, Dion Timmer, ilan Bluestone, and more are slated to play the upcoming edition of Get Lucky!
---
V2 Presents has dominated the dance music scene in Utah with their annual events and club nights – and this year is already shaping up to be another massive run for them. Late last year, they revealed that their spring extravaganza, Get Lucky, would make its return to The Great Saltair with GRiZ and Gryffin set to headline the festivities. Now, as the warmer season begins to arrive closer on the horizon by the day, the full lineup of artists has officially landed.
Related: Want to get a feel for what Get Lucky is like? Check out our review of the 2022 edition to learn more about the experience!
Set to join those two show-stopping artists on March 10-11 are a hearty helping of those in the realms of trance and bass that will make this event a unique sonic experience. On the bass side of the spectrum are Adventure Club, Dion Timmer, HEYZ, Kompany, Nurko, Pauline Herr, Ekali, and a b2b set featuring Au5 and Chime. The list of trance artists set to perform is just as jam-packed, with Gabriel & Dresden set to play a Club Quarantine Classic Trance Set and ilan Bluestone bringing his Stoneblue alias along with him, while others like Tritonal, HALIENE, and Dimibo will leave everyone impressed.
The list doesn't stop there as other dynamic artists are set to play, including Madeon, TELYKAST, Luci (fka Lucii), and Bonnie X Clyde. And V2 Presents is bringing some local heat along with them for this year's edition of Get Lucky as Dekai, DJ Rondo, Felix Ace, and The Fractured Minds round out the lineup.
GA and VIP passes for the upcoming edition of Get Lucky are available now but are sure to move quickly now that the full lineup is out. Head to their official website for more details and to make your purchase, and let us know if you plan to attend this festival on Twitter!
---
Get Lucky 2023 – Full Lineup: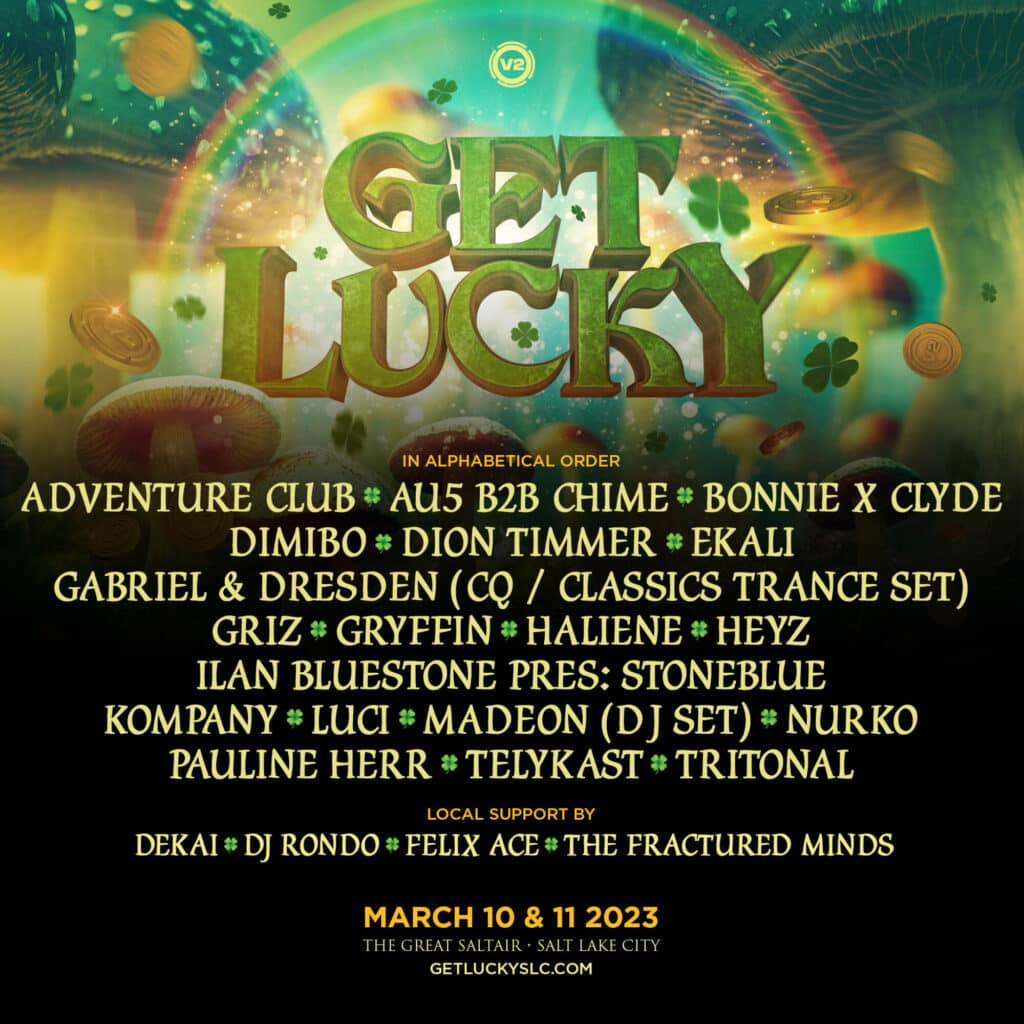 ---
Follow Get Lucky: