Lane 8's only headlining shows in North America this year will be at the This Never Happened Summer Gatherings in Denver, New York, and San Francisco.
---
In 2017 and 2019, Lane 8 crafted something special for the faithful followers of This Never Happened, a series of Summer Gatherings. These events took place in outdoor locations and featured the head honcho himself taking the stage to sweep attendees off their feet and whisk them away to a melodic state of mind. It's safe to say that the world is different now than it was during those previous editions, but the time is finally right for This Never Happened Summer Gatherings to return.
This year, the first This Never Happened Summer Gathering will occur on June 3 at Forest Hills Stadium in New York before Lane 8 and the TNH crew heads to the opposite coast for an edition at The Great Northern in San Francisco on June 17. Then, as the season closes, the third and final Summer Gathering will take place on September 9 at Civic Center Park in Denver.
These performances will be the only chance for fans to see Lane 8 headline a show in North America this year. Each edition will feature a closing two-hour set from him that will feature new music. Additionally, because This Never Happened has grown to an even more immense size since the last edition in 2019, he revealed that at least four artists from the TNH Family will also be joining him at each edition.
I have so many great memories of the experiences we shared at the summer gatherings in 2017 and 2019. The beautiful outdoor locations, the sense of freedom and connection that we all tapped into – they felt like the perfect companion events to our typical indoor TNH shows. We were supposed to do more summer gatherings in 2021, but we all know how that went. So it feels doubly exciting for me that we can make these shows happen this year.

Lane 8
Don't forget that This Never Happened shows are meant to be a phone and photo-free space. Those attending will either have a sticker placed over their phone's camera or the entire device placed in a Yondr pouch to help make the atmosphere one that's centered on the music and in-person connections made on the dancefloor.
Tickets for all three This Never Happened Summer Gatherings go on sale Friday, February 3 at 10am local time. Head over to their official website to register for access, and let us know if you plan to attend on Twitter!
---
This Never Happened Summer Gatherings 2023: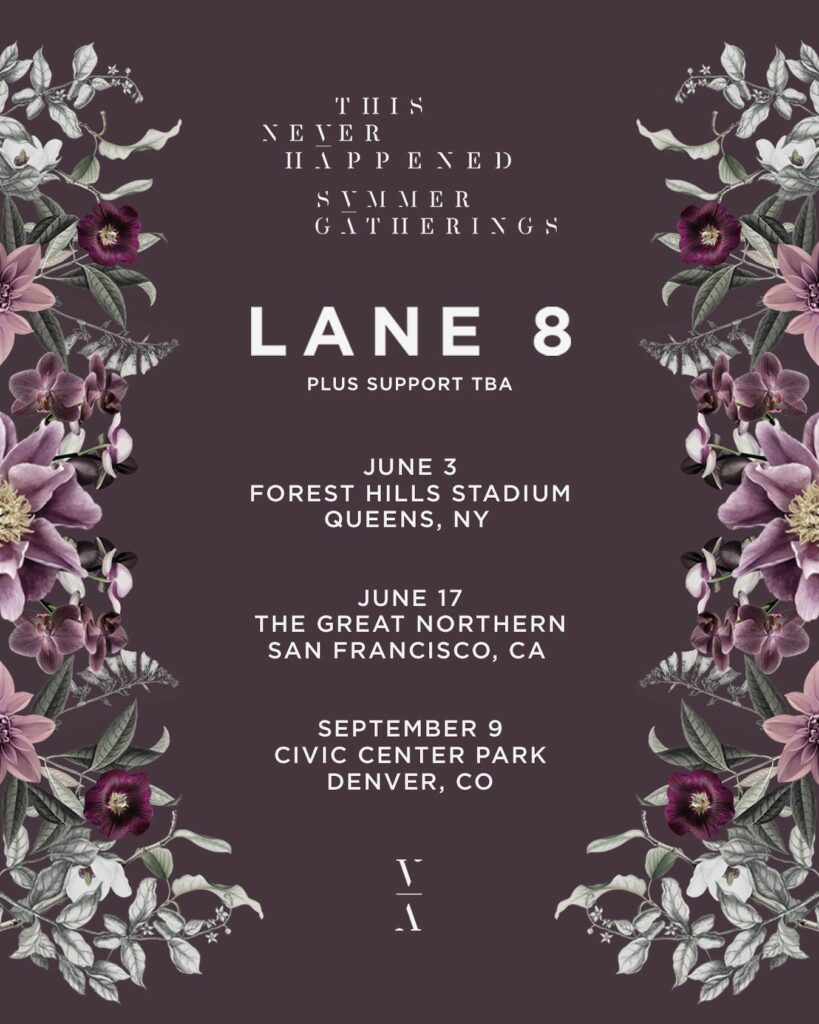 ---
Follow Lane 8 / This Never Happened:
Website | Facebook | Twitter | Instagram | SoundCloud | Bandcamp