Pat Lok, Venessa Michaels, KAYA, and more are set to play in Los Angeles at the second edition of the immersive music experience RETROSPEKT.
---
It's a new era for the dance music scene, and companies like Ideaison are looking to shake things up in 2023. Last year saw them transition their virtual concept that was launched during the pandemic and featured women, POC, and LGBTQIA+ artists, RETROSPEKT, into an immersive in-person experience. Now, Ideaison has teamed up with Wicked Paradise for the second edition of the event.
Set to take place at Ground Level Studios in Downtown Los Angeles on February 25, the upcoming edition of RETROSPEKT will press on with its mission of inclusivity while providing a unique experience for attendees to explore. The event will feature a stage designed by multimedia artist Christy Hayek, while Dahlia's Entertainment is set to provide even more immersion with performances. And if you're thinking about getting a fresh tattoo, trans artist Bobby Coyote and lesbian artist Spirit Filled Ink will be on hand to give you your fix.
Beyond the experiences, there will be plenty of surreal sounds gracing RETROSPEKT's speakers all night long. Artists slated to perform include Pat Lok, KAYA, and Venessa Michaels, who are all sure to get the crowd grooving to their beats, along with rapper AUNDREY GUILLAUME and multi-talented R&B artist V. Cartier. Rounding out the lineup is Maddy Maia, the co-head of !K7 imprint SOS Music, which is focused on highlighting females in the scene.
If you're on the hunt for a dynamic show in Los Angeles on February 25 and dance deep into the night, there's no doubt that RETROSPEKT should be on your radar. Tickets for the upcoming edition are on sale now – head over to their official website for more details and to make your purchase.
---
RETROSPEKT February 2023 – Lineup: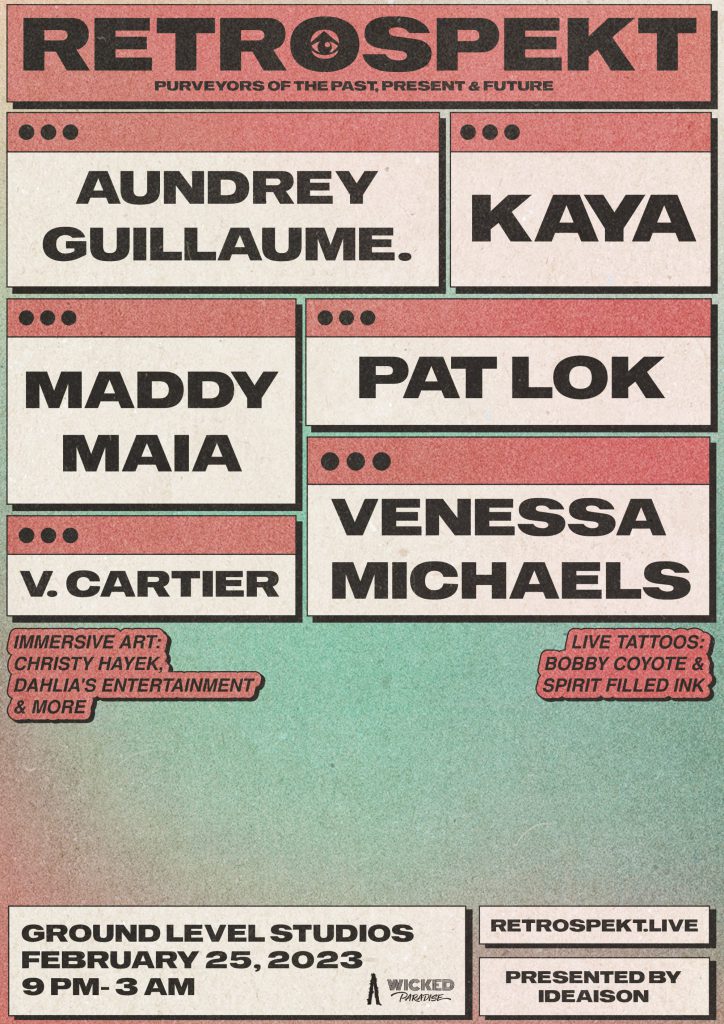 ---
Follow RETROSPEKT on Social Media: