Following the release of "Lie" with your friend polly, Autograf chats about their evolution and the production process behind Affirmations.
---
Mikul Wing and Louis Kha stormed the dance music world as Autograf nearly a decade ago and have brought their dynamic sounds in the realm of house music to a growing fanbase around the world. Despite their rapid rise in music, the pair's consistent DIY approach and notable live shows at festivals like Electric Forest, Coachella, and more have further cemented their place in the scene. Autograf's dedication to art went a step further when they opened the Los Angeles studio space Project Parallel to allow artists of every kind to have a new space to create.
Following their acclaimed debut album The Ace Of You, Autograf announced their sophomore project Affirmations along with its tour late last year. Their newest single and seventh to arrive from the forthcoming release, "Lie," features the vocal talents of your friend polly and reflects their evolution as artists as they experiment with new production techniques.
After chatting with Autograf about The Ace Of You in an interview several years ago, we had the opportunity to follow up and catch up with the two artists behind the project to dive into Affirmations and plenty more. Give "Lie" a listen on Spotify or your preferred platform, and read on for the full conversation.
Stream Autograf – Lie (feat. your friend polly) on Spotify:
---
Hey Autograf, thanks so much for chatting with us today. Let's start off with your new single, "Lie." How did you connect with your friend polly for this track, and what was it like working with her?
We connected with your friend polly through our publisher, who put us in touch some time back when we'd voiced that we liked her stuff. It was a really seamless vibe from the start, as she was really patient and would go back and re-record vocals over and over so we could keep trying our new ideas.
"Lie" is the seventh single from your forthcoming album, Affirmations. You took a bit of an unconventional approach to the song when you pitched down her vocals, changed the key, and had her sing in her original pitch. What are some other unorthodox production methods you've explored while working on Affirmations?
As you said, we felt like it needed something extra on this one, despite the original being really catchy. So we did a few little tricks and all of a sudden, it became mega vibey, like cruising around on the east side in our '80s DeLorean vibe!
We first pitched down her vocal by three semitones and then changed the key of the entire song to match it. Then we had her re-sing all the vocals in the new key but in her normal pitch. That allowed us to use her regular pitched vocal in the new key together with her pitched-down vocal from the original key. That gave the song a really nice contrast and a call and response with the vocals, and the new key just gave it a super cool, laid-back retro vibe we absolutely love!
It was the first time we ever did anything like that, so it was a nice experiment! In general, we are always trying new things out, such as recently using a drum synth over samples and giving new VSTs a try, even if we don't end up using them much. Sometimes just starting over is a good way to open up our minds creatively.
Along the same idea, how have you seen your music style evolve while working on the album?
Musically we have seen ourselves writing tracks that are more club-oriented and in general just getting faster.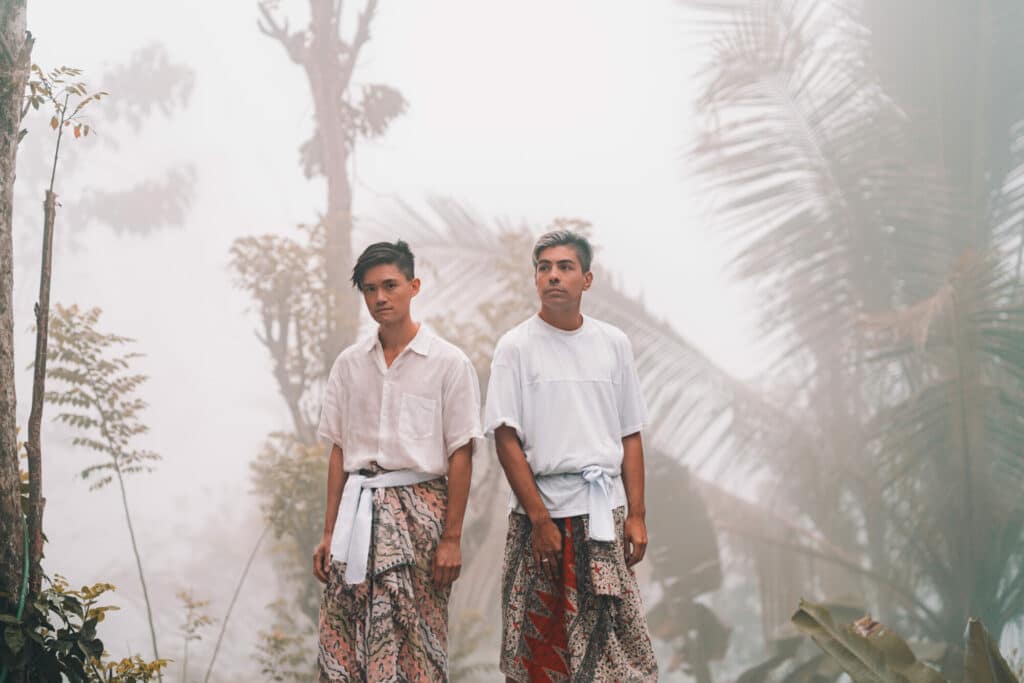 Reflecting on the musical journey from starting Autograf to now releasing your second album together, how have you changed while working together? What are some surprising things you've learned about each other?
It's crazy that it's been almost ten years since we formed. Our musical tastes have definitely evolved over that time, but the way we work has pretty much remained the same. We just want to keep getting better and better.
Are there any challenges or anything that's made it easier to approach music as a duo?
Having two sets of ears on the music is always helpful. Sometimes you spend so much time working on something that it's hard to detach from it and keep the creativity, so having trusted input from the other person is a win.
In the latter half of 2022, the two of you went on tour for Affirmations. Were there any standout moments when sharing some of the music from the album for the first time? Can you share some highlights from that tour?
Seeing people react to some of our new music that isn't out yet is always such a rewarding experience along with getting to meet people all over the country. We think it's so important to connect with those who make the effort to come and experience our shows.
Just for fun, looking back at the past year of touring and traveling across the globe, what were some of your personal favorite travel spots? Are there any new places the two of you would like to visit?
We got to play in Vietnam for the first time ever last month so besides getting to experience the festival culture there it was amazing to explore the country for a couple of weeks. We'd love to do another tour in Asia at some point!
Finally, as we start fresh for this new year, do either of you have a new year's resolution or goals for yourselves? What are some future plans you have in store for fans this year?
We of course have the album coming this year, which is a huge milestone and we're very excited. With this will come some very special shows which aim to be more immersive. A big aim of ours is to be more present and in the moment, along with saying yes to new experiences because life is too short not to!
---
Follow Autograf:
Website | Facebook | Twitter | Instagram | SoundCloud | YouTube