Before the release of their debut album, The Ace of You, Autograf tells us about the journey that inspired the release, and their hopes are for the future. 
---
Autograf is known for their signature uplifting, tropical house beats in legendary tracks like "Dream" and "You Might Be." But behind those day-party anthems is an endearing story of personal and professional growth worthy of inspiring a generation. That story starts a new chapter with the release of The Ace of You.
As fans, we usually only see the polished end-products from our favorite artists — when more often than not, there are stories we never hear that lead to the creation of the tracks we grow to love, and hold close to our hearts. In contrast, Autograf has never shied away from being transparent with their fans, speaking to their inner-workings and mental health, how their music reflects their personal struggles, and how their love for music and art persists through it all.
Having never released a full-length album before, Autograf sees this as a new beginning and a new chapter in the project and in their own lives. In knowing this, we can come alongside them on their journey in a unique and intimate way. The now-duo, Louis and Mikul, were kind enough to chat with us about the upcoming album, where they discuss adjusting to a new kind of "live" shows, how it feels to be approaching such a big career milestone, how they got where they are today, and their vision for the future.
The Ace of You will be released on Friday, October 23 through Armada Music, marking the group's grand return to the label. So let's get into it! Pre-save the album now, listen to their latest single "Walk With You" featuring Janelle Kroll, and read on for the conversation!
Listen to Autograf – Walk With You (feat. Janelle Kroll) on Spotify:
---
Hi Autograf, thanks for chatting with us today. You guys have released a massive amount of amazing tracks and EP's over the years, but this will be your first full-length album. Congratulations on the release! What made this the right time for you guys to produce an album?
For some reason, we never thought to make an album. It wasn't until we hit a really low point in our lives both professionally and personally that we wanted to tell a story through an album. And this album tells our story.
What is the story behind the album name, The Ace of You?
Life is a deck of cards. And we can't choose the hand we're dealt. When shitty things happen in life, you can either fold and give up or make the most of it. And that's what we decided to do to charge forward. The Ace card represents this determination. But our story of love and loss, triumph, and despair isn't unique to us. It's an experience shared by all. So this album also tells your story. And how everyone experiences and interprets the music will determine their story. This is our life. This is your life. This is The Ace of You.
How was the production process different from your releases in the past? Has COVID-19 impacted how you went about creating the album?
We were playing a lot of clubs while making this album so you can see the inspiration there. But then COVID happened and there were no more shows and we finished "Walk With You" during this time so you can see the contrast with that song and how staying at home inspired something different than the others.
"Walk With You" is so comforting and emotional. What inspired this song? Why did you choose to release this song before the others?
It was actually the first song we started working on for the album but it was also the last one that we actually finished. It took a year and a half and there's probably a hundred different versions of it. So in a sense, this song has experienced the full arc of this album's creation from inception to end. That's pretty wild. Never thought of that till now.
"Easy" is uplifting and such a good vibe. Just what we need these days! Who makes your guys' life easier? How can we make life easier for the people we love?
We moved to California and just started living the easy life! You know, riding down the PCH with the top down smiling with the sun shining in your face. Life really does feel easy out here. Just smile more, get some sun and treat everyone like you're seeing your best friend for the first time and life will feel easy!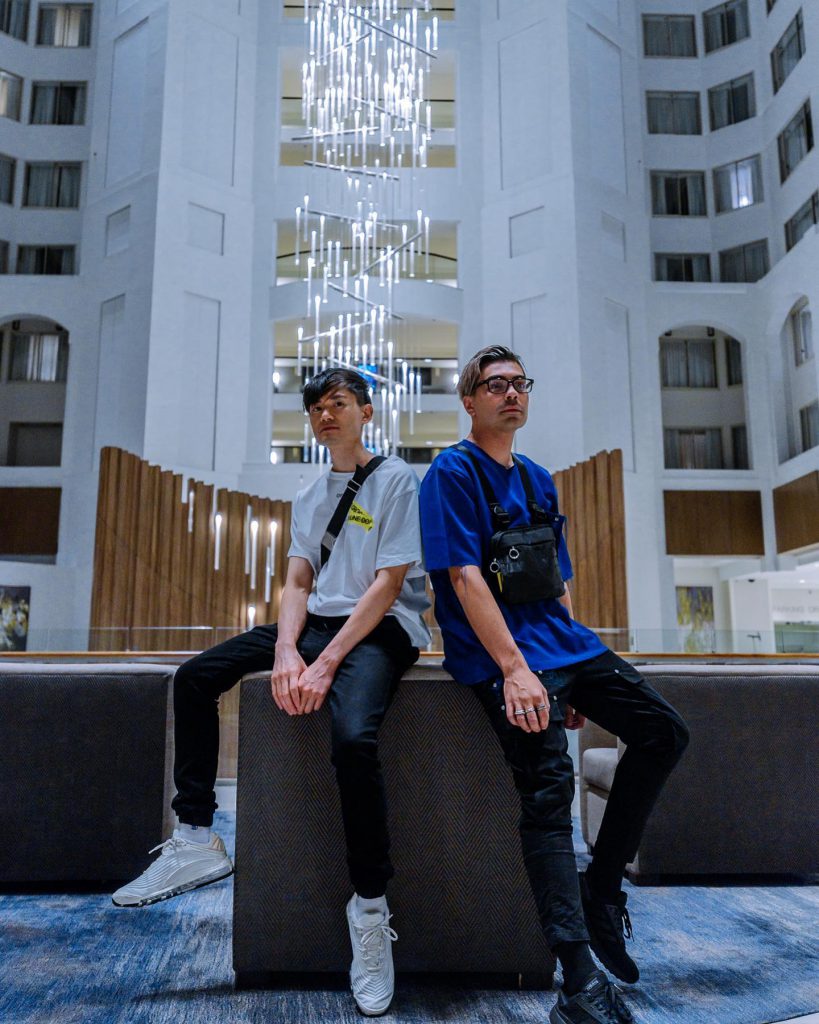 We saw you guys perform at DGTL LIB and Loud Luxury and Friends. What is it like performing in these new circumstances? Do you find it easier or more difficult, and why?
It's a lot of fun because you have more freedom to play whatever you want. When you play a club or show or festival, you really want to make sure the crowd is dancing and having a good time. When you live stream virtually, you can't really see a crowd so you just end up playing whatever the hell you want at the time!
Do you guys miss touring, or has this been more like a respite for you? How have your lives and routines changed?
It was actually a really nice break off the road to put things in perspective. When you're touring so much for so long, you tend to take things for granted. And all the time away really allowed us to miss touring. I miss all the amazing food and people and places, the energy of the shows, the camaraderie of building and designing a stage with your crew, and also rehearsing and playing music on huge sound systems. We miss it all! But if you would've asked us before all this, we probably would've said man I just wanna go chill at home haha.
For those who have been impacted in the music industry due to the pandemic, are there any things that have helped you cope or keep the faith even through these hard times? Any advice for those people or words of wisdom?
You know, humans are so creative and able to adapt, that I'm hopeful about the future. Even now you're seeing clubs reopen as outdoor rooftop shows that are socially distanced table service only. Things never stay the same, but we adapt and other cool and interesting things will happen.
Autograf has come such a long way over the years. What's it like to reflect on your massive growth and success?
Oh man, it's amazing to reflect and I admit it wasn't something we did enough when we were in the middle of doing it all. We've been reminiscing a lot lately like about the time we were having a toast in the pool before Coachella, or when I puked after our set in Brazil. This time off has really taught us to live in the moment and be more present which I admit we didn't do enough when we were so busy. But we can learn from every experience including this one!
Finally, what's your vision for the future now that you've released your debut album?
For us, it's to make another album, live in the present moment more and really enjoy this incredible ride we've been so lucky to be on.
---
Follow Autograf on Social Media:
Website | Facebook | Twitter | Instagram | SoundCloud