Massane is heading to cities including San Francisco, San Diego, Nashville, Toronto, Salt Lake City, and more on his spring tour in North America.
---
French DJ, producer, and guitarist Massane has left a lasting impression on lovers of melodic house and techno since he first emerged on the scene just a few years ago. His debut EP, Visage 1 (No Return), landed on This Never Happened in 2020, and the Lane 8-led imprint has become one of his biggest homes ever since. This included the release of multiple EPs and singles, while 2021 saw him reach even greater heights with the release of his debut album, Another Dawn.
Massane only continued to build on his growing legacy last year by taking the stage at a number of nightclubs throughout the US and Canada on tour with EMBRZ while also winning over even more hearts and minds at festivals like Dreamstate SoCal and Holy Ship Wrecked. He flew forward on the release side of the spectrum as well, with three more volumes in the Visage series surfacing on This Never Happened, along with Waves of the Soul / Lost at Sea on mau5trap.
Related: Want to dive into the mind of Massane? Check out our interview with him and begin your exploration!
The future is bright for Massane, and as he rides the wave of his latest seasonal mix into the new year, he's dropped some exciting news for fans – a fresh tour of North America in 2023. Kicking off on March 31 at Audio SF, the French artist will then head to cities including Denver, San Diego, Los Angeles, Salt Lake City, Toronto, and more. Joining Massane is Luzi Tudor, a Romanian artist who has already begun turning heads with releases on This Never Happened as well.
Tickets for Massane's tour of North America go on sale Friday, January 13 at 10am local time. Head over to his official website for more details and to make your purchase!
---
Massane North America Tour 2023 – Dates & Venues: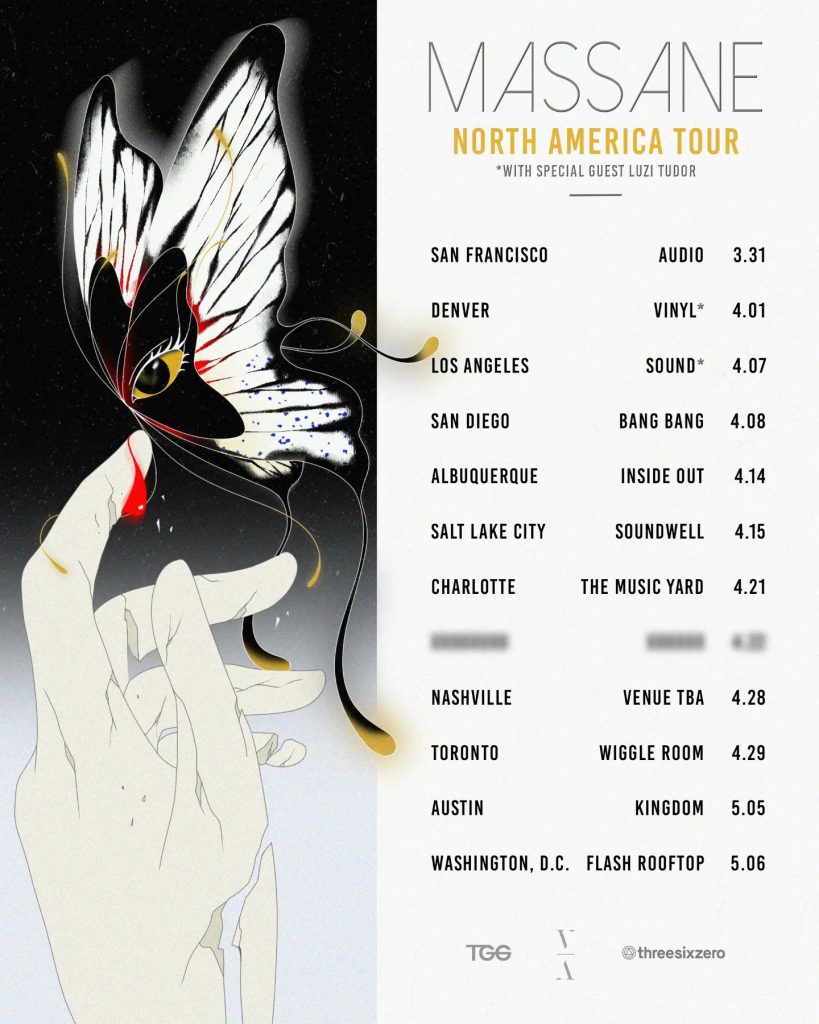 ---
Follow Massane:
Facebook | Twitter | Instagram | SoundCloud | YouTube