Jade Cicada hasn't released music since 2019, but after the ball dropped in 2023, he treated fans to a ten-track masterpiece – Pressure Gamut.
---
When it comes to artists like Jade Cicada, it's often hard to guess just what their next move might be as far as shows and releases. A producer with insanely advanced sound design, an extremely low-lying profile, and a minimal social media presence, he is truly for the heads who appreciate his forward-thinking sound and prioritize seeking out his rare performances. Jade Cicada's shows are extremely few and far between, and his releases are even more scarce, with the most recent being 2019's Little Creatures EP.
There was no doubt in the minds of Jade Cicada's fans that he was working on plenty of new beats during the hiatus he took throughout 2020 and 2021 – but when he would release them for the world to hear was a mystery. Impossible to be grouped into one specific genre, Jade is truly in a musical lane of his own as he intricately blends lush sound textures, on-point drums, and his signature jazzy flair into everything from sultry downtempo to upbeat drum-focused tunes.
Following headline appearances at Sound Haven and Tipper's Secret Dreams this summer, Jade Cicada played shows in Atlanta, Denver, and Minneapolis this December to finish the year strong. But it wasn't until after this weekend's co-headline New Years' appearance with Tipper at Snowta in Minneapolis that he randomly dropped his first full-length album since 2017, Pressure Gamut.
Featuring a downtempo introduction and closer with uptempo tracks in between, this impressive release offers elements of various styles of bass music while remaining in a realm completely of its own. "AcidTripAdvisor" leads the way with its spacey atmosphere before tracks like "Loom" and "Bamboozled" enter the fray with distorted elements, vocal samples, and infectious basslines in tow. Other standouts include "Cherry Sinefold" and "Schlemiel," while Schmoop joins in on the fun for two tracks on Pressure Gamut, "Morsels" and "Pigeon Toad," to stun listeners even further and make this a collection of tunes you simply need to hear for yourself.
Sound quality is key when listening to Jade Cicada's intricate sounds, so grab your best headphones or speaker setup and tune into this work of art on Spotify or your preferred platform!
Stream Jade Cicada – Pressure Gamut on Spotify:
---
Jade Cicada – Pressure Gamut – Tracklist
AcidTripAdvisor
Loom
Bamboozled
Chonkra
Morsels (with Schmoop)
Schlemiel
Pigeon Toad (with Schmoop)
Cherry Sinefold
Wrapped in Echoes
So Long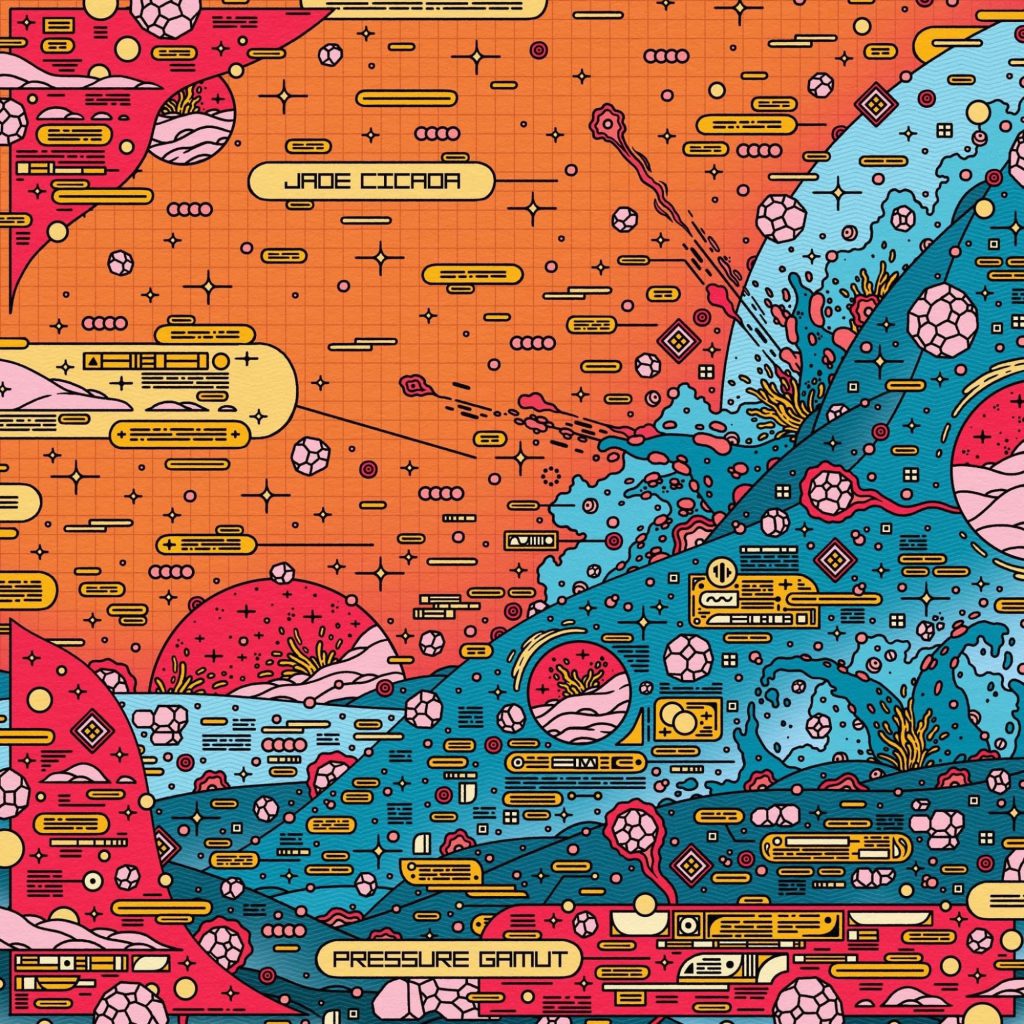 ---
Follow Jade Cicada:
Website | Facebook | Twitter | Instagram | SoundCloud