Chris Lorenzo is gearing up to pack a proper house punch during the Monster Energy Up & Up Festival Series at six colleges this spring.
---
Since making its debut in 2016, the Monster Energy Up & Up Festival has become one of the most unique experiences for students who love dance music across the United States. The series is entirely crowd-sourced from the jump as campus ambassador teams from universities across the country promote the upcoming show and sell as many pre-sale tickets during the 48-hour competition window for their chance to be crowned as one of the champions. Then, these student teams work directly with the event organizers to put on the show, giving them first-hand experience in the music industry and internship credits.
Previous editions of the Monster Energy Up & Up Festival have seen artists like San Holo, Dom Dolla, TroyBoi, Slushii, and more grace the stage – this time around, they're bringing showstopping house artist Chris Lorenzo to headline the festivities. This UK-based DJ and producer has made a name for himself over the years with some of the hottest tunes in the scene, including "California Dreamin," "Chromatic" with Chris Lake, and his latest single, "MAMI," which saw him team up with COBRAH.
"Ever since I started touring North America, the whole college system has been a big part of my journey. Whether playing unofficial after parties or the official frat shows over the years, I've always loved the energy the crowds have. It reminds me of when I started DJing back in the UK." said Chris Lorenzo. "So, to be able to have 70 colleges in America pitch for me to come play and then actually get to play six huge shows will be a lot of fun. I'm excited to see who wins and then come and smash the shows for the fans. Let's Go!"
The competition for the Spring 2023 edition of Monster Energy Up & Up Festival kicks off on February 7 at 4pm ET (1pm PT), with over 100 schools across the US gunning for their victory over the course of two days. This run will see a total of six schools win their very own festival at a nearby venue, with the shows taking place in April and May.
College students seeking music industry experience and internship credit can apply to be an ambassador via the Monster Energy Up & Up Festival website. Make sure to follow the festival's Instagram account for updates on the ticket leaderboards and winning colleges once the competition begins.
---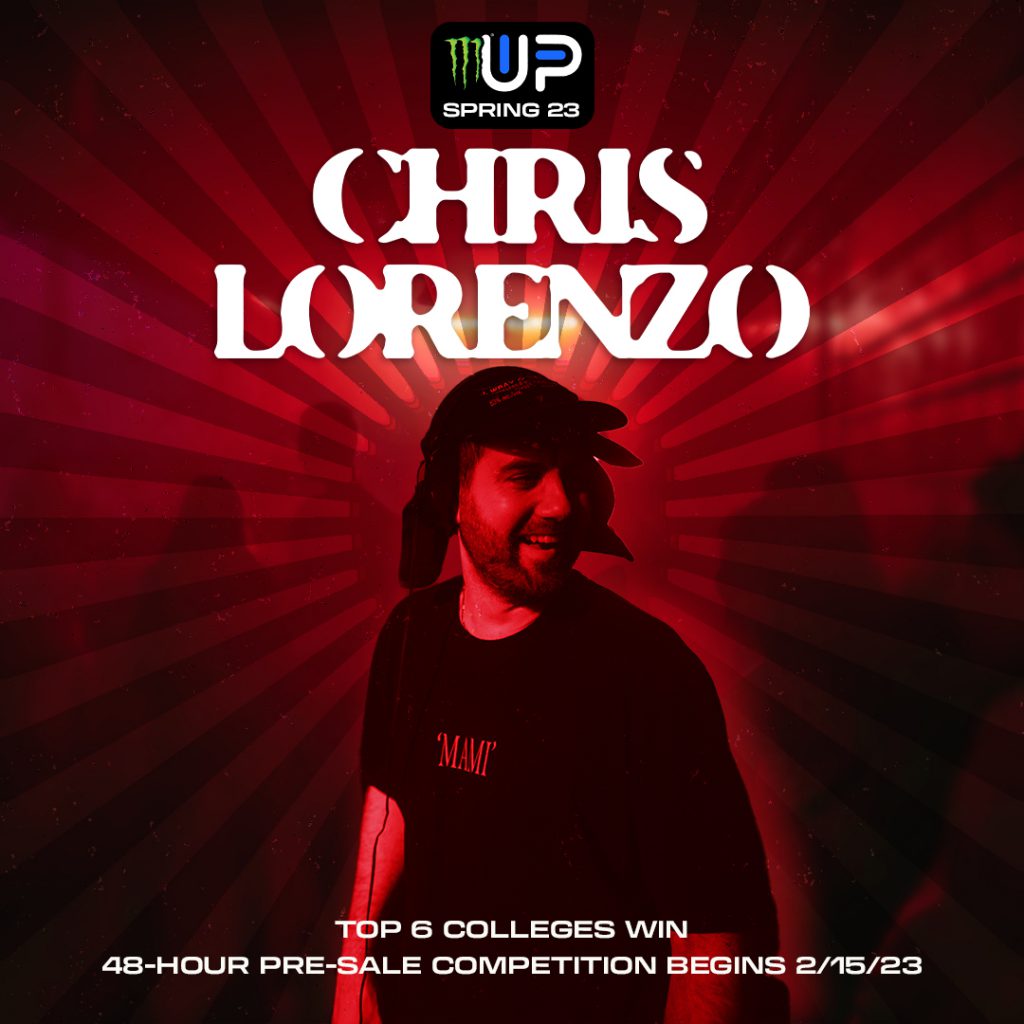 ---
Follow Monster Energy Up & Up Festival: