Box Of Cats' Litterbox series is back and tastier than ever, with its thirteenth rendition just in time for the holiday season.
---
The kitties have come out to play, and they have their dancing shoes on. As the holidays kick into high gear, Box Of Cats graces us with another banging compilation from the Litterbox series. The thirteenth rendition packs a similar punch but with a tasty twist. It's potluck season at the Box Of Cats label, and these tech-house talents are all coming to dinner. Get ready to eat.
This litter of talent blends the old with the new to form a purrfect soundtrack for those who wish to groove through this holiday season. Kicking off the feast is Mood Swing & Chevy Bass's track "Next To You." This sexy snack, with its soulful vocals and rolling bassline, caught this kitten's attention from the jump. It breathes warm life back into the chilly atmosphere of winter. Next up on the menu is "Bleeps N' Bloops" by Fritz Carlton and MANSION. This track is packed with flavor and satiates our hunger for bass even further. It gives the signature glitchy, wacky house that encapsulates the Box Of Cats' nature.
SERGIC serves up the next spicy selection with "Feeling Lit," and it's about that time in the potluck when everyone should be feeling, well, just that. Bassment and Zen World keep the buzz going with their party favors "Stupid" and "The Philosophy." Each serving peels back the bass-heavy layers into something richer until a cat nap may be in order before the next course.
The Litterbox 13 potluck continues with a slew of fresh talent ready to fill our tummies and our hearts. "Everybody Dance" by OldChild and Ogodi and "Boogieman" by Bvkejok wake us up from the food coma and brings new life to the party. Both tracks are filled with funky, feel-good fire that could be staples for many potluck dance parties to come.
Now, things start to get trippy with Buddy Tigg's "It's Okay" and Lowgroov's "L and G." These are for the ones that aren't afraid of their weirdness. "It's Okay" is riddled with glitchy blurbs bouncing off of eerie laughter that makes you wonder what was laced in the hot apple cider. "L and G" offers up a similar psychedelic nuance with an even heavier rolling bass line. "Oh Baby" by MAYAMA offers up a serving of groovy, uplifting sounds to lead us into "Dark Places" with Kimba to finish out one epic party. We hope you're as full as us.
Sink your claws into Litterbox 13 by streaming on Spotify or snag a copy on your preferred platform and let us know which songs gave you the zoomies on Twitter.
Stream Box Of Cats – Litterbox 13 on Spotify:
---
Box Of Cats – Litterbox 13 – Meal-list:
(Lasagna) Mood Swing & Chevy Bass – Next To You
(Doritos & a Case of Beer) Fritz Carlton & MANSION – Bleeps n' Bloops
(Potato Salad with Spicy Sauce) SERGIK – Feeling Lit
(Nana's Famous Fruit Platter) Basement – Stupid
(Vegan Creamy Cat Slaw) Zen World – The Philosophy
(Sticky Beef Ribs) OldChild & Ogodi – Everybody Dance
(BBQ Chicken Sliders) BVKEJOX – Boogieman
(Just Good ol' Hot Chips) Buddy Tigg – It's Okay
(Crackers with Blue Cheese) – Lowgroov – L & G
(Apple & Rhubarb Slice) MAYAMA – Oh Baby
(Overcooked Sausages) Kimba – Dark Places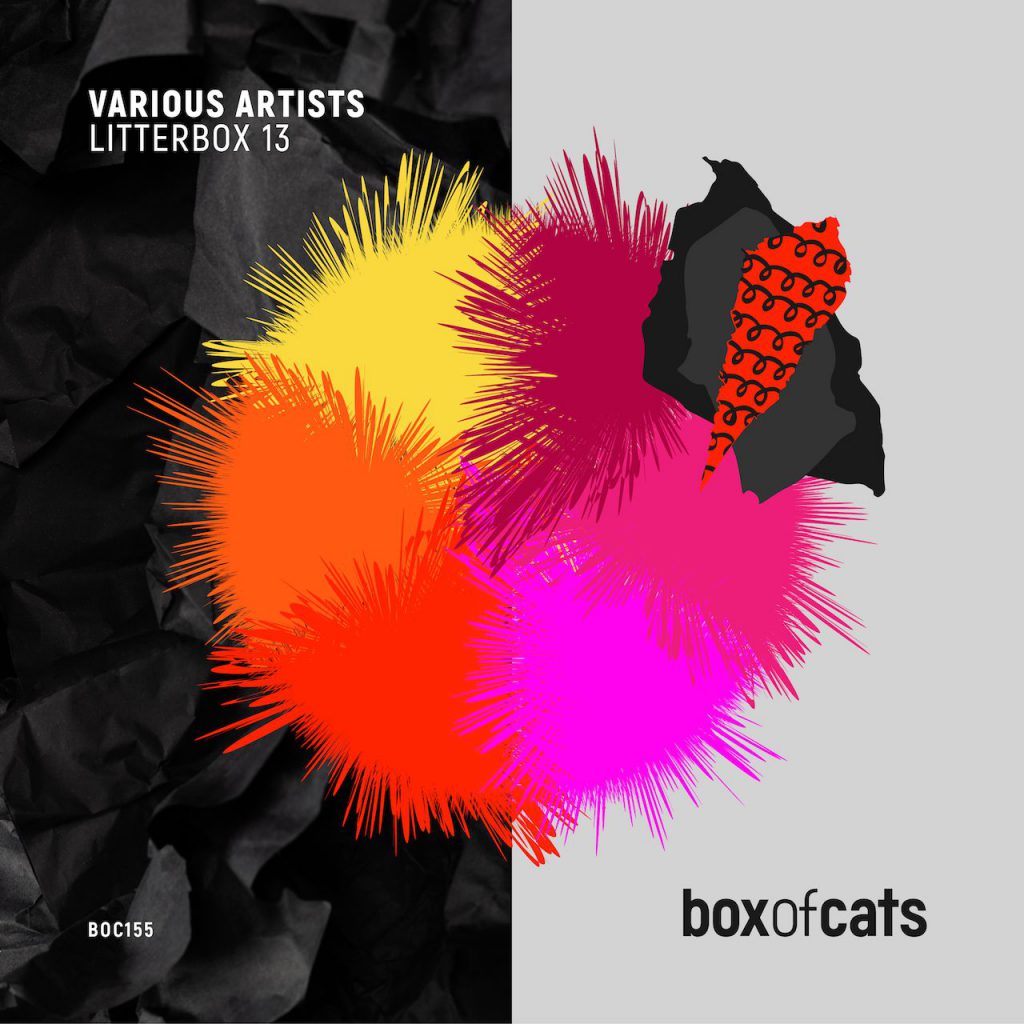 ---
Follow Box Of Cats on Social Media:
Website | Facebook | Twitter | Instagram | SoundCloud