DJ Harvey, Sainte Vie, Rodriguez Jr., Carlita, and more will take the stage in San José del Cabo at the upcoming edition of DREAMSCAPE.
---
Hotel El Ganzo has become renowned for bringing some of the best in house and techno to the stage over the past decade. The revered brand recently celebrated their tenth anniversary in style over Halloween weekend with Ganzo X, and now they've set their sights on another intimate experience for those who love the underground sound with DREAMSCAPE.
Set to take place on December 29 – January 1, this multi-day event at the renowned venue in San Jose Del Cabo will offer plenty of art installations, tasty food to eat, and of course, a hearty helping of electronic beats to dance the day and night away. Those who make their way to DREAMSCAPE will be treated to performances from some icons in the scene such as DJ Harvey and Rodriguez Jr., who is set to play a live set. Others who are sure to be can't-miss sets include the likes of Carlita, Sainte Vie, Henry Pope, Cirque Noir, and ABAQ & FLOSO.
DREAMSCAPE won't just feature dancefloor action, as the exclusive parties taking place over the course of the weekend will enhance the experience. This includes the Thursday opening party at Tamarindos, which will see Chef Enrique Silva welcome everyone with a dinner featuring farm-to-table Mexican cuisine, along with a party at the Burning Man-inspired Crania on Friday and a Narnia after-party. The NYE celebration will take place in the sculpture gardens, adding to the ambiance as the clock strikes 12am and 2023 begins.
Multiple ticket options for DREAMSCAPE, but the Premier Pass is recommended for anyone who wants to experience all that this unique event has to offer as it will grant access to the exclusive Thursday night activities. Additionally, Hotel El Ganzo is the preferred lodging option – call +52 624 104 9000 to check room availability for the weekend.
Tickets are on sale now, so head over to their official website for more information, and grab your passes via Ticketfairy if you plan to attend!
---
DREAMSCAPE 2022 – Lineup: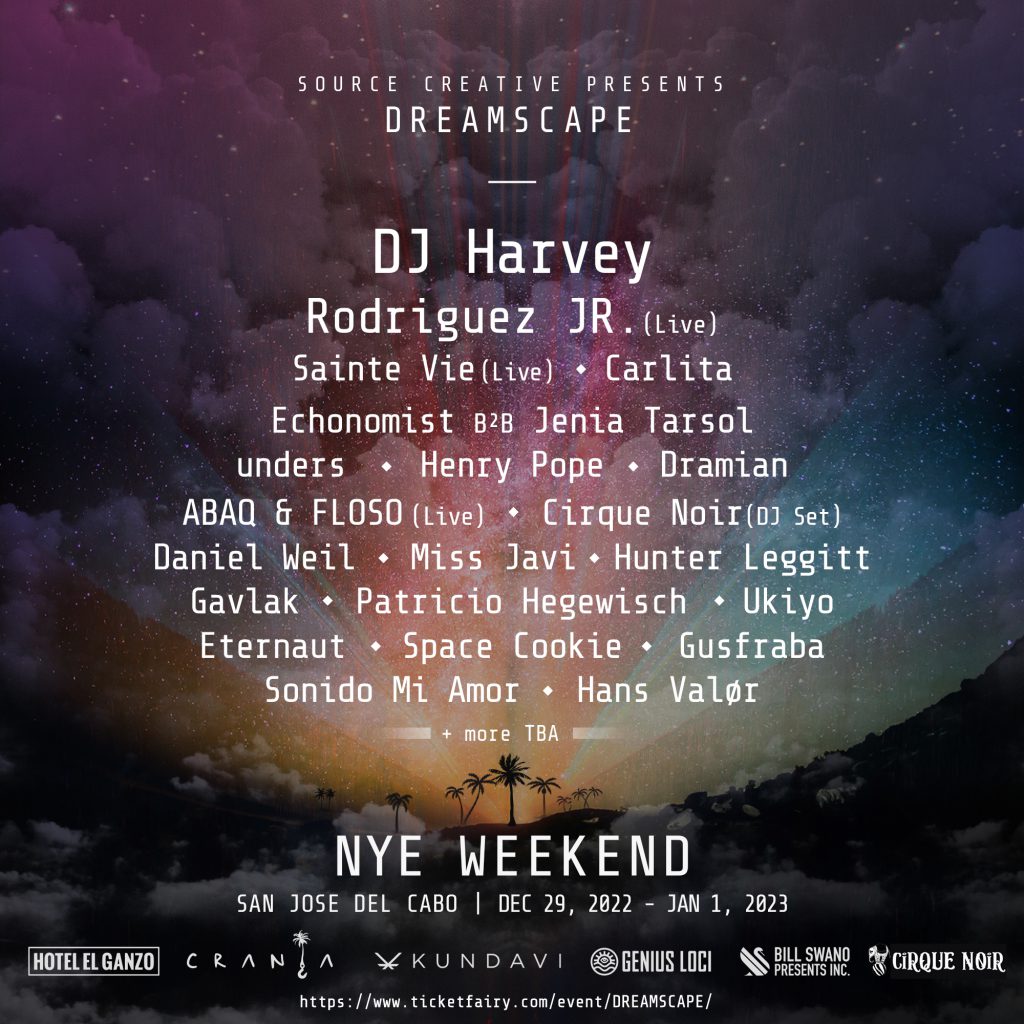 ---
Follow Hotel El Ganzo: