From Mobilee to Anjunadeep and globetrotting sets in between, Rodriguez Jr. has continued to defy boundaries throughout his career!
---
France is known for many a talent in the electronic realm. From Daft Punk to Madeon, David Guetta to Laurent Garnier, Joachim Gerraud to Worakls, and Stéphane Pompougnac to DJ Snake, the country has no shortage of lasting impact on the culture of dance music. In the mid-2000s Laurent Garnier took on a new youngster by the name of Olivier Mateu who today goes by the more familiar Rodriguez Jr.
Since breaking onto the scene, Rodriguez Jr. has seen his fair share of dance music changes since debuting on labels with a significant reach like Mobilee and Systemtic.  Spawning from these debut releases is a passion for the analog production methods that yield a unique sound to his works. Today, Rodriguez Jr. expands his reach again with a debut EP on a new label – the storied Anjunadeep.
On the Phoenix / Amargosa EP, Rodriguez Jr. solidifies his artistic talents in two words: intricate depth. The EP offers a mindful experience that's easily in line with Above & Beyond's recent release Flow State but retains the club sensibilities.  Combined with EP are the incredible experiences he's brought around the world over the years – from his artistic Visualize concept to sets at Desert Hearts and CRSSD Festival, and exploring beyond unique vistas thanks to French brand Cercle.
Join us as we explore all these facets of an experienced talent ready to continue to surprise the progressive house/melodic techno fans throughout the world. Fancy your own copy of either track? Grab them now and read on to find out more of this unique producer and his outlook to his art!
Stream Rodriguez Jr. – Phoenix / Amargosa EP on Spotify:
---
Thanks for taking the time to chat with us today and congratulations on the release of your latest EP, Phoenix / Amargosa, and your artistic history!

Hi and thank you. I'll be happy to share the bits of knowledge I own.
Aside from your original releases, you also have been putting your spin on tracks from other artists like Eli & Fur, Monolink, and Jan Blomqvist among others. How do you determine which tracks you want to put your touch on and then balance making the track your own while still paying homage to the original?

First I try and identify a few elements from which I can build something original with my own palette. In general, it is a pretty lengthy process and not just a sort of "changing the beat" treatment. It's a long production endeavor in which I should re-discover the track and not just sprinkle glitter on top.
When performing for Cercle what did you find challenging? The location looks stunning but the lack of a crowd certainly had to have an impact on how you approached the performance didn't it?
The most challenging aspect was to offer something different than what you can find inside a club. Unfortunately, I had a very limited preparation time. However, this was a blessing in the end as we had to improvise most of the performance and trust each other to arrive at the destination. Liset did an amazing job, she was the essence of the performance up there, giving us the feeling of a real "live performance" taking place.
There was an intensity in the surrounding landscape that was equal to the intensity of being in front of thousands of people as if the sky and the cliffs were charged with as much energy. We never really felt like we were alone up there.
As platforms like Cercle and Be-At.Tv have grown, do you sense that fan engagement is poised to shift in the near future? Do you think there are technologies that are not utilized well that would change the way fans engage with their favorite artists?

We are clearly at the very beginning of a revolution and cannot even imagine all the possible ways in which fans will be able to interact with performances in the future. What these platforms prove to us is that audiences have a desire to participate and fuse with these performances. At the same time, audiences want to incorporate them into their lives as a performance that is symbiotic with something they are living, in their own environment, and their own life.
During your 2017 interview with Magnetic Mag, you mentioned the "tribe" mindset of Desert Hearts influencing your own mind. Over the past five years, we've seen growth in brands centered around a "lifestyle" like Drumcode, Dirtybird, and of course Anjunadeep. Are these brands, and those like them, something that you see continuing to flourish? Why?
This has always been the case in music. Back in the '80s if you listened to The Cure you tended to dress like them, etc. Human beings have a tribal instinct and this will always make us want to emulate a musical movement we identify with.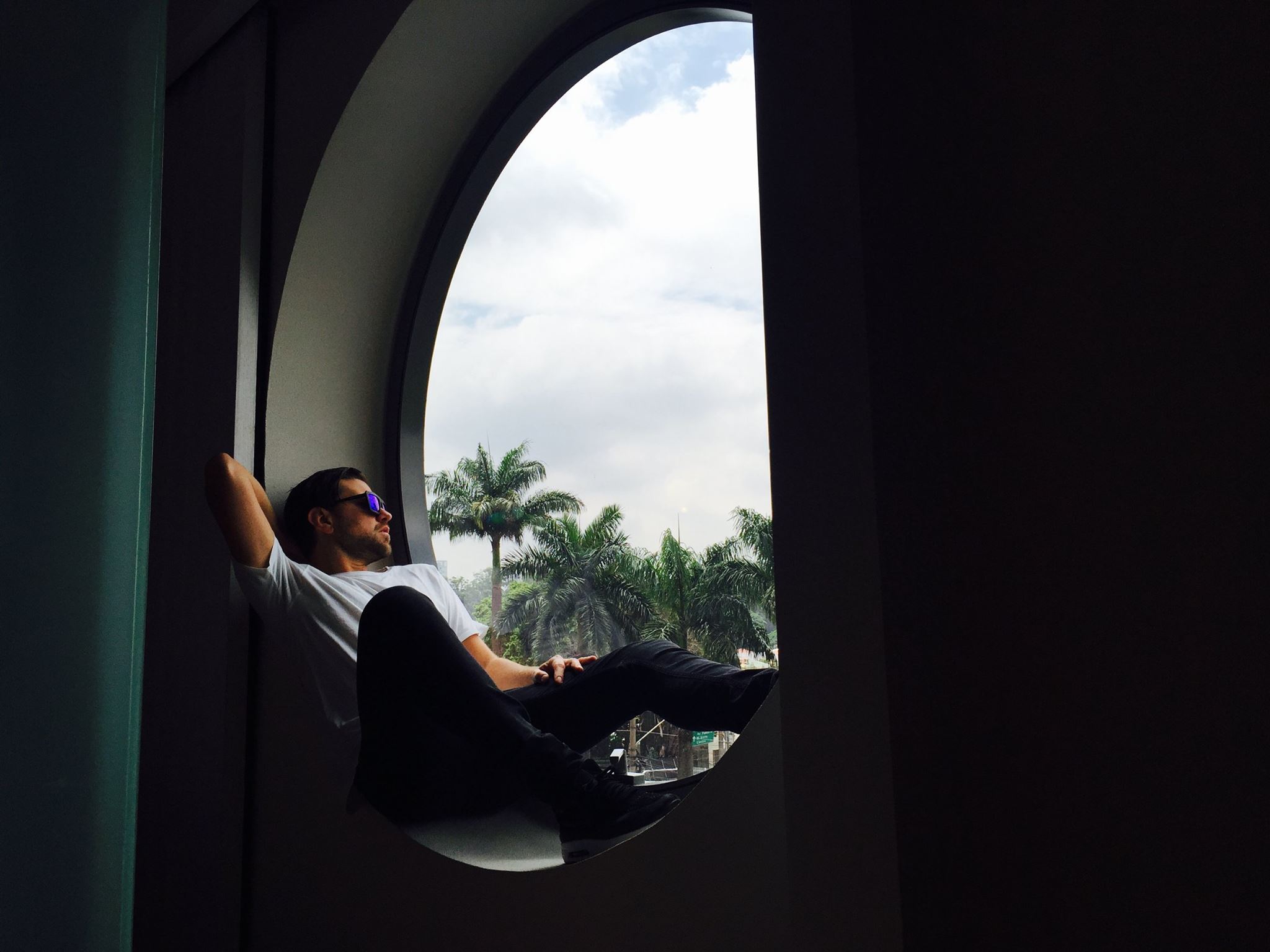 Do you feel these changes in the scene [the tribal aspect of current dance music culture] are a consequence of the rise of social media in the industry as well? What place do you feel social media has in your own career?
Social media is just an extension of what we have always known in music, it just renders everything much more direct and immediate. In my career, it has a very important role as it allows me to keep a constant connection with the people who follow my music and to see how they react to what I put out there musically. Contrary to what we think, it actually makes things more authentic because you're not obliged to go through the "middle man" in order to reach your audience (such as a record store or major label) and you can put yourself out there and face the audience.
When you debuted the "Visualize" show in 2016, what was your hope? What did you find it conveyed to your audience? Are concept shows something you wish to continue to grow in the future?

Connecting with the audience was the priority and to make this connection the center of the performance, meaning everything was based on an improvisation created from the feedback and energy I received from the audience as if I were the medium between the audience and the spectacle (meaning the music & lights and the overall creation). This offered a sort of immersive experience to the audience because we were all sharing the same visual experience.
I'm definitely thinking about relaunching the project and returning to this concept but it requires a lot of technical improvements. In 2016, the show was based on a technical set-up that we had created ourselves – our own prototype. We need some time to arrive at the summit of our idea. That creation was basically a glorified D.I.Y. project that taught me many things about light & sound concepts and where we can take it now.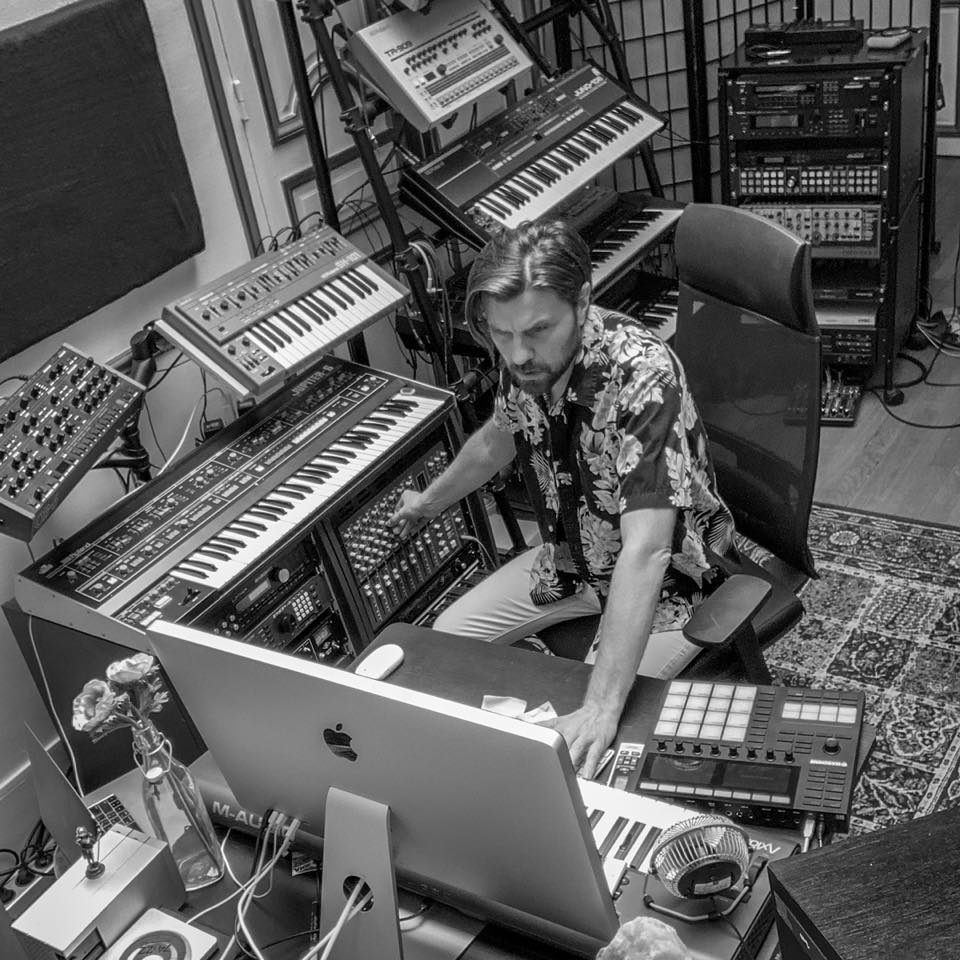 Working with analog hardware, what do you find challenges your production workflow or offers you unique opportunities over digital synthesis? Do you find incorporating analog audio into your workflow on a DAW challenging? What's your favorite piece of hardware you have in your studios in Paris?

I use both technologies. The color of the sounds and the connection to the instruments are different. What I like in analog synths is that there is physical contact with the machine and this is kind of sensual experience in and of itself. I don't find incorporating analog audio into my workflow challenging because this is the way I have always worked and the particularities of each instrument are what gives the process its charm. My favourite piece of hardware is the recently acquired ARP-2600! It's an early version from 1971, a childhood dream, and a sort of piece of history in the same way that a Steinway or a Gibson guitar would be for acoustic instruments.
You've discussed your early career under the wings of Laurent Garnier and his organization before. Looking back, is there any specific lesson he taught you that you hope to imprint on those you touch?

I spent so much time in the DJ booth with him and listening to his music that his music has had a direct influence on my own as far as structure is concerned. Above all, he instilled the terms of open-mindedness and the wide spectrum of influences in my sound.
A quote of yours we absolutely love is: "Good electronic music is not a jail. It should be enjoyable everywhere, from dance floors to living rooms, and by everybody." As a producer, do you find that your art is influenced greater in one direction or the other? Is it hard to find a balance between the two as an artist?

It is easy to find a balance as long as you know where you are. My music is definitely equally influenced by both directions; defining music for one purpose would be like making a painting that can only be hung in one particular room.
---
Connect with Rodriguez Jr. on Social Media:
Website | Facebook | Twitter | Instagram | SoundCloud