SIDEPIECE swung by to share some insight on their recent track, "Reborn," a slice of their life on tour, and what they've learned along the way.
---
If you haven't heard of SIDEPIECE, there's no better time than now to start listening. This duo has been slaying the house music scene, bringing their signature flair and seductive beats with them wherever they perform. Since beginning their project three years ago, Party Favor and NITTI have since dominated the decks at festivals like EDC Las Vegas, Lollapalooza, and HARD Summer, garnering support from fans worldwide.
With infectious tracks like "On My Mind" with Diplo, "Sextacy," "Acrobatic," and "Don't Keep Me Waiting," it's no wonder that SIDEPIECE has quickly risen to the top. Fans have been flocking to see them on their current Kiss and Tell Second Base Tour, with shows in cities across the country. They have also just signed to Atlantic Records, along with the release of their latest dancefloor-ready track, "Reborn," furthering their reach in the industry.
With all of this success, we thought it would be a proper time to sit down with SIDEPIECE and discuss their career, current music, and what's next for them. Listen to "Reborn" on Spotify or your preferred platform, and read on for the full conversation!
Stream SIDEPIECE – Reborn on Spotify:
---
Thanks so much for taking the time to chat with us today! You are in the middle of your Kiss and Tell Second Base Tour, with shows across the U.S. How is this going for you both?
Ricky (NITTI): Going really well! The last few weekends have been fun playing out new music and remixes. 
Dylan (Party Favor): We're both super grateful to even be able to be playing shows like this. The road takes a lot out of you. After so many years of touring by myself as a solo act, it's been really fun to have a larger team and a best friend to be alongside for the ride. The shows have all been incredible so far. So many fans singing all our songs. That, to me, is always one of the most impactful moments when playing live. The fans are connecting with our art.
You both play musically-different types of sets when you're apart, incorporating different sounds throughout your sets. How do you come together and collaborate so cohesively when creating SIDEPIECE tracks and sets?
R: I think the best part is that we have a clear direction with SIDEPIECE, and we know that we're always going to focus on making/playing good house music. The edits we make always come in from different influences, whether it's Tech House mixed with Hip-Hop or Classic rock vocals thrown into a groovy house beat. Makes it fun for us to mess around with different stuff but fit it into House Music.
D: I think we created a set style and "rules" for our music as SP before we even officially started the project. We both wanted to make our version of proper house music. We were both fans before this project, so I think it's been easier to carve out our sound/direction. When we are collaborating, that is the reason I think we are able to work so well together because we have a common goal.
Bouncing off that last question – fans look forward to hearing many different sounds from your sets, across the bass genre, and more. But together, you both create house music. Can you walk us through how that came to be?
R: It really just took one Facetime for us to realize we had the same passion for House. It was really cool when we had a few songs ready to go already as well. 
D: I partly touched on it above, but we always wanted this project to be a proper house project. So there is a set goal, and it feels different from our other projects. It allows us to focus on this completely. The great part, though, is that we definitely bring our other worlds in the sense of how we approach house music. I think our music has a different feel than a lot of our peers, and that is directly because we are bringing outside perspectives!
Congratulations on the release of your latest track, "Reborn"! It's truly a tune fit for any dancefloor, and fans have been anxiously awaiting its release. What was the production process for this track like?
R: I remember first hearing the vocal, and we were both so excited to work on the song. It didn't take long to get the inspiration and put a track behind it.
D: This one took a while to get right but as soon as we first heard the demo vocal, we knew it was going to be special. It's a great one to start our new era. Feels like a new chapter within the SP cinematic universe [Laughs]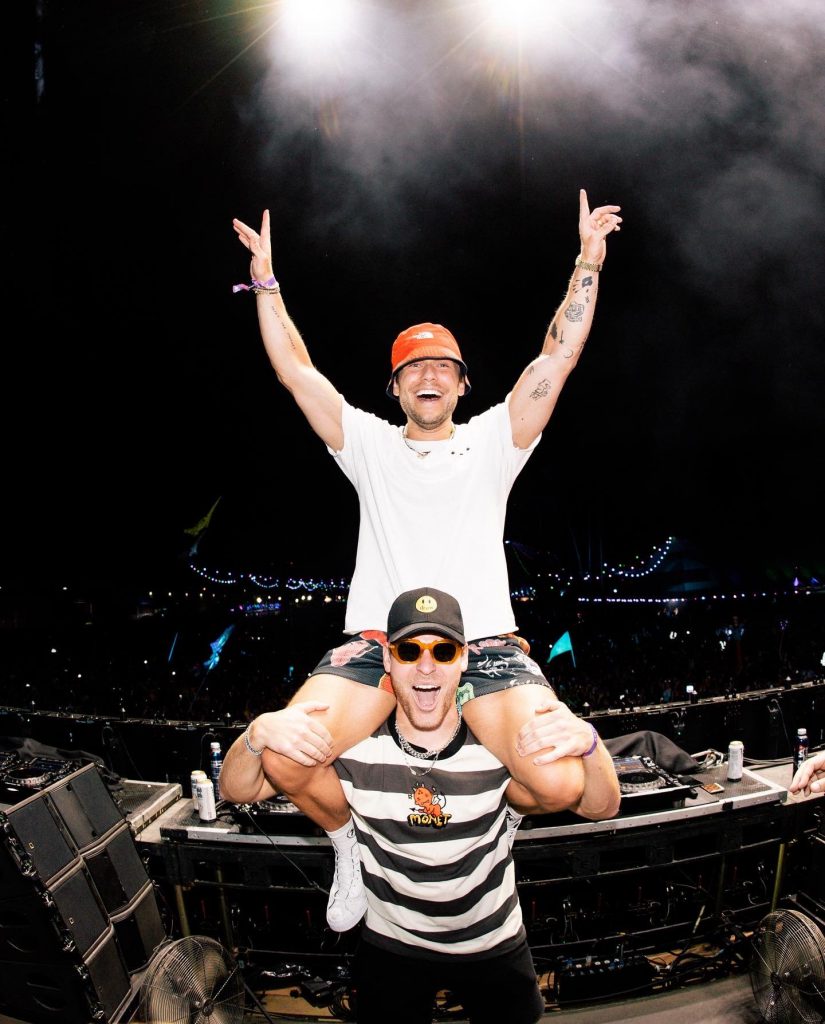 You've recently celebrated three years of SIDEPIECE and have just announced your signing to Atlantic Records. What have you learned since beginning this project? Any major takeaways from being on this journey together?
R: It just shows how a focus on one style/branding can make it clear to fans what they are getting when they come to see us or listen to our music. It's so nice to have a project where we know exactly what to make and how to play the sets. I think we brought something new and fresh to house music but also have a familiarity that lets people enjoy our project.
D: It's insane it's been three years already, but really only has been about 1.5 years of actual SP touring. We definitely started this project at not exactly the most ideal time. [Laughs] We have really become great friends and started to create a great SP family with our fans and team.
You each have your own successful music careers, with SIDEPIECE taking off as well. How do you manage to keep up with producing your own individual tracks and also creating tracks for this project?
R: It definitely is the busiest time of my life, but I can't complain because I remember dreaming about being a touring musician and having a team behind me. Luckily, I'm still working on my NITTI project and plugging away on SIDEPIECE as well!
D: It's definitely a lot. I think I dream in different genres now. [Laughs] I think that having a few projects and options only makes our output for SP even better. Keeps my personal creativity fresh. I think we've also enjoyed being able not having to do every single part of the production. Both of us are so used to doing everything ourselves. It's been a breath of fresh air to have a partner who I know can help elevate a record if I get stuck or vice versa.
You've recently performed at festivals like Escape Halloween, Imagine, and HARD Summer, along with the string of shows on your current tour. It seems like you both always have a crazy, busy schedule for sure! What's one thing you always have to have with you on the road, wherever you go?
R: I always bring my laptop and headphones so I can work on the airplane. I love working on music on a plane or in a hotel room. I've become really used to having that time to finish songs. 
D: It seems like a no-brainer because of the job, but Airpods Pro are a must. I listen to music 24/7, so being able to easily pop in and work on music at any time without any cords is amazing. I have three pairs. [Laughs] I will definitely say that workout shoes are important as well. You're always in different places and sleeping at different times, so it's important to be able to get some exercise whenever you can.
So, what's next for SIDEPIECE? Any news you can share with us?
R: Soooo much new music and that includes some huge remixes and originals with cool features.
D: Taking over the world. One track at a time. And there are a lot of tracks coming!
---
Follow SIDEPIECE:
Website | Facebook | Twitter | Instagram | SoundCloud | YouTube | TikTok