Cubicolor revisits a previously abandoned record to find closure and bring fans another batch of deeply connected tracks on Sometime Not Now.
---
The pandemic wreaked havoc on the creative process for many producers and left them somewhat adrift. Cubicolor, however, seems to have turned this pattern on its end. When they released Hardly A Day, Hardly A Night on Anjundeep just as lockdowns began, there was no way to know what was yet to come as a result of COVID-19. lockdowns and uncertainty created such confusion, but the trio took this time to look back into what was a challenging creative time for them before the pandemic. Having completed an album in 2018 only to abandon it completely, their turmoil lay in the perceptive defeat of that decision.
Sometime Not Now arrives as a triumph for Cubicolor, allowing them to bring closure to the previously scrapped creations. The album name aptly summarizes what happened with this music – created at a time that just didn't seem right and revisited with new context at another time. One could say that the album also closes a period of directional uncertainty since their 2016 LP Brainsugar. While there was never any doubt of their abilities or talent (as 2020's Hardly A Day, Hardly A Night proved) this release allows Cubicolor to look confidently into the future for fresh new sounds grounded in their personal and emotional style.
Listen to the new Cubicolor LP on Spotify or your preferred platform, and read on for the full album review.
Stream Cubicolor – Sometime Not Now on Spotify:
---
Cubicolor once again delivers the complete package – a cohesive album with amazing sounds and clear threads from track to track.
It's a common theme on Cobicolor albums that the opening track is a prelude to the rest of the LP, going so far as naming this track "Prelude" on their last album. This time we have "All Tied Up," which sets the emotive mood for the entire album. The light falsetto vocals that are familiar to Cubicolor fans are present here and continue throughout the album. When listening, the lyrics sound like a representation of the trio's conundrum as they were deciding to drop the 2018 album. Yet on the backdrop of that challenging time, the mood is one of hope and looking forward.
While "Easy Mark" is far from a banger, the rhythm picks up the pace and gets listeners energized. Without leaving Cubicolor's signature atmospheres behind, this track has a more driving beat and feels like transitioning from a period of confusion to confidence. "Summer & Smoke" quickly picks up on this pace but also draws out the rhythm giving it a bit of space to breathe and also building tension into the core of the track. It's the longest track on the album and feels as though it is a short story within a much larger one.
While the first three tracks flow seamlessly, the album takes a deliberate turn at the fourth track, a reminder of past challenges for the trio.
As we enter into "Know," there's an abrupt change in both sound and emotion. Suddenly the mood is somewhat darker, more melancholy, and a bit off-kilter. This is clearly intentional, pushing the listener to seek out surer footing while the track continues to push and pull the listener. Finally, the track crescendos into a quick closing that feels both resolved and unresolved at the same time. While there is a dark sound to the track, there's a playfulness as well as a magical contrast between the two that makes this one a standout on the album.
After a brief toying with our emotions, we're brought back down to a grounded state as the album continues.
The strings on "As You Fly," along with soft percussion, invoke a ritualistic sound as though we're all sitting cross-legged around a bonfire somewhere deep in nature and under the darkness of night. And the connection of the people around the fire, nature, and music serves to connect us all as we explore the universe together. The complexity of this track sets the stage nicely for "No Sé" to pick up the beat again and also utilize more playful layers to break the tension. This track serves up a palate cleanser allowing everyone to embrace their inner child after such deep introspection.
Cubicolor constantly weaves in new tracks that sound like a recreation of a favorite from earlier in their library, yet these are completely new and fresh. "The Outsider" is one of those tracks. The staccato beat is like déjà vu, sounding so familiar yet completely novel. In fact, so much of what Cubicolor delivers is this feeling of déjà vu, which is both unsettling and comforting at the same time. "On Your Feet" and "Cowboy" both deliver on that contrasting mood as well. Yet these two tracks also do this through the underlying rhythms with some unexpectedly offbeat notes that keep us on our toes.
Cubicolor designs their albums with a story in mind, and the final few tracks help bring it to a proper close.
Listeners are moved from offbeat to direct and playful with "Got Me Good," and it's another lovely shift. This one flows easily and carries you along as if you're on a gentle wave coming into shore. The continued light falsetto vocals distinctly reinforce this mood. "What Will You Get" is perhaps the most unique track on the album, a track that pushes at the edges of their sonic spectrum. It sounds both distinctly Cubiclor and also not at all. Of course, once the vocals drop in, it's hard not to identify clearly as Cubicolor, but it's still something different.
Cubicolor wraps everything up with the title track, "Sometime Not Now," and it serves as the perfect conclusion for the album. As is often the pattern for the trio, the concluding track has a character that echoes and also bends the opening. The delicate piano keys are quite soothing and yet also just a touch disconcerting, as if they might be played by a long-ago spirit in a haunted house. Unlike a horror movie, though, there's no terror following this sound – it remains soothing, relaxing, and beautifully simple. Where the album opened with a mood of confusion, it closes with confidence. The slight increase in intensity on the piano feels as though it is driving away past demons and expressing a desire to move into a new and unknown future.
Cubicolor gets so much right in their albums, and this one in particular. Telling a cohesive story from start to finish is just not all that common these days, making it that much more impressive when it is done so well. In this case, that story is also one of redemption; like a Phoenix from the ashes, these potentially trashed tracks have become something even more beautiful and powerful. I will never hear this album without feeling that journey, and I'm thankful that Cubicolor reached this place and has shared it with the world.
---
Cubicolor – Sometime Not Now – Tracklist:
All Tied Up
Easy Mark
Summer & Smoke
Know
As You Fly
No Sé
The Outsider
On Your Feet
Cowboy
Got Me Good
What Will You Get
Sometime Not Now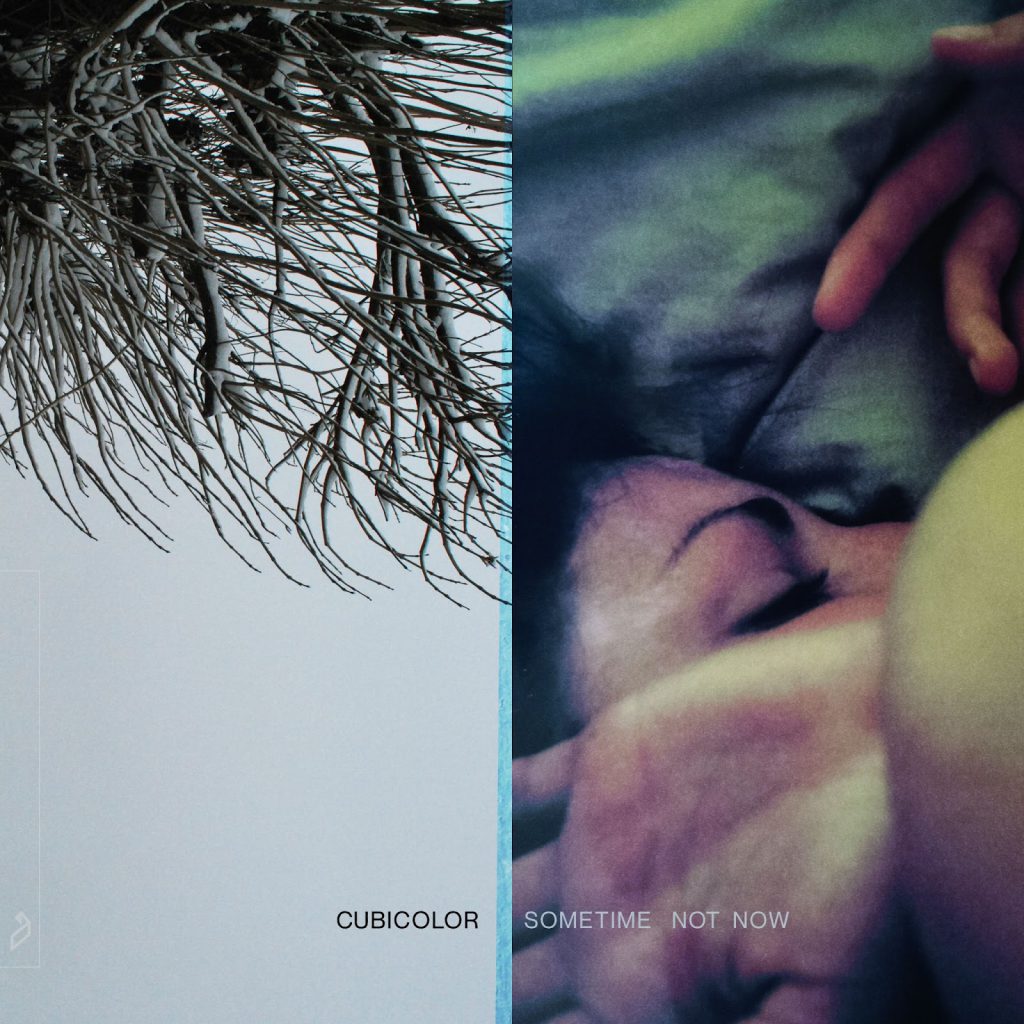 ---
Follow Cubicolor on Social Media:
Facebook | Twitter | Instagram | SoundCloud | YouTube