Welcome Records' Little Comp of Horrors Vol. 4 features imminent threats such as GRAVEDGR, High Zombie, Dr. Ushūu, TYPHON, and more.
---
Known for his undying love for all things spooky, Kayzo has set the bar beyond reach with previous versions of the Little Comp of Horrors via his imprint, Welcome Records. This series has become a fan-favorite since it first debuted in 2019 and has only improved with each passing year. Little Comp of Horrors began as a way to elevate the next generation of electronic music producers, giving them a platform to share their creations with a wider audience and reach a whole new level of exposure.
Now, Kayzo returns to stun with an ever-evolving new volume of Little Comp of Horrors for fans to feast their ears on ahead of Halloween. Spread across its 13 meticulous tracks are artists such as GRAVEDGR, FREAKY, TYPHON, BADVOID, PERSONA NON GRATA, Qoiet, MYR., and more who blow listeners away with everything from dubstep and drum and bass to trap and techno.
Kicking off with GRAVEDGR and BLVK CROWZ's track, "Deadzone," the mood is set for listeners to fall into the abyss of drum and bass. The first drop features eerie breaks that will have listeners doing a double take. Up next is High Zombie's remix of Kala's "Misfits," which brings together two beautiful yet unsuspecting worlds of drum and bass and emo, perfect for the suspenseful Halloweentime. Another standout comes from Dr. Ushūu, who delivers some grandiosity with "Alpha" to give everyone a dose of impeccably produced dubstep to satiate their bloodlust.
Krischvn then takes the compilation in yet another direction by adding some trap into the mix with "Trip To Mars." With a sinister beat and vocals to match, you're sure to be hypnotized by the ambiance of this one. Another favorite, TYPHON, takes things to a subterranean level with "NRG." Put this one on, and you'll feel like you're dancing in a dark, mysterious warehouse with all the techno energy.
Overall, fans will be pleased to hear the best of the next generation through Little Comp of Horrors Vol. 4. This year's volume brings a plethora of international sounds and superstars to look out for, along with some established artists that are doing new things and exploring other genres. Enter the Little Comp of Horrors and listen on Spotify or your preferred platform if you dare!
Stream Little Comp of Horrors Vol. 4 on Spotify:
---
---
Little Comp of Horrors Vol. 4 – Tracklist:
GRAVEDGR, BLVCK CROWZ – DEADZONE
Kala – Misfits (High Zombie Remix)
Dr. Ushuu – Alpha
Krischvn – Trip To Mars
BVLVNCE – Into The Dark
FREAKY – THE COME UP
RZRKT – F2B
TYPHON – NRG
KartyPartyy – COME ALIVE (Ft. BVLVNCE)
BADVOID – THE EDGE (Ft. Josh Rubin)
Crimson ScaR – Agni Kai
PERSONA NON GRATA – REVENGE (Ft. Qoiet)
MYR. – Dignity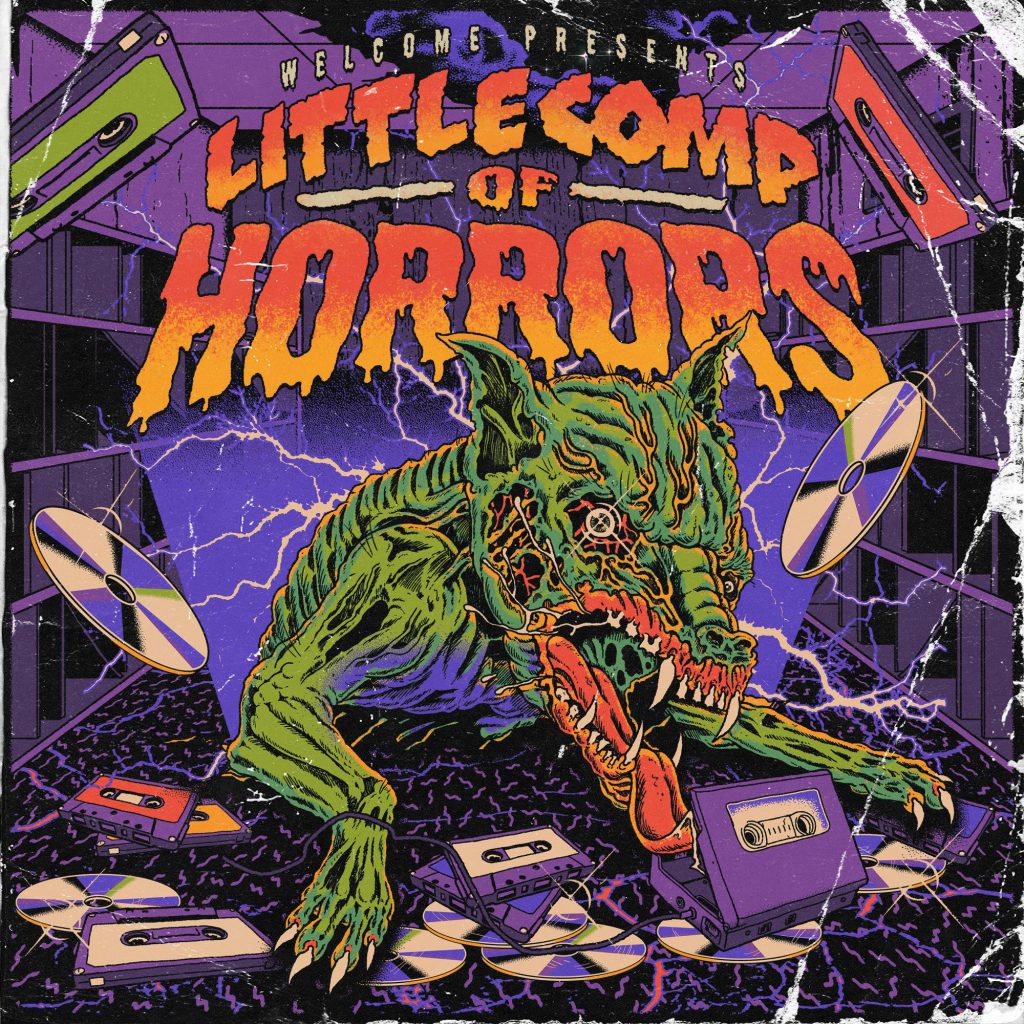 ---
Follow Welcome Records:
Website | Facebook | Twitter | Instagram | SoundCloud