Bass music favorite TVBOO brings a full assortment of heavy-hitting tunes with his debut album on WAKAAN, Blue Collar Bass.
---
Mississippi-based producer TVBOO doesn't come to play when it comes to bringing out filthy, wonky beats that can demolish a sound system. "Wook Worm" and "Skrawberries" are already close to a million streams, and he has become a can't-miss set at festivals all year round for those looking for a time to wild out to. Not only are his talents apparent in his music, but TVBOO is one of the leading podcasters in the community with TVLKS with TVBOO where his personality and humor shine through.
Throughout the years, TVBOO has succeeded in combining both his sense of humor and his complex production into his craft, making his sound one of a kind – and it was only a matter of time before he would release a full-length album. Now, that day has finally arrived as he delivered Blue Collar Bass on WAKAAN. This album is a 15-track assembly featuring an eclectic range of hitters, amplifying the heavy dance elements and sprinkled with all types of clever samples and catchy hooks. With tons of hip-hop flares, dub influence, and a whole range of iconic catchphrases, each listener is sure to find their signature tune to get down to.
Blue Collar Bass is studded with features from icons like Wreckno, Hey Thanks!, Big Baby Scumbag, and more. Listeners will be able to get down to some funky wave patterns with his collaboration with GRiZ, "Bass Music" or experience ecstasy in "My Weakness" with OMAS and Misdom. Additionally, they can feel the bass on "How It's Done" with Dirt Monkey or "MaryWana" with Boogie T and bawldy, which are sure to become festival favorites for some time to come. There's such a level of vulnerability and creativity to make a personable collection of music like this, and TVBOO has mastered that element in this new album.
If you're itching to experience these tunes live, TVBOO has announced his nationwide tour with support from bass favorites Toadface and Ahee, along with a set at Freaky Deaky TX on the horizon. With this full-length release under his belt and rising success in the future, it's no doubt he will be on the radar of bass music lovers for many years to come.
Follow TVBOO on socials, stream Blue Collar Bass on your favorite platform, and make sure to check him out on the upcoming tour with tickets available via his website!
Stream TVBOO – Blue Collar Bass on Spotify:
---
TVBOO – Blue Collar Bass – Tracklist:
Shut It Down (with Big Baby Scumbag)
OMG!
My Weakness (with OMAS and Misdom)
Contract (with Wreckno)
Annihilated (with Cojaxx)
Whip – Its
MaryWana (with bawldy and Boogie T)
Take It Back
Bass Music (with GRiZ)
Back Road Flow
We Ain't The Same (with Phulti and Al Kapone)
So Dark
How It's Done (with Dirt Monkey)
Howdy
Eff Me Up (with Hey Thanks!)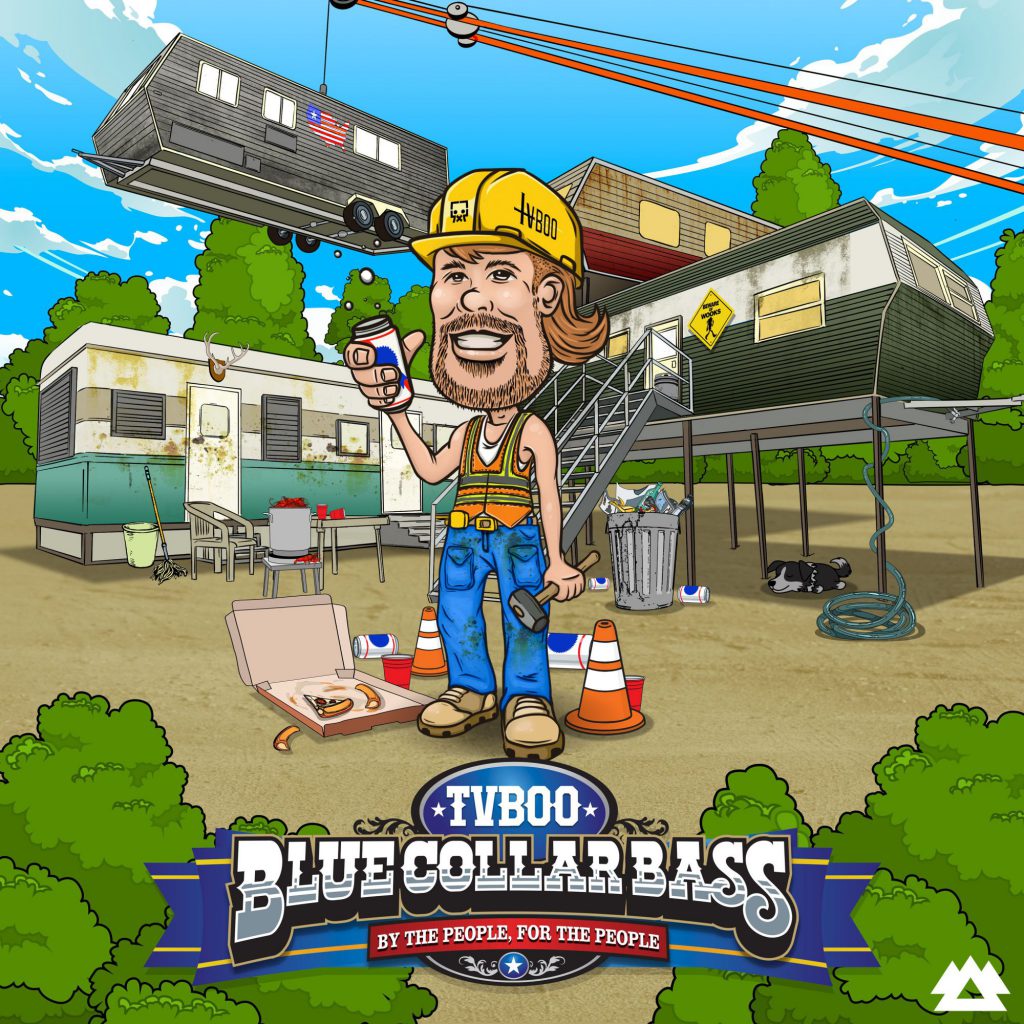 ---
Follow TVBOO on Social Media:
Facebook | Twitter | Instagram | SoundCloud | YouTube