Trance artist MIYUKI stopped by to chat about her musical journey, her production process, her favorite video games, and more!
---
One of trance's fastest-rising artists Is none other than the multitalented MIYUKI. Though both of her feet are planted firmly in the trance world, a notable aspect of her style is that she does not shy away from incorporating techno, melodic dubstep, and hardstyle in her sets, which allows her to create a dynamic experience for those catching her take the stage.
MIYUKI stands out from the crowd due to her fiercely emotional tracks and powerful lyrics that pour out from her heart. This, paired with her ability to connect with fans through her wildly popular and effervescent Twitch streams, has helped her cultivate a loyal fanbase that has filled the audience of her numerous sets, all while clamoring for more!
It's not just fans that have supported MIYUKI on her meteoric rise, but also many heavy hitters in the scene, such as Aly & Fila, Ferry Tayle, Andrew Rayel, Sean Tyas, and Somna. Looking to gain more insight into her rise, we sat down to chat about her upcoming single, "Would You Love Me," which is due out on October 14, along with what fans can expect next from her and much more. Listen to MIYUKI's exclusive guest mix and read on for the conversation!
Stream EDMID Guest Mix 343 || MIYUKI on SoundCloud:
---
Hi Miyuki, thank you for taking the time to chat with us today! How have you been doing?
I am doing really well! Thank you so much for having me, and I'm so excited to chat with you about music!
You previously worked in the science field but left in order to pursue your passion for music. Can you tell us about when you decided to make the change and how your journey has been?
I've wanted to be a video game music composer since I was a kid. I had no one to talk to, but composing music was an outlet for me to express my emotions. I didn't know that a music career was an option due to my strict Asian upbringing, so I kept music as a hobby and pursued a doctorate in cancer research. While in grad school, I became very depressed because I felt stuck doing something that I really didn't like. Even though I did end up sticking it out and finishing my Ph.D., I decided that I wasn't going to waste any more of my life.
Towards the end of grad school, I attended my very first rave at Electric Daisy Carnival (EDC). It was there that I fell in love with trance; it felt like home to me. I saw the producer/DJs on stage sharing their music with massive crowds of enthusiastic fans, making them dance, cry, and feel joy. This was the defining moment when I realized that I wanted to be a producer. It was such an astounding experience that I knew right then that I wanted to share my music with people too.
When I first started doing music professionally, I just wanted to produce music and wasn't particularly interested in DJing. I was self-releasing songs and, unsurprisingly, I had no listeners and made no money. I knew I had to livestream on Twitch to build an audience, but it was so daunting that I kept putting it off. After six months, I finally made the leap and did my first DJ livestream in October 2019, with no idea that a pandemic was around the corner. I honestly didn't expect to love streaming and DJing as much as I do now, and I definitely did not expect so many people to start watching me. Through my Twitch stream, they found all of my original music, and they loved it!
We've taken the Twitch support to successful song releases, packed headlining shows, and festival bookings. I never envisioned my music journey to go this way, but I'm so grateful for all of the opportunities that were made possible by my amazing community. I am so lucky to have such a supportive community and owe so much to them.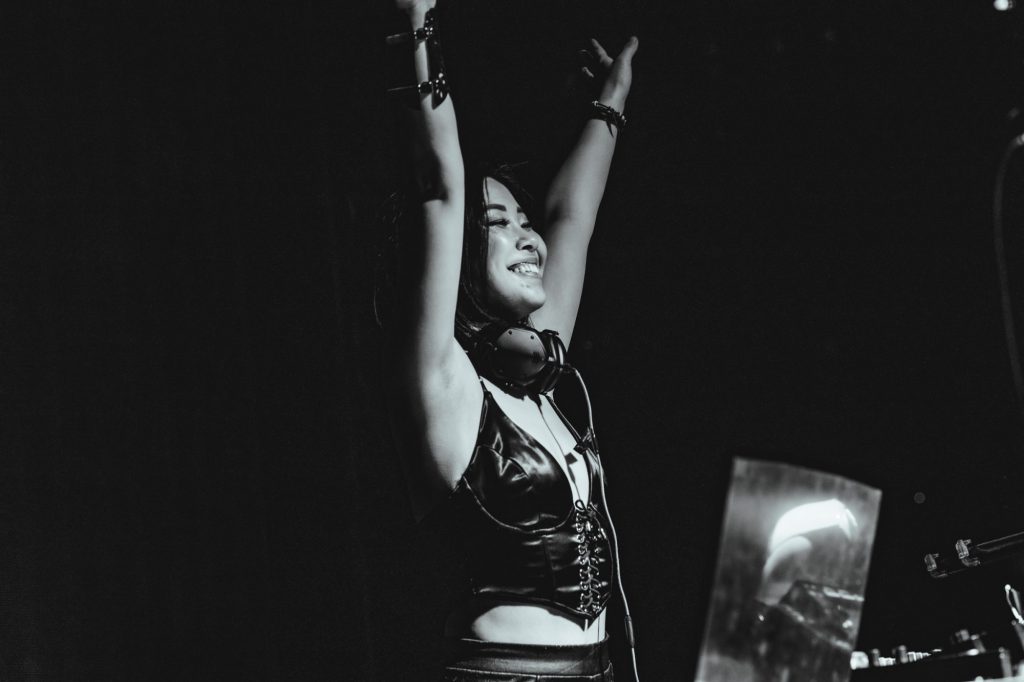 You definitely enjoyed notoriety in many forms however you also exploded from the prevalence of your livestreams and have garnered numerous fans using that medium. What about that platform do you think resonates with you and your supporters?
I think it's the "humanness" of it. They can see my face up close when I play music. They can see the joy I experience, which also leads them to a joyful experience. They can also get to know my personality a bit more, and it allows them to understand my music better and to identify more closely with my goals and my message.
For me, I love reading chat while I DJ. It's like a back-and-forth with the audience where I can read the vibe in the room, build off of their energy, and play accordingly. I've built a really strong rapport with them, and it's been very rewarding! I look forward to streaming each time.
For those unfamiliar with your work, if you were asked to describe your sound and recommend a track that embodies it, how would you describe it, and what track would you choose?
My listeners describe my sound as "fiercely emotional." I try to blend hard-hitting tech trance with intensely emotional melodies.
My recent remix of Yiruma's "River Flows in You (Extended Mix)" is a fairly representative sample of my style. The intro comes in hard right away with a techy drop, followed by a buildup of tension until the breakdown. The breakdown starts off delicate, with a carefully engineered piano sound and a bajillion layers of pads, all automated (a nightmare), for a "breathing" effect. The lead melody finally erupts into an explosion of emotion as the song, for me, is about finally taking pride in what is inside of you. You will hear a cello countermelody here as well, as the cello is one of my favorite instruments, and I use it in most of my songs. Finally, the "jumping" moment comes with the main melody accompanied by an aggressive kick and offbeat bass. Total euphoria!
Your track "Would You Love Me" drops on October 14. The song takes the listener down an emotional journey and includes powerful lyrics. Can you share a bit about the background and/or creation of the track and what it means to you?
Yes, "Would You Love Me" comes out on the 14th on AVA White! This is the most important song I have ever written. As an artist, you give a bit of yourself to every song you write, but for this song, I spoke the essence of who I am. I actually teared up every time I worked on it.
When I wrote the first draft of the lyrics, it started off as "Somebody love me if I can't love myself," but it just didn't feel right to me. I changed it to "Would YOU love me" because it felt like I was speaking to someone specific. For a long time, I pondered who it was that the song was referring to. Was it my dad or a romantic partner? It took me a year to finally realize that the person I was speaking to was myself. I was pleading with myself just to love and accept myself for who I am and to stop criticizing myself for every small shortcoming. The music depicts this yearning and the throbbing pain that always lies beneath the surface.
It is absolutely fascinating that even as the creator of a song, it can take me a long time to realize the true meaning behind it. When I'm being particularly hard on myself now, I listen to the song. It reminds me to be kinder to myself, and I hope that it can help other listeners in the same way.
Speaking of lyrics, you also write your lyrics! How does the process of creating instrumentals similar and different from creating lyrics?
That's a very good question! I think the similarity is that you have to keep iterating until the music or lyrics precisely match the feeling you are trying to convey. Sometimes I will write a chorus that's 80% right, but something will feel slightly off about it. I have to keep searching and trying different imageries and words until I find the one that makes me go, "This is it. This is exactly what I'm trying to say."
For me, the difference is that words come easier, but instrumentals are better at painting the whole picture. We have more practice talking about how we feel rather than depicting it through sound or pictures, so the first draft lyrics can come quite quickly. However, I find that lyrics by themselves sometimes cannot convey the entire story. On the other hand, it may take hours or days on the piano to finally write the melody that accurately represents my feelings. However, this melody can stand on its own. Even without words, you can understand the story that the song is telling. Music is so powerful in that way.
I prefer to use both lyrics and instrumentals where possible, so I can tell my story more precisely and with relatability.
Final Fantasy VI was the first Final Fantasy game I played, so I was pleasantly surprised when you teamed up with Pablo Artigas to release the fabulous "Terra's Theme"! You both did an incredible job keeping the essence of the track while showcasing your own take on the revered theme. How did the team-up come about, and how did you work together to incorporate both of your styles into the track?
Final Fantasy VI was my first Final Fantasy as well and my favorite from the series! I absolutely idolize Nobuo Uematsu, the composer for the FF series.
Pablo and I met on Twitch and bonded over our mutual love of trolling. When he asked me to collaborate on making a remix for Terra's Theme, I was so excited to work together that I started right away. When I think of Terra's theme, techno immediately comes to mind, so I laid down some techno elements and lead melodies. Pablo really took my ideas to the next level, fleshing out a beautiful orchestral breakdown and adding many cool elements, such as the virus acid in the main drop. I added more elements to make the track sound more "techy" and dark and rearranged the structure in a way to keep listeners engaged on the dance floor. Overall, I really enjoyed doing this collab with Pablo as we worked well building on each other's ideas.
Speaking of Terra's theme, as it is a remix of a video game track, are you an avid video game player, and if so, do you have a favorite game?
I do still play video games regularly, but I used to play them much more! My favorite games are Chrono Trigger and Nier:Automata. Both of these games have beautiful soundtracks and really meaningful themes exploring what it means to be human. Nier:Automata, in particular, was very emotionally impactful and has helped me to cope with existential suffering. I plan to remix songs from both of these games soon!
Lastly, is there anything additional you would like to share with your supporters?
Firstly, thank you for listening to my music, watching my streams, and coming out to my live shows. None of this is possible without you.
I'm so excited to finally share ID #6, aka "Would You Love Me," with you. Please save it to your Spotify, take a listen, and let me know how it resonates with you!
For those of you heading to Groove Cruise Cabo next week, I'll see you onboard! I'll be playing two sets – on Wednesday evening and Sunday evening. Also, I would love to play in your city! Please let your local promoter know that you'd like to see MIYUKI perform. See you then!
---
Follow MIYUKI on Social Media:
Website | Facebook | Twitter | Instagram | SoundCloud | YouTube | Twitch