Lose yourself in the soundscapes of Indigo 11 as you travel to outer space and gaze among the stars with Nyquist as your guide.
---
Continually trying to combine all forms of music, including live instrumentation and experimental sound design, Nyquist is a breath of fresh air in the scene. This artist creates tracks in glitch hop and bass that leave listeners hypnotized and craving more. Morphing the influence of nature and space into sound is a favorite for Nyquist, allowing for his soundscapes to be easy for everyone to get lost in while simultaneously making them feel replenished with inspiration. Luckily for fans, he is back at it again with his unique talent of morphing space and time with his latest album, Indigo 11.
Anticipation was high for the album once a few singles off the album made their way to streaming services. Tracks like "Tablelands" and "Smog" impressed listeners with their experimental and out-of-this-world sounds. Finally, the wait for the newest frequencies from this brilliant artist is over, and you can hear the rest of the magic he has been working on for yourself.
Out now on Subciety, Indigo 11 focuses on the more glitchy halftime side of electronic music and will have you nodding along with glee. Listen to Nyquist's latest album on Spotify and keep reading for a deeper look at some of the tracks!
Stream Nyquist – Indigo 11 on Spotify:
---
Take a journey as Indigo 11 fills your ears with endless opportunities for imagination.
As you venture into the beginning tracks of Indigo 11, you immediately feel transported into another world. "Portal" gently eases you into the new environment as the title track "Indigo 11" blasts you into the glitch haven setting the tone for the album. The following tracks, "Tablelands" and "Smog," were some early releases off the album that left listeners in a murky state with their low frequencies radiating throughout their runtime.
Your mind will be "Gone" to a different planet as this track's soundscapes will make you feel as if your whole body is glitching and reconfiguring its data. Perfectly gliding into the next stage of your rebooting "Shades" will send you back into consciousness and will have you realizing you're floating amongst the stars, unsure of your fate.
Halfway through the trip with Nyquist might leave you to wonder what obscurities you might find next.
Your next decision could be your last in this unfamiliar territory as you make "The Climb" to a black hole that shoots you into a new dimension allowing you to call on Nyquist and Mr. Lang for "Flight Control." Getting a charge up by this track's energetic beats, you finally see a glimpse of light at the end of the endless darkness surrounding you. One might wonder what it could feel like to be encapsulated by a "Vortex," but you don't have to guess any longer with the help of Nyquist. You feel as if you are being carried by an energetic vibrational windstorm whirling you into a blissful body high.
Those positive sensations continue until you hear the sounds of running water, only to realize you have been asleep in a dream state. Soon you are back in the uncertain territory of the new planet you've been exploring as a "Swarm" of locals begins chasing you through the strange streets of their homeland. Feeling like an alien in uncharted lands, you finally find the ship you came on, and soon you are in an "Elliptical Orbit" around the planet you had just explored. As you see it from a distance, you realize how breathtaking this discovery was.
From beginning to end, Indigo 11 is an exploration of body, mind, and imagination. You can let the music take you to many different storylines, not just this one adventure, which makes this album unique.
---
Nyquist – Indigo 11 – Tracklist:
Portal
Indigo 11
Tablelands
Smog
Gone ft. Eos
Shades
Hydration
Warp Speed
The Climb
Flight Control ft. Mr. Lang
Hofma
Vortex
Swarm
Elliptical Orbit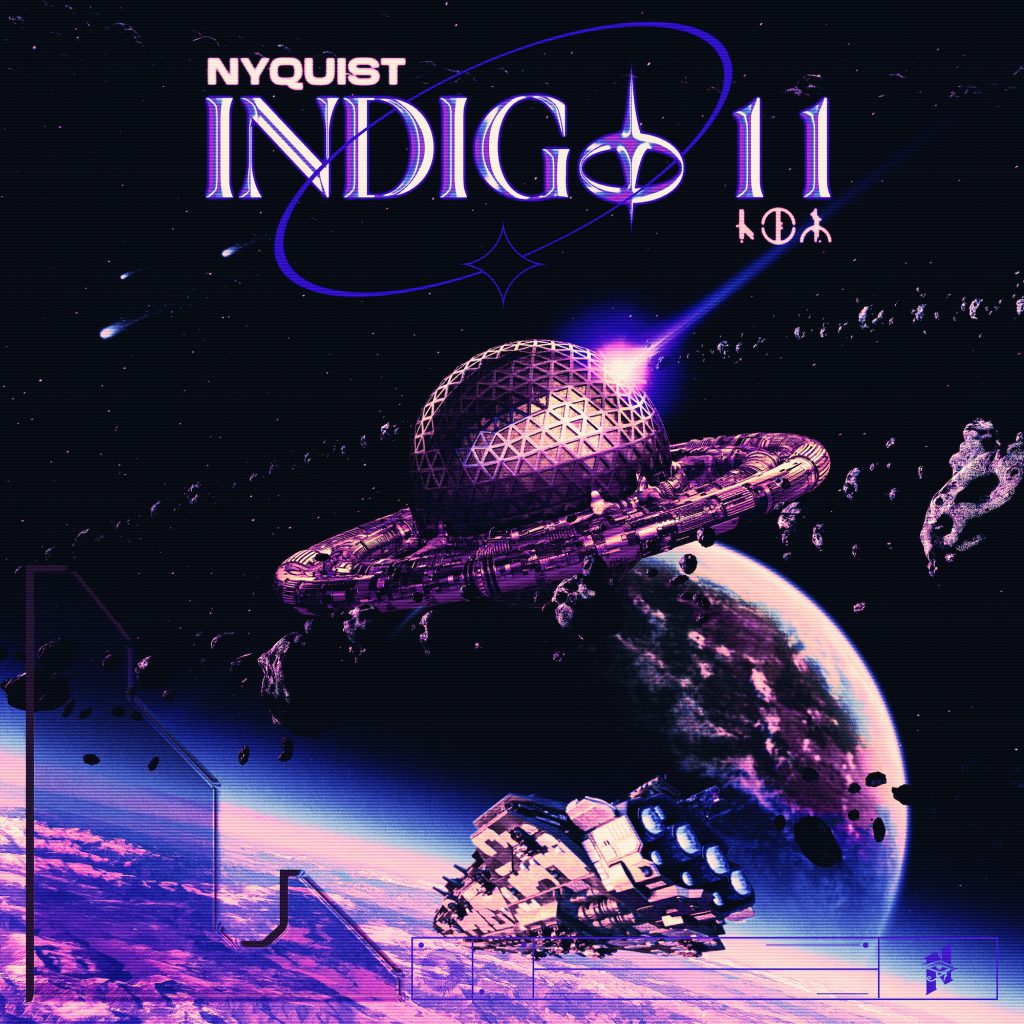 ---
Follow Nyquist on Social Media: