BIIANCO sat down with us ahead of their set at Same Same But Different and talked about their live sets, upcoming releases, and more!
---
LA-based producer and multi-instrumentalist BIIANCO has been picking up heavy momentum in recent years. A classically trained pianist from the age of five, BIIANCO combines a strong foundation in musicianship with a wide array of current production tools and unparalleled energy during their live performances. From creating, producing, and mastering all of their own tracks to endless nights spent fine-tuning patches and other sounds, they have been on a steadfast grind to take the electronic dance world by storm.
Whether it's their more upbeat dance tracks or mixtapes created "to dance and ugly cry to," BIIANCO's music is full of emotion and energetic authenticity. There are so many powerful projects this talented artist is working on, from announcing an upcoming tour and creating visual companion pieces to collaborating with other artists to bring to life powerful tracks that connect with and give a voice to underrepresented communities.
Although BIIANCO did not set out in music to be an activist, they have been affected in countless ways by the government's decisions and are using their platform to express themselves and make themselves heard. Their passion, not just for music but for the care and love for everyone, continues to win over the hearts of many, and the sky is the limit to where they'll go. As one of our top artists to see at Same Same But Different, we couldn't wait to speak with BIIANCO and dive deeper into their live sets, recent productions, activism, and more. Check out their track with MOONZz, "pray2u" on YouTube, and read on for the full conversation!
---
Hey BIIANCO! Thank you for chatting with us here at SSBD! It's been great to see your growth in recent years. Where did your roots/foundation in music begin?
I'm a classically trained pianist. I started playing keys at the age of five. Then I started learning guitar and singing and went to UCLA for music. Around then, I also started learning how to produce and compose. Understanding these are the registers that a saxophone lives in. Recently, in the past two years, things moved into dance music. I've always made and produced electronic music, but in the last two years, I've had this love affair with dance, especially melodic house and techno.
Because I have such a rich background in classical conservatory training, that background supports what I'm making now. Dance music has so many parts like that. That classical background supports what I'm making now and being a producer. That's why all the looping stuff comes from starting at five.
I'm very excited to watch you perform at the But Circus! Can you take us through your live setup and how you prepare for a festival set like this?
I'm running Ableton to control all these scenes and clips. I'm also running Ableton to run multiple drum racks. So when you see me playing the drum pads or finger drumming, those are coming out all those live in Ableton. I'm also triggering lots of clips of audio. Ableton is kind of like my CDJ, in a way. I'll trigger little snippets of songs and loop different things, and I can also put a bunch of effects on it, but all of that world lives in Ableton.
The hardware is my Prophet, my synth. Everything there is made inside the synth, and I work for hours on the patches, the levels of the patches, and how they play. When I'm looking at a set as a whole, I think, "what are the songs I want to play?" Most times, when I play them live, they're totally different. It's like a Dave Matthews Band kind of thing. Even today, I'm mainly playing club mixes because it's so much easier to loop and trigger things, and it tends to be a little simpler, so I can make things longer and draw them out.
So I'll figure out what songs I want to play, and then I'll think of "how am I going to trigger this clip," "I'm going to play this line on keys," "I'm going to sing this part with it." I have to architect out everything I'm playing at any given time. Then once you have it structured, a lot of improv goes into it. I can stutter a loop. I can improvise on what I'm singing or playing on the drum pad. It's more about knowing what's available to me. I have this rack and that rack. So a ton of preparation goes into it, but then you can improvise with your tools.
It's powerful that you mend your passion for music with your values and activism. What advice would you give to artists searching for their voice in music?
It depends whether you're a person of color, a woman, trans, or in the LGBTQIA community. For those communities. The thing is, I didn't set out thinking I wanted to be an activist. I'm just living my life, and my life is being impacted by people trying to take away my rights, and it's endlessly devastating. So, I'm operating from a sense of rage and emotion and doing what I can to connect with the community. The sad part is we're just living, and it's just happening.
So, my advice to people like that is to be fearless. Don't be afraid. If you lose certain followers, for example, my activism around abortion rights, I can see my followers depart when I post things like that. That's fine. Don't worry about that. So, I would tell those communities to be fearless.
To the men, especially white men, I would say we're watching, and your silence will not end up on the right side of history. There's a betrayal there, especially in America, because of everything that's happening with guns, abortion rights, woman's rights, and trans rights. The silence is deafening, and I would advise all cis straight white men just to speak. Talk about it and speak up about it. It was crazy how few men spoke up about abortion rights when all of our jaws hit the floor as to what our government just did.
And, a lot of men would say, "well, I just didn't know what to say," and it's like "you could've literally said anything" because it would have made all of us feel less alone, especially because both men and women benefit from abortion rights. I think the thing is that we all just need to speak. We cannot afford not to speak. We're in a time where it's not even about people-to-people problems. The government is doing things people don't want. We saw that with abortion rights this summer.
Most of our population, the vast majority of me's and you's, want abortion rights. The government is going off the rails on us, and I think most people want gun control. If you remember that, it becomes less of an intimating me versus you thing and more of us against the government.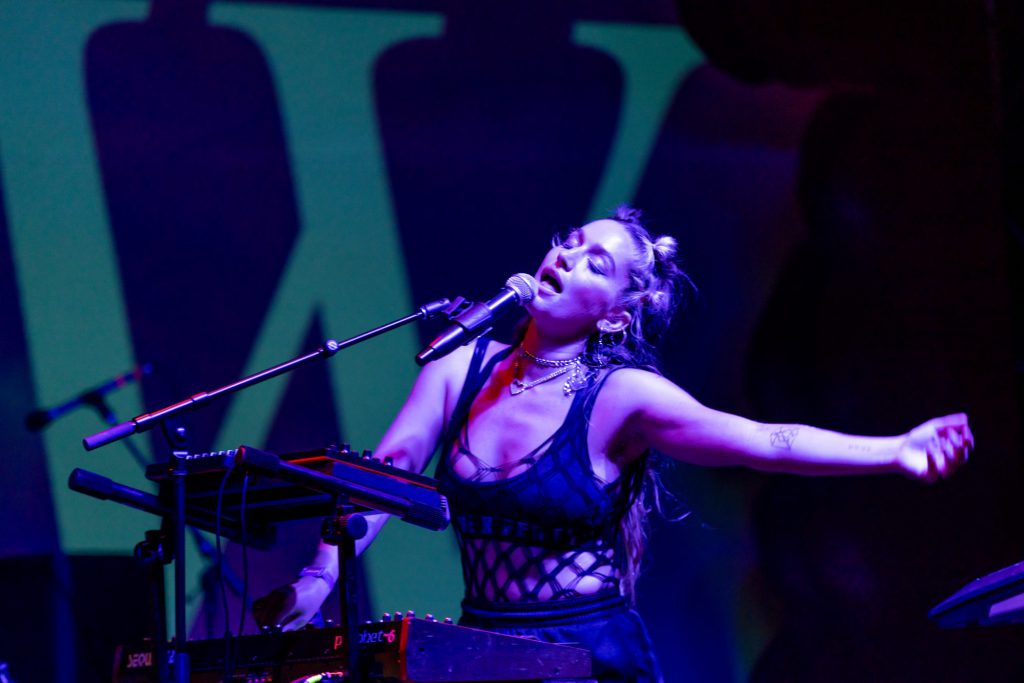 Speaking of activism, you have a new track with MILCK, Autumn Rowe, and Ani DiFranco called "We Won't Go Back," centered on that theme. How did you connect with these artists, and what was the creation process like?
It was interesting because I am here, living in my dance bubble and creating this next mixtape in a very specific lane. Then I got hit up by this amazing artist I connected with on social media, MILCK. She's got this stunning soulful voice and this beautiful folk-rock vibe. She was like, "yo, the country is fucked. I want to make this song. When the draft leaked, I went to the women's march and recorded this sample on my phone. I want to make a song around it. Do you want to produce this song?"
MILCK came over to my house and had a rough version of it where she recorded some keys and guitar. It's funny; we kept those because there was something really raw about it. Then we wrote the rest of the song. We wrote the bridge together and redid the choruses. Then we were like, "wouldn't it be sick if we could get Ani DiFranco." We thought, "who are our favorite rock artists with big voices?" So we reached out to her, and she said, "sure," and she contributed vocals. It was like a triumph.
Then Autumn Rowe is a good friend of ours. She's a fantastic writer, producer, singer, and DJ. She just won a Grammy for the Jon Batiste album. She co-produced and wrote a bunch of the stuff, and she was happy to sing, and her voice just rounded it out. When "We Won't Go Back" finally came out, it was so interesting because it's such a departure from what I'm making now, but it was so empowering. 
I love seeing your videos of building and performing your songs on social media. How do you balance marketing, content creation, and playing live shows?
I don't. Honestly, I'm learning delegation. The good thing is that certain things have expired as other things have been born. For example, people don't engage with music videos as much anymore. They're engaging with rawer content or things with a bigger goal, like the 360-degree video we did last year.
So, gone are the days when I had to spend weeks building a music video, and I'm working on something for an upcoming track now, and we're thinking of doing a complete animation. Just let the animators go with it. We'll film ourselves singing and let them go with it. Some things have died while other things have evolved. One of the biggest things in the past year was learning to DJ and immersing myself in that scene. Especially the London techno and house scene, which blew my brain. It's a completely new way of thinking, and now I love DJing.
The way I try to do things now is to focus on one thing a week and what's important. I have a great team around me, and we just had a meeting with 25 people on the call, so having the support is amazing. And, collabs are great because then you have two people mind sharing, and it's nice.
Going from studio production to a music video, what are the main concepts you look into when making that translation to visual art?
Emotional authenticity. So, if we're talking about the serious music video from my last record, my last mixtape was about a bad love empire. It was about the trauma that causes you to choose partners like barbed wire, and it makes you perpetuate cycles of trauma over and over. So, when writing this stuff, I was in an entirely humbled, raw emotional state. It was personal; I was just shooting from the hip for emotional honesty.
I also always love incorporating technology because my art is based on technology. For example, that 360-degree video for "Pins And Needles." That song is about your heart getting broken and being so fucked up that you can't feel anything anymore; your heart is like pins and needles. It's not right. So, we thought, how do we create a metaphor for absolute devastation? Like a long journey, and at the very there is maybe a glimmer of dawn.
Maybe we should just put me in a super perilous position. Like, set me up with a 360 GoPro camera and send me off into one of the roughest parts of the Pacific Shoreline in California in a row boat and see what happens. And, crash the rowboat, and it was freezing cold, and we just wanted to deliver absolute emotional honesty. And that's why my music is called "music to dance and ugly cry to," because at the end of the day, the most important thing is emotional honesty. I'm a very emotional person; it's my Scorpio Moon.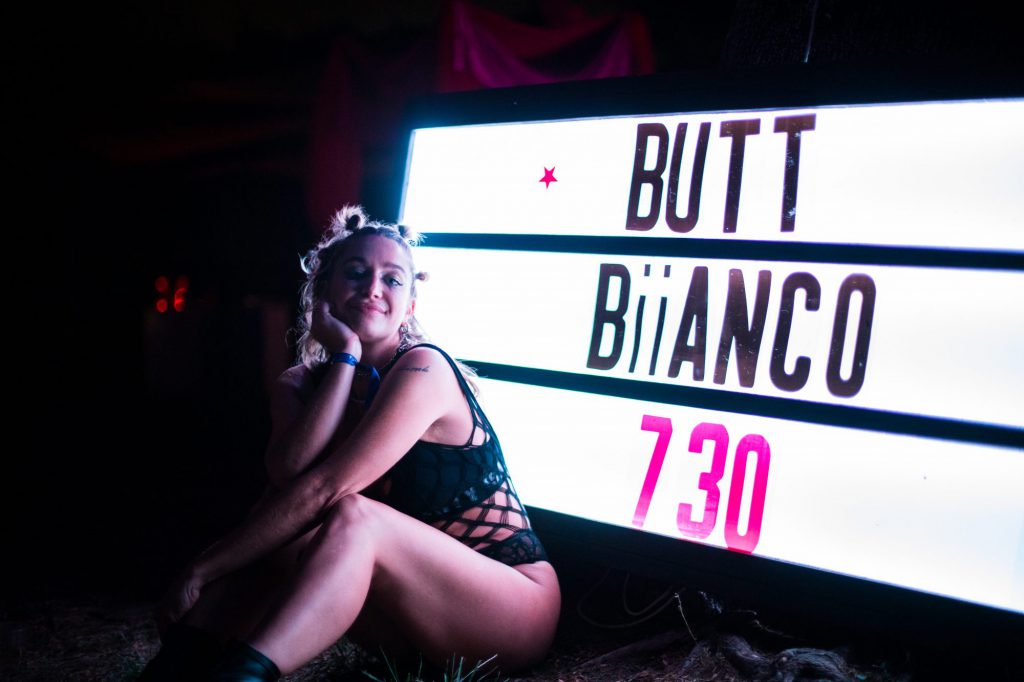 You've performed many live songs and sets for your YouTube channel. What has been one of your favorite locations to shoot?
We shot a live set during quarantine at a festival called Moonrise. It was such a magical night; I felt so emotionally charged by the physical grounds. It was in a beautiful part of the Joshua Tree National Forest. We just shot a DJ set at my friend's Beta Wave studios, and even though there were, I think, only 10 or 15 people in the room, the energy was so beautiful. In terms of my favorite place, I feel like Moonrise would be my favorite. I'm about to shoot some stuff in Europe so ask me then.
Finally, what are some upcoming projects you're working on that you can share with fans to boost their excitement?
We're about to announce a bunch of tour dates for the rest of the year, so keep an eye out for that, and there will definitely be new music before the end of the year. 2023 will be a huge year for that, and for the first time in my career, every song has its club edit or long-form version.
---
Follow BIIANCO on Social Media:
Website | Facebook | Twitter | Instagram | SoundCloud | YouTube