Electronic music trailblazers Ivy Lab are set to bring a unique audio/visual experience for their fans on the Infinite Falling Ground tour.
---
For years, Ivy Lab has reached levels far beyond the understanding of what music can offer. With boundary-breaking EPs like Stars and Double Blind shaking up realms of hip-hop fused, sensual bass-heavy elements and impressive performances at festivals and nightclubs, the beloved duo has garnered a dedicated fanbase over the years. Earlier this month, Ivy Lab stirred up even more excitement for their faithful followers with the announcement of their upcoming album, Infinite Falling Ground, which is set to be one of their most innovative and immersive experiences yet.
The first taste of what's to come on Infinite Falling Ground arrived with the release of "Balaclava," which offers a synchronistic, captivating listening experience for Ivy Lab's fans. While details on the forthcoming album are limited, the duo teased an audio/visual tour when the track dropped, and now more information has surfaced surrounding the upcoming run of shows.
The Infinite Falling Ground tour is set to kick off in London on October 20 before they cross the pond and head to Los Angeles for the premiere of this audio/visual experience in the US on November 26. From there, Ivy Lab will head to the Pacific Northwest for three stops before the end of the year in Seattle, Bend, and Portland. In 2023, the tour will continue with the duo landing in cities like Atlanta, Chicago, Nashville, Brooklyn, Denver, and San Francisco, while also making a stop at Okeechobee for a festival performance you won't want to miss. Joining Ivy Lab on tour are artists like OOAK, Lake Hills, Nikki Nair, and Sicaria Sound, giving attendees a plethora of sound system goodness.
The Infinite Falling Ground experience is sure to be a special one, so don't sleep on catching them. Tickets are now on sale via their tour website.
---
Ivy Lab's Infinite Falling Ground Tour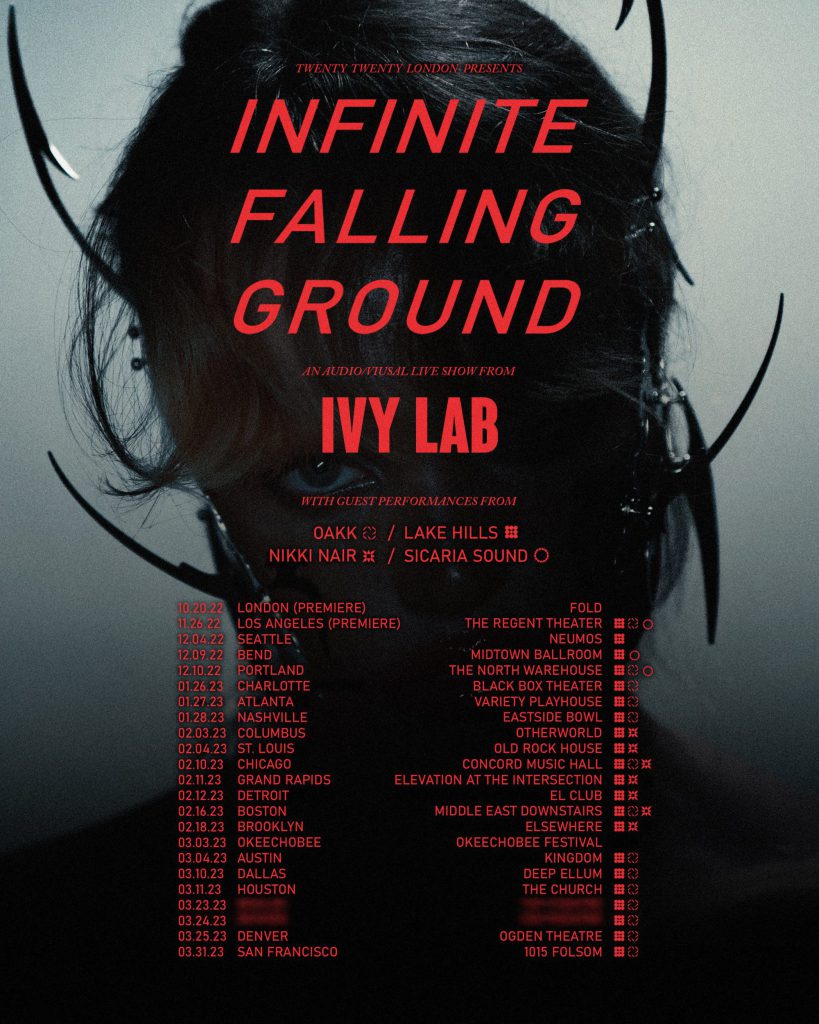 ---
Follow Ivy Lab on Social Media:
Facebook | Twitter | Instagram | SoundCloud