Matoma took some time before opening for Zedd at Red Rocks to chat with us about new music, his fundraiser for Ukraine, and more.
---
Red Rocks Amphitheatre is known as one of the most jaw-dropping venues in the world, with artists making their mark on those attending shows there since 1941. On August 31, Zedd took the stage for his biggest performance yet, which boasted vibrant visuals that paired perfectly with his set and tunes that had the crowd going wild the entire time. But Zedd wasn't the only artist who played that night, as this special show featured an all-star lineup of openers who joined him for the experience.
The warm evening started with Disco Lines, who brought massive energy that made people go crazy. Next up was Audien, who gave everyone a taste of his Progressive House Never Died tour with his biggest tracks, both new and old. People flooded into the bleachers with their friends as his upbeat tracks flooded the amphitheatre. The final opener was an artist I was excited to see for my first time, Matoma.
Matoma's set brought a wave of emotion and meaningful beats, though the energy never slowed down. He played his brand new releases from this past year and some of his older, most beloved tracks. We were lucky enough to get to chat with him before the show to talk about everything from playing Red Rocks with Zedd to his Fundraiser Music Saves UA. Check out the music video for his track with A R I Z O N A, "Heart So Big," on YouTube and read on for the full conversation.
---
Thank you so much for talking to us today. Red Rocks is obviously one of the most iconic venues in the world. How does it feel to be playing here? 
Here is Yeah, it feels amazing. Just coming here and feeling the vibe of this historical venue is incredible. When you drive in here, you see the green room, and you are walking and seeing all these posters, and all these pictures from legendary artists over the decades, just delivering what they love, music. I'm from Norway, and to be able to fly over the Atlantic, be fortunate enough to be playing here, and be direct support for Zedd: Life is amazing.
I think it's such a cool experience. There are so many legends, even this year, that have stepped on that stage. Is this your first time playing Red Rocks?
Matoma: Yes, we've been preparing all Summer; this is going to slap. 
I'm excited. I've been listening to your music for a while now, but I've never seen your show live. How does it feel to be back on tour and sharing your new music with all of us?
To be honest, when it comes to the show itself, it feels amazing just capturing the vibe of the crowd and being connected with people. It's so amazing. But I won't lie, the traveling has been tough. Going from COVID and not doing a shingle show, or at least like being in one country with very little travel, to suddenly being a touring artist again, that switch was hard because I'm not 23 years old anymore. I'm 31, and my body is not as loose. Playing until 4 AM and then not having any sleep it's a bigger toll on you than it was back then. So it's both positive, but regarding travel, I haven't missed it.
Do you have a bunch of new music coming out? 
Oh yeah, the machinery has been pumping. Over the last few years, it's really given me the perspective of taking some new steps and new directions regarding music and breaking out from a major label. Going independent was such a positive and good experience for me, even though it's more work and it's harder. It's still more rewarding because you're doing it yourself. And then there's the creative freedom, the creative aspect.
So last year, going from "Summer Feeling" into "Take Me To The Sunshine" to "Midnight Sun" it's led up to this moment where I'm ready to show the new Matoma. This new single, "The Power," out October 7, is gonna be so powerful. I feel like the sound, the sonics, the lyrics; it's so full. It's contemporary. I'm actually playing it for the first time here tonight, in the US. It's almost like a premiere of the song.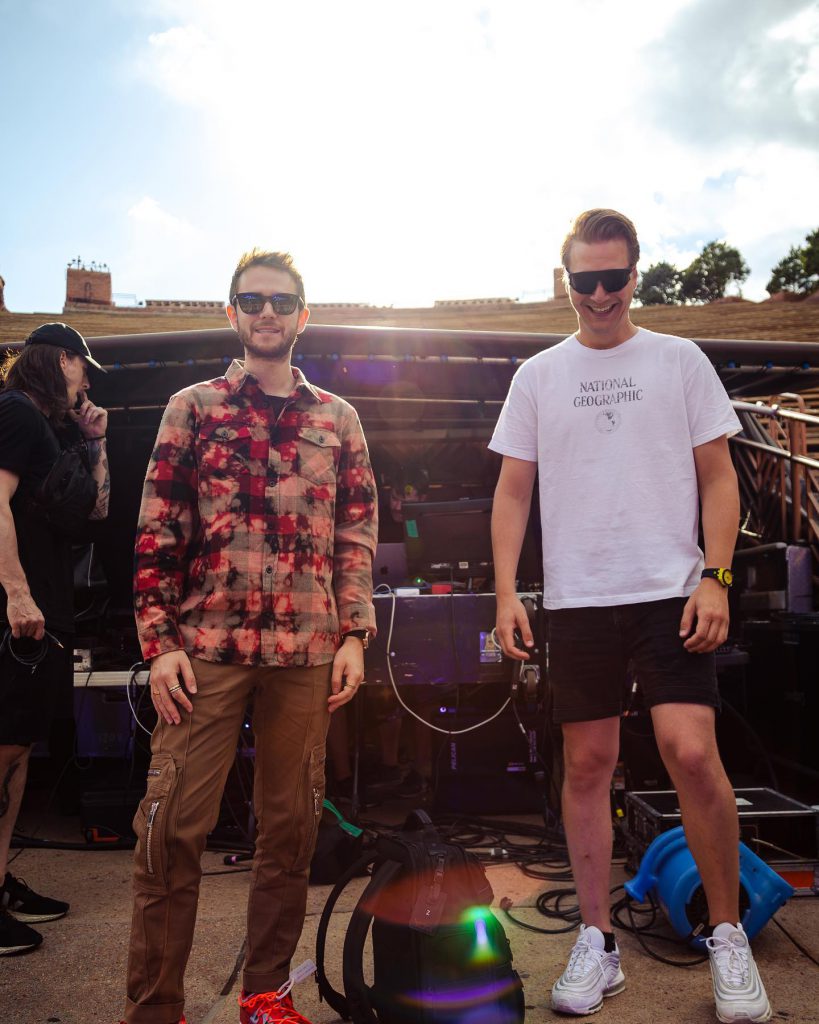 That's kind of surreal, especially at this venue! You did a four-part partnership with BMW Energize, playing across Norway. What was the experience like?
The experience was most incredible. As I said, this was around when we were still shut down. COVID was very present then. To be able to do that, to fuel me with inspiration, to be connected with nature, to grasp the fundamentals behind my music, going into nature and playing in nature was just incredible. Everything was just very positive.
I'm not super familiar with Norway, but where did you go? 
Basically, all over, but I didn't go to the north because, in December, the weather is just too crazy there. You can't predict it. Like in 30 minutes, you can have snow, sun, wind, and blizzards basically. So we stayed down in the south of Norway, but the scenery was amazing. Actually, one of the DJ sets was on top of a float in the Fjords.
Oh nice! I was watching some of it last night. You haven't been really touring all Summer, but you've dropped some new music and tracks, "Heart So Big" and "Midnight Sun." Can you share your creative process? And the creative process behind those videos as well?
The creative process of "Heart So Big" came basically from PJ Bianco, who is a great songwriter and is also a good friend of A R I Z O N A and myself. He sent me this record a while back. It was really a beautiful acapella, and the lyrics really touched me. When I heard the story behind the song – that it was about his son who has autism, and you have a heart so big for this world and your child because they're different, but in a beautiful way – I just started crying.
I remember I was at my cabin, and I was in my garden with my set up, and I just started playing chords and filling the spaces of the vocal and just trying to track the production around the vocal. The track just ended up being beautiful, and it's the song I always close the set with.
In the music video, we wanted to interact with people and have people in the video, so we encouraged people to send videos of them and their loved ones having a special moment. We received thousands of videos, and it was such a creative and beautiful process.
Andrew, how do you want to describe the "Midnight Sun" video?
Andrew (Manager): It's a viewpoint of someone looking at an apartment building with all these kinds of window vignettes of different people's lives in the different apartments.
It sounds like a cool concept; I will definitely check it out. So for "Heart So Big," you took different people's stories in videos to share?
I would say like moments in their lives where they captured something that is important or positive. We got so many beautiful videos, also powerful videos where you have people telling real stories about challenges in life.
I feel like you probably got to know people that way too, without actually getting to know them. This past year, you took over three billboards on the drive to Coachella to help fundraise and raise awareness for Ukraine.
M: The billboards for Coachella are actually still up. They haven't taken them down.
A: For about six months because after Coachella, there is Stagecoach as well.
M: We were just supposed to have one month. We were supposed to promote new music, but at the time when you had a war going on as close as Ukraine is to Norway, for me – I know you're in the US, you've read about it in the news, but it hasn't been up close – we, in Norway, take in thousands of refugees. And the same with Sweden and Denmark. So for me, it was important to try and do as much as possible, to donate these billboards to give information to people going to Coachella. Both those weekends were, for me, more important than promoting music. And the fact that they still have kept them up is amazing.
That's really cool! How can your fans still support efforts? What other fundraising did you help with?
I played the festival in Ukraine in Kyiv in 2019 and got to know the promoter for the festival. He was such a great guy, and during the war, Andrew and myself reached out to them to ask if we could do anything to help them out. He came back, and he said, "Yeah, we turned our nightclubs into refugee centers. And we've been giving food and clothes and everything." So we held a fundraiser for one of the sets at Proximity's festival. That was for the Red Cross. The set was 45 minutes, and we raised over $10,000. Then we did the billboards, and then I did some personal donations.
Wow, that's super cool! Obviously, our year is more than half over. Do you have anything planned for the rest of 2022 that you can share with us? 
I have two singles coming out that I'm super excited about. The first one is the chapter of a new era, I would say a bit more soulful, more deep, melancholic, and the sounds are bigger. It's called "The Power," and basically, it's about finding your inner strength, overcoming obstacles and hard moments in your life – to push forward and always be a better human by spreading love. So that song really means a lot to me. As I said, tonight is the first time I'm playing it. And then I have another song coming out later this year called "Deeper."
I'm excited to hear those for sure. Then just for fun, my last question is, is there something you're absolutely obsessed with right now?
Playing here at Red Rocks! I've been preparing for this the whole summer. And I have to say meeting Zedd for the first time – we've been texting a little on Instagram and stuff – but meeting him for the first time. He's super nice, so humble, and the fact that he came over and we were talking about the show, and he just wanted me to be comfortable, making sure that I was good.
---
Follow Matoma on Social Media:
Website | Facebook | Twitter | Instagram | SoundCloud | YouTube | Twitch