GRiZ debuted a smashing new stage design and jaw-dropping production at Triple Rainbow amidst its heavy police presence.
---
This year has been a remarkable one for GRiZ as he continues to thrive with a plethora of releases and curated events for his fans. The most recent addition to his legacy is Triple Rainbow, a camping festival for the first time at Alpine Valley Resort in Elkhorn, Wisconsin. At the festival, GRiZ debuted a new stage design, brought out friends to perform with him, and gave the fans two Chasing The Golden Hour sets.
The weekend began with the drive to Elkhorn, which is only about an hour and a half from Chicago. We had a car full of camping gear and were ready to hit the road. Once we arrived, we had to set up camp – which was very strict as you were allowed up to six people in one car at one campsite, on top of that you had to fit all of your stuff in the car. So to get around this, we loaded up one car with all of our stuff and packed everyone in.
The first thing I noticed was the security and police presence that felt overbearing at times.
While security getting into the site wasn't too bad upon entry – they searched your car and put your wristbands on for you to make sure it was tightened – it was another story inside the campgrounds. There was a strict noise curfew being enforced, so from 2:30am to 8am, you weren't allowed to blast your speakers as you normally would hear at other camping festivals. If you didn't obey, a cop would come and tell you to turn it down and/or give you a ticket. Additionally, the venue had police dogs and authorities patrolling the grounds constantly, which left many attendees feeling as if they were being profiled and others raided for paraphernalia throughout the weekend.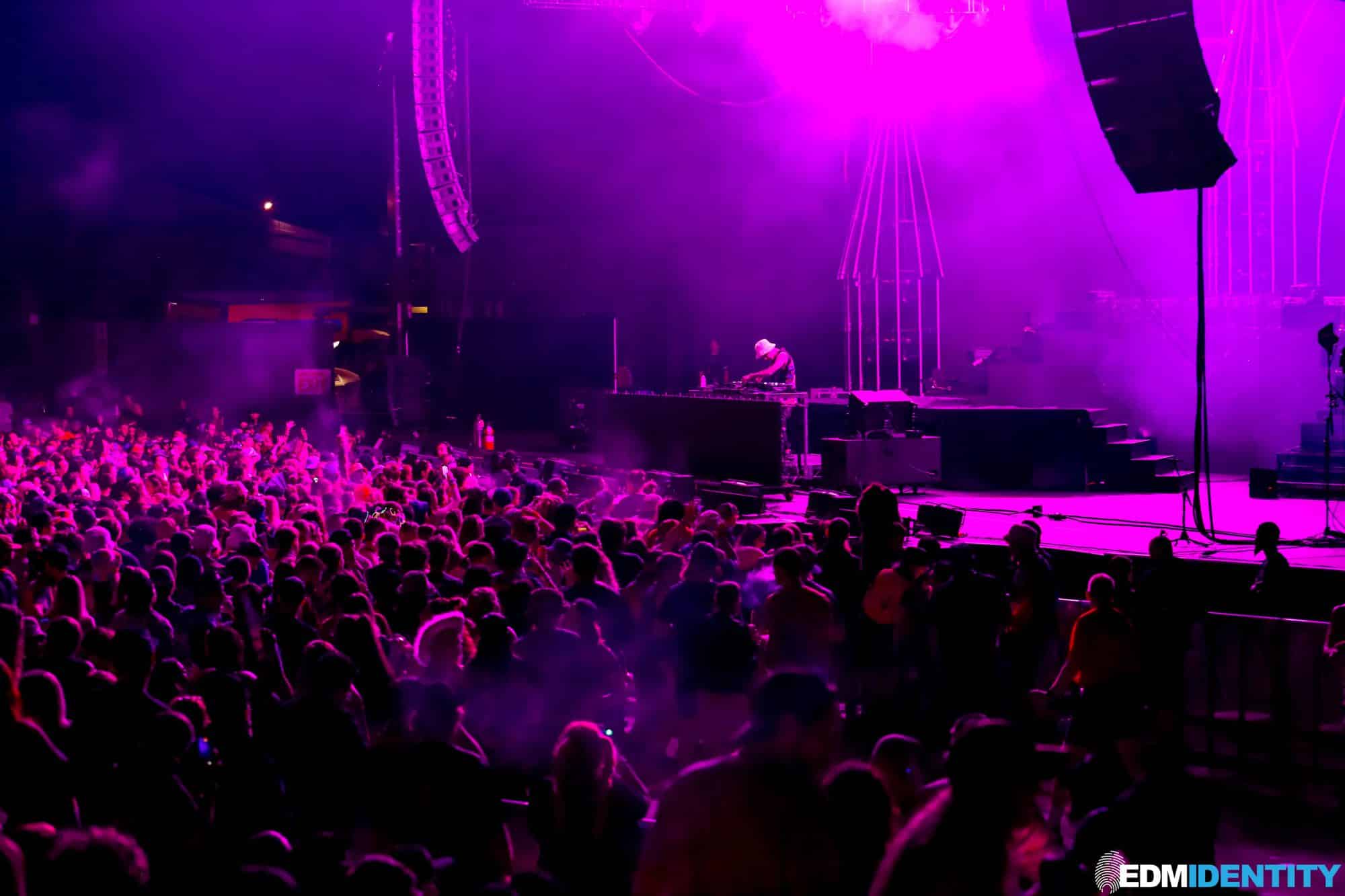 Running Up That Hill… literally.
After finishing our camp setup, it was time to head in to catch some music. The walk from our tents to the venue was a hike; you had to go downhill, then uphill just to get to the venue gates. It was a very steep incline inside the venue itself. I can't stress enough how much of a drag that was – I felt as if I were to stand up straight, I'd fall over.
Once we got inside and caught our breath, we arrived to catch the tail end of GRiZ's first Chasing The Golden Hour set. There was one on both Friday and Saturday at 4:30 pm where he had brought out ProbCause and Chrishira Perrier to perform "Rainbow Brain." I have been a fan of GRiZ for years, so it has been a real treat to see him grow and adapt to the ever-changing scene as an artist. For him to have his own little camping festival is something I would have never expected years ago.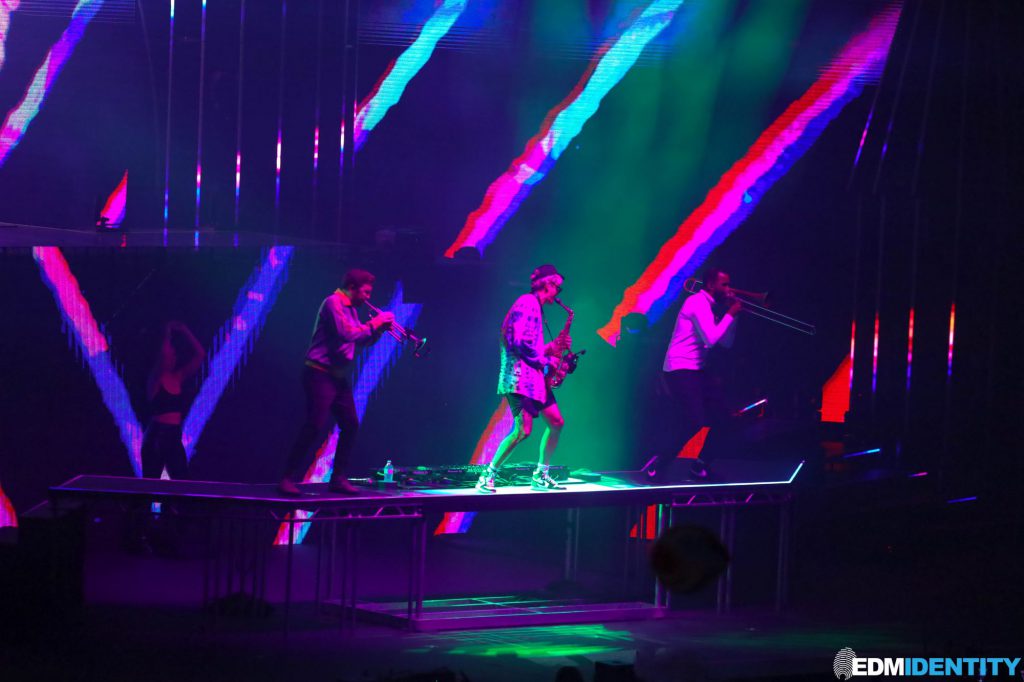 There were a ton of fans at Triple Rainbow, but there was still plenty of room to move around.
Whether in the crowd or at seats that were open under the pavilion, you could easily find a place to dance away to some tunes. The downfall again was the very steep incline going up and down the path from pit to lawn. And as expected, the pit was a different type of energy compared to the lawn.
Everyone was hyped to be there and headbanging along to the beats of Noah B, as his set was filled with wubs. While the pit was losing their minds, there was a more mellow atmosphere toward the back of the crowd. This was refreshing, especially when you wanted a break from the heat of everyone sweating together in close proximity.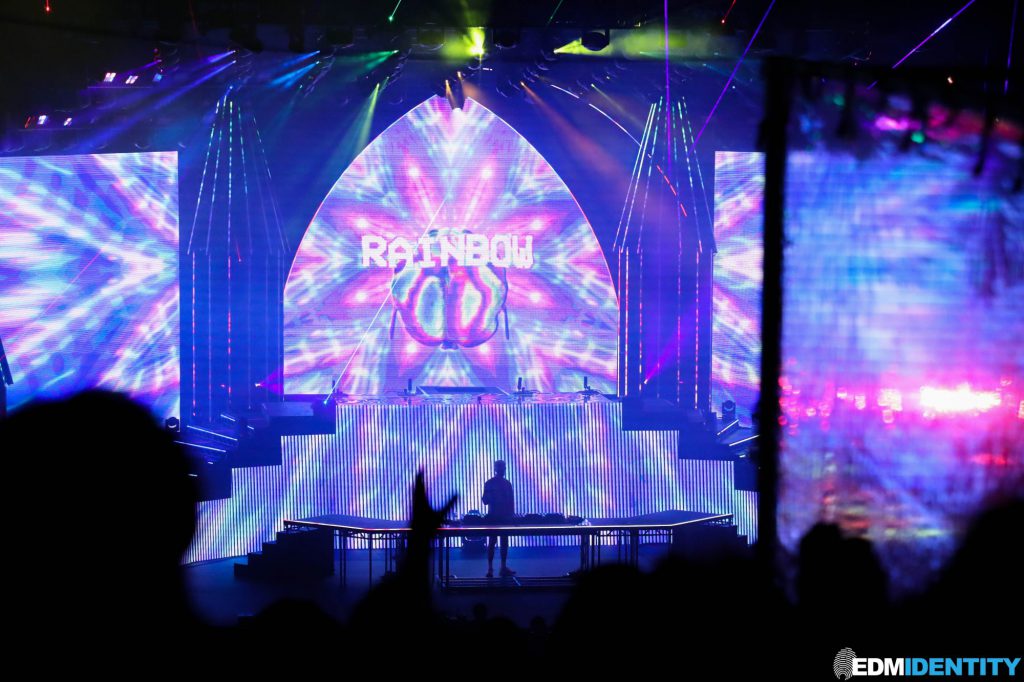 Following Noah B were EAZYBAKED, Tripp Street, and LSDREAM before the debut of GRiZ's new stage.
Both EAZYBAKED and Tripp Street put on fantastic performances and made it clear that the wubs would be bountiful all weekend long. Then, LSDREAM took the stage and delivered an awesome set that filled the crowd with positive vibes and helped get everyone excited for GRiZ's next set that would happen soon after.
Then, the man of the hour came on to reveal his new stage design, dubbed "The Crystal Palace," and showcase its production setup in full glory. The stage was aptly named as it gave off Wizard of Oz vibes, but with a plethora of lasers and pyrotechnics added in. His silhouette greeted fans as he opened with an "Over the Rainbow" remix.
Then the curtain dropped, and the stage was revealed. He dropped "FUNKONAUT" and brought LSDREAM out to play it alongside him as laser beams and colorful lights danced with the beats to enhance his rainbow-themed weekend. Near the end of Friday's set, he dropped a Fred again.. remix, which only had me further excited for the second day.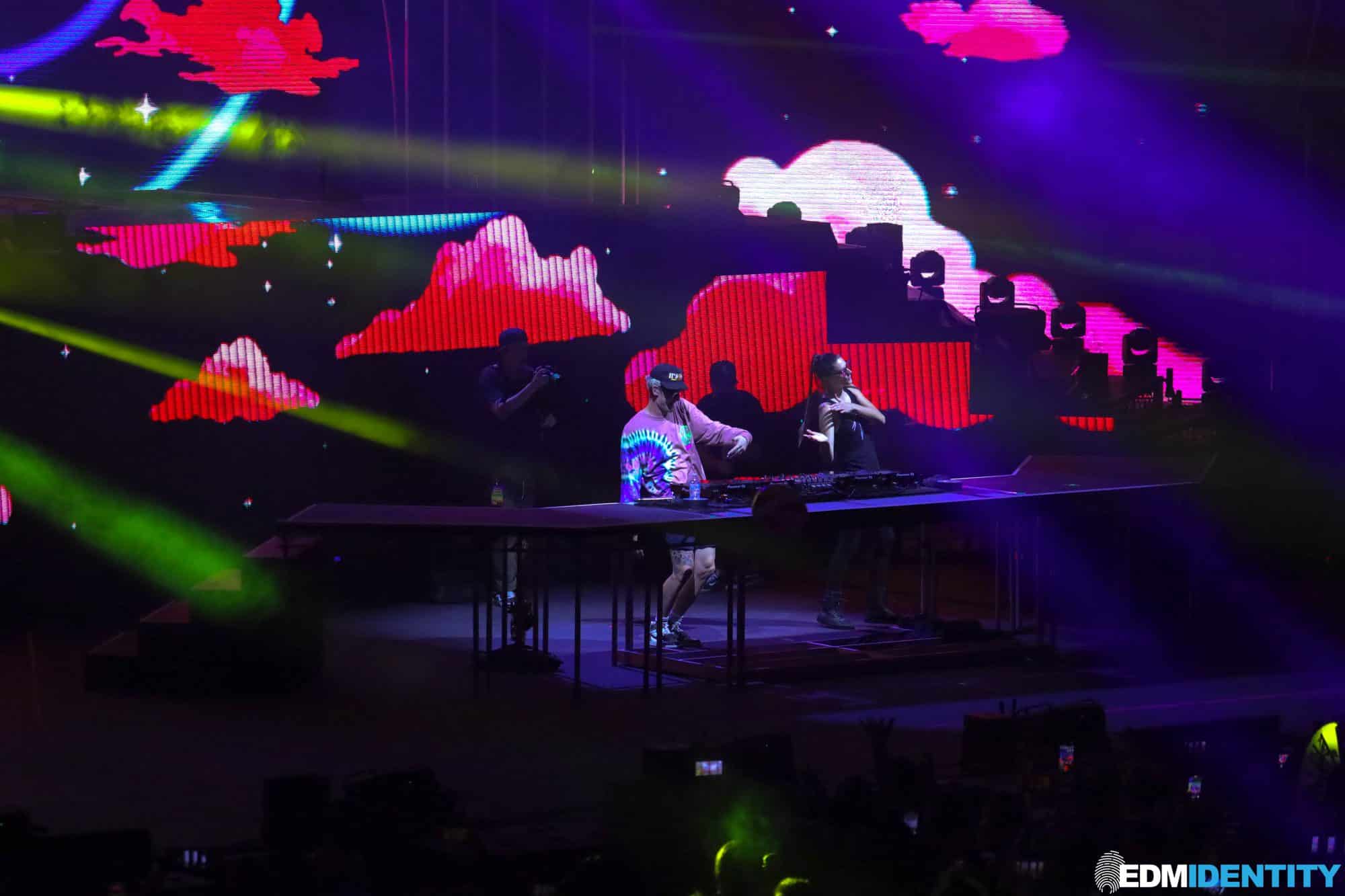 Saturday started with a little visit to some friend's campsite for food.
While the venue had some food options, there wasn't much variety, not to mention that there was only food inside the venue and not near the campgrounds. So if you didn't bring any snacks or food to cook, you were out of luck and had to wait until the gates opened. The lesson here is that you should always bring food to a camping festival – don't be silly and go hungry. I did end up treating myself to some cheese curds once inside, which weren't too bad but had stayed under a heat lamp for a bit too long.
While the performances from Tape B, CHEE, and Minnesota, were all great in their own rights on Saturday, CloZee was the real standout.
After missing CloZee's sets at Electric Forest, I knew I couldn't miss it, and she absolutely did not disappoint as she ran through some magnificent tunes. Her set was just before GRiZ's fourth of the weekend, and the crowd erupted once she introduced him on stage. As his silhouette appeared from behind the curtain, a sample from Wizard of Oz played, and his performance began.
Fireworks went off, bass rumbled throughout the venue, and we were off to the races yet again. The only bummer about this set was that the volume fluctuated during some parts, leading to some drops not being as loud as you'd them to be, but overall it was a perfect way to bring Triple Rainbow to a close.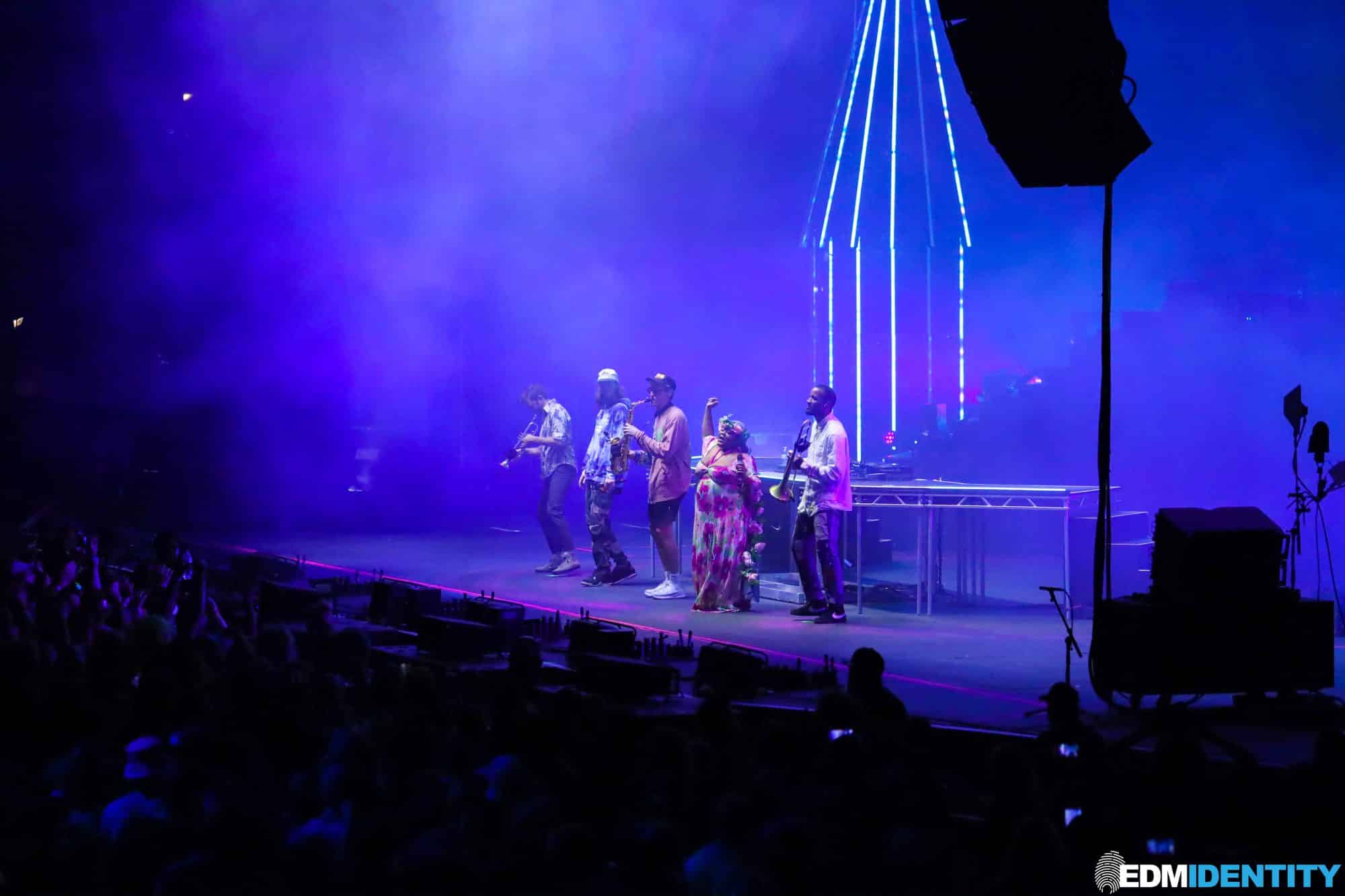 As his set came to a close, GRiZ, ProbCause, Chrishira, and his band gathered on stage to thank fans for attending.
GRiZ asked everyone to cheer on the lighting and pyrotechnics crew, videographers, photographers, and everyone else involved in making the weekend a special one for Triple Rainbow's first year. Which was well deserved; they did a great job production-wise. His team worked hard to make the experience one to remember.
That being said, I left Triple Rainbow with a mixed experience. The strictness of the grounds near campsites, the aggressive authority figures present at the festival, and the steep inclines the venue has will make me reconsider attending in the future. It would be great to see GRiZ move Triple Rainbow to a different venue, or even out of Wisconsin as a whole, as it would help the festival become more of a fan-first experience.
---
Follow GRiZ on Social Media:
Website | Facebook | Twitter | Instagram | SoundCloud | YouTube