Flume's sold-out Palaces tour stop in San Diego was a smashing success that appealed to old and new fans alike.
---
If you've been a fan of dance music over the past decade, you've more than likely heard the progression of Flume. From old favorites like "Holdin On" and "Insane" featuring Moon Holiday off his debut album to newer tracks like "Say Nothing" featuring MAY-A and "Sirens" featuring Caroline Polachek off his recent Palaces album, it's been quite the journey to see the evolution of the Australian producer's sound.
After the release of Hi This is Flume in 2019 and being relatively quiet on the music front since then, fans were delighted to see Flume return to the scene with Palaces and its accompanying world tour this year. With stops across the country in cities like New York and Miami, and a plethora of appearances in his home country of Australia, I jumped at the opportunity to catch him among his busy schedule in my hometown, San Diego.
Related: Check out our full photo gallery from Flume at The Rady Shell on Facebook!
The stunning new Rady Shell at Jacobs Park provided the perfect setting for Flume's San Diego Palaces show.
This state-of-the-art venue is relatively new to the San Diego events scene, having opened just last summer. When Flume announced that he would be coming to this location, I was ecstatic, having always wanted to attend a concert here. On the day of the show, my friends and I arrived via rideshare, encountering a short wait in a line of cars as we moved closer to the venue; it was a relatively short walk to the venue from our drop-off point. There are parking options around and nearby the venue for those that opt to drive, but I'm sure the closest lots fill up quickly.
Upon entering, my friends and I were met with another short line at security, and we were immediately blown away by how lovely the venue was. There were various food and drink options, and although some lines were longer than others, we found one that wasn't too long and made our drink purchases there. After that, we headed up a set of stairs toward the gorgeous venue, taken aback by our breathtaking surroundings.
The Rady Shell was designed for the San Diego Symphony's performances, allowing for excellent sound and acoustics thumping from the speakers. It's a venue unlike many others, and I'm excited to see more acts within the dance music scene take the stage here. With the San Diego skyline behind us and the harbor's waters surrounding the venue, my friends and I enjoyed music from openers TSHA and Sega Bodega as the sun set over what was soon to be a fantastic evening.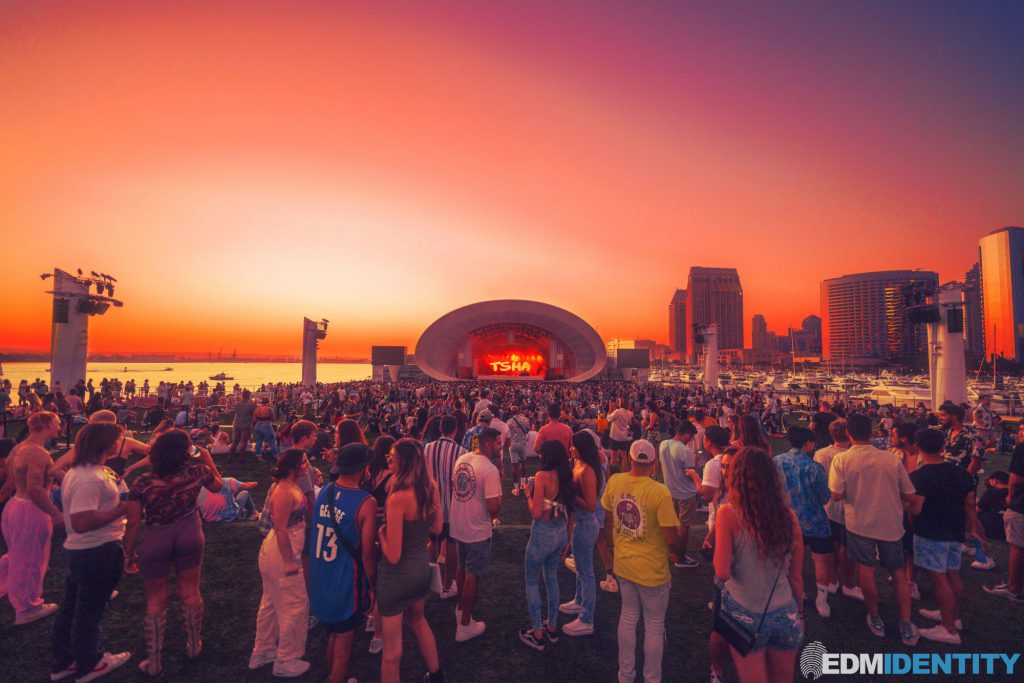 Flume arrived on stage shortly after TSHA had taken the stage, and the show kicked into full gear.
Flume opened with his recent energetic track "The Difference" featuring Toro y Moi, before he began to dive into tracks off Palaces by playing "ESCAPE" with QUIET BISON, as singer KUČKA appeared to perform the song live on stage. Flume's remix of Disclosure's "You & Me" with Eliza Doolittle and "Insane" with Moon Holiday hyped up the crowd even further, with colorful visuals lining the outside of the shell. These effervescent visuals were present throughout the show, with many projected onto the entire stage and over Flume himself.
Flume did an excellent job catering to old and new fans, playing many of his early tracks alongside newer ones.
The crowd erupted with pure joy when hit releases like his remix of ILLENIUM's "Say It" with Tove Lo, "Holdin On," "Drop The Game" with Chet Faker, and "Never Be Like You" with Kai were played, evoking nostalgia in fans' hearts. Recent releases off Palaces were also embedded throughout the show, like "I Can't Tell," featuring LAUREL, "DHLC," and "Jasper's Song." KUČKA surprised attendees by returning onstage not once but twice to perform "Smoke & Retribution" featuring Vince Staples and "Hyperreal."
As if fans couldn't get enough, Flume later teased the crowd with an encore performance, coming back onstage to a sea of fans bursting for what was to come. Taking his place on the decks once more, Flume delivered tracks "Sleepless" with Jezzabell Doran and "On Top" with T-Shirt to the buzzing crowd. For the grand finale, Flume played his remix of Lorde's "Tennis Court," a purely magical way to close out a career-spanning performance.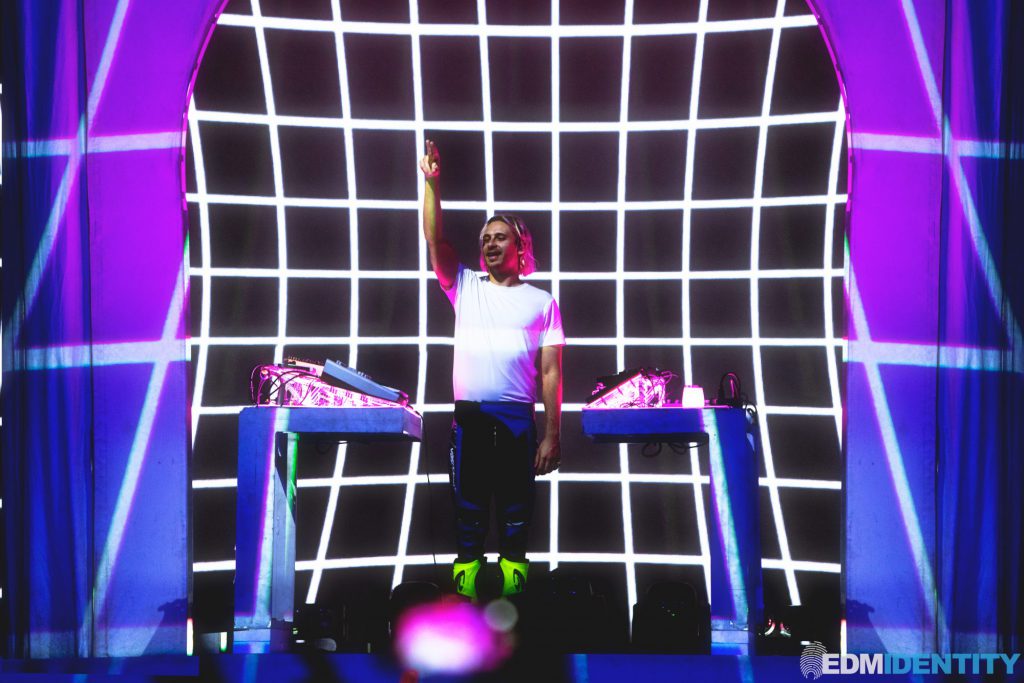 Flume crafted an enjoyable show featuring fan-favorite tracks spanning the last decade of his career, along with recent releases.
Overall, Flume curated a solid selection of his tracks for a memorable and entertaining night. Having last seen Flume in 2016 when he performed at another venue in San Diego, I was pleasantly surprised to hear so many of his early tracks that I love, along with a variety of newer tunes from the Palaces album. Flume successfully appealed to fans from any point in his career, and anyone who loves and appreciates the sounds of this Australian producer should make a note to see him at an upcoming show.
---
Follow Flume on Social Media:
Website | Facebook | Twitter | Instagram | SoundCloud | YouTube