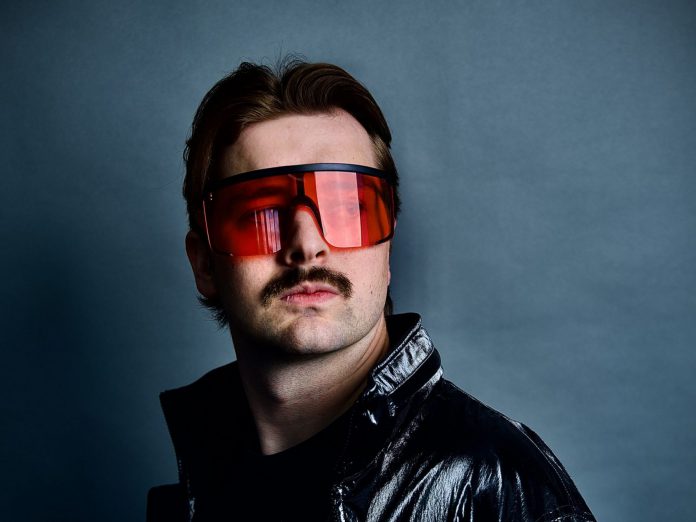 Rising house music artist Forbes swung by to chat about his early days in the scene, finding a passion for house music, and plenty more!
---
The next generation of house music artists is bubbling up towards the top as fresh faces continue to take hold of the scene with stunning tunes and infectious energy with each passing month. Rising DJ and producer Forbes is one of those artists turning heads and quickly becoming someone whose future is growing brighter by the day. Born and raised in Arizona but now located in Los Angeles, he's already begun to deliver some house heat and clearly isn't slowing down by any means.
The past few years have seen Forbes drop some house gems that include the likes of "Undercover," "Tame Me" with Michaella, and "Endlessly" with David Shane, which showcase his dynamic range. Other stunners include "Cheeky" with Kris Kiss, a groovy bass house roller that saw Nostalgix take on remixing duties, along with his first single in 2022, "Bass Addiction" with Dread MC. And Forbes packed an extra punch with "Trust Issues" with Velvet Cash and "Dance" with MAMBA. to continue his onslaught this year while also launching Forbes Radio to showcase some of his favorite artists.
Now, fresh off the release of "LOSE CTRL," and with Forbes Radio picking up momentum, we caught up with Forbes to dive into his earliest days in the scene, his recent release, and what the future holds for him. Listen to his exclusive guest mix and read on for the interview to learn more about this rising star in the scene!
Stream EDMID Guest Mix 334 || Forbes on SoundCloud:
---
Hi Forbes, thanks so much for chatting with us today. Let's dive into your history a bit to kick this off. Who were some of your earliest musical influences, and what led to you developing a passion for dance music?
Growing up, some of my early inspirations in music were Aerosmith, ZZ Top, The Beatles, and Guns N' Roses. I remember when I was six years old, my dad would drive me around on Sundays with the top down blasting all his old school tapes, and I quickly fell in love with music. This quickly inspired me to pick up the saxophone, drums, and piano at a young age.
Was there a specific moment when you realized you wanted to transition from loving house music to playing and producing it? What drove you to become a DJ?
I've been producing music for as long as I can remember starting in GarageBand, transitioning into Logic, and finally found a love for Ableton. While growing as a producer, I started with hip hop and actually was pushing a hip hop brand and releasing music after high school. During college is when I was blessed to have the opportunity to learn how to DJ. I grew to become an established open format DJ in college in Tempe, Arizona.
While I was playing at some of the local bars and clubs, I had the blessing to meet my best friend Stephan, who took me in and exposed me to the underground. He took me to all the after-parties, warehouse shows, and forest raves, and right away, I knew house music was my calling. I quickly jumped into strictly producing house music. Over the last two years, it's been super exciting to hear the development and stylistic changes in my music as I mature as a producer.
The past two years have seen you deliver some fantastic originals and remixes, including your recent tune "LOSE CTRL." Can you walk us through the production process of this bass house banger?
"LOSE CTRL" has been in the works for almost a year. I was fresh off of releasing bass addiction and cheeky, so I decided to dive deeper into the bass house sound, I was starting to find my sound at the time. Finding influence from Masteria, Marten Horger, and Honey & Badger. I developed "LOSE CTRL." I was working with a vocalist at the time, Brandi, and we came up with the simple and catchy hook "Lose yourself, Lose Control." Over the next few weeks and months, I tweaked and perfected the track to be the final version you hear today.
In July, you launched FORBES RADIO which has since featured guests such as DJ Susan and FOMO. What's your goal for this bi-weekly show, and can you tease other artists who will be showcased in the future?
Forbes Radio is something I've wanted to start over the last few years. I decided that there was no better time than summer to push the radio show. I recently started building my artist playlist on Spotify, which I've also been pushing pretty hard. I feel like this gives my fans more sources of music to enjoy outside of my own portfolio. There's too much good music out there, and I want to showcase the amazing music my homies and inspirations release. Next up on Forbes Radio, we have Apollo Xo from Chicago, IL, STPHN, who recently made the move out to LA, and Burko from San Diego.
As a rising artist in the scene, what's the biggest struggle (pandemic-aside) that you've faced so far? Have you been able to overcome it?
I would say shows have been pretty limited lately. I've spent a lot of time focusing on production and staying consistent with my releases. I know my time will come to hit the stage and showcase all my new music in the long run. In the meantime, I'm trusting the process, networking, and taking care of my mental and physical health. Lives have been up and down over the last three years for everyone, and I think the most important thing is to follow your dreams and focus on what makes you happy, and everything else will follow.
Building off that, what's the best piece of advice you've been given by a fellow artist that has helped you grow your skills as a DJ and producer?
Nobody is going to work harder for your success than yourself. Don't rely on anyone to get you opportunities; you gotta get up and grind. DJ Susan is one of my biggest mentors and has kept me level-headed when times get tough.
What's your take on the local scene in Arizona? How do you feel it stacks up compared to other regions of the country like Southern California or New York when it comes to dance music?
I think the local scene in Arizona has been growing rapidly and has some amazing producers. Relentless Beats and Diamond Juice has done an amazing job at bringing top-tier talent to the valley, inspiring so many local artists as well as myself. It's sad to see what's happening with Shady Park and Bar Smith, but the local Arizona scene is full of amazing souls that will fight to keep the scene growing.
Finally, now that half of the year is over, what goals do you hope to achieve in the rest of 2022 and beyond?
My goals for the rest of the year are to amp up my production output, get back in the mix with content for social media, and get some new music signed. I've also had the pleasure to move forward in talks with an agency, so hopefully, the stars align, and I can bring some new music to a club near you.
---
Follow Forbes on Social Media:
Twitter | Instagram | SoundCloud | YouTube