A fully stacked weekend of underground bass is taking place at Sound Haven, and we have the info you need to make it the best one yet.
---
Buckle up and get ready for one of the most highly anticipated festivals in the States, especially if you have a passion for the bass-filled underground. On July 28-31, Sound Haven, the latest and greatest celebration in bass music and visual arts, will take over the Catoosa Event Center in Tennesee. Some may even say that this will be its best location yet, and there are only a few more days to prepare.
What's more? Sound Haven is bringing the function-one-sounds so all you'll need to bring is the energy and necessities. And even though you'll be nestled deep in the comfort of Jamestown's natural foothills, there are a few important facts to go over before embarking on your adventure. To make it easy, we've compiled everything you need to know to have a safe and successful music-filled weekend.
So, if your bass face is ready, continue on for all the details, get familiar with our favorite artists on the Sound Haven lineup, and make sure to snag a pass if you haven't already!
---
Sound Haven 2022 – Essential Info:
Dates: July 28-31, 2022
Hours: 2PM – 5AM
Venue Address: 216 Turnberry Drive Jamestown, TN 38556
Tickets: Purchase HERE
Facebook Event Page: RSVP HERE
---
Sound Haven 2022 – Set Times: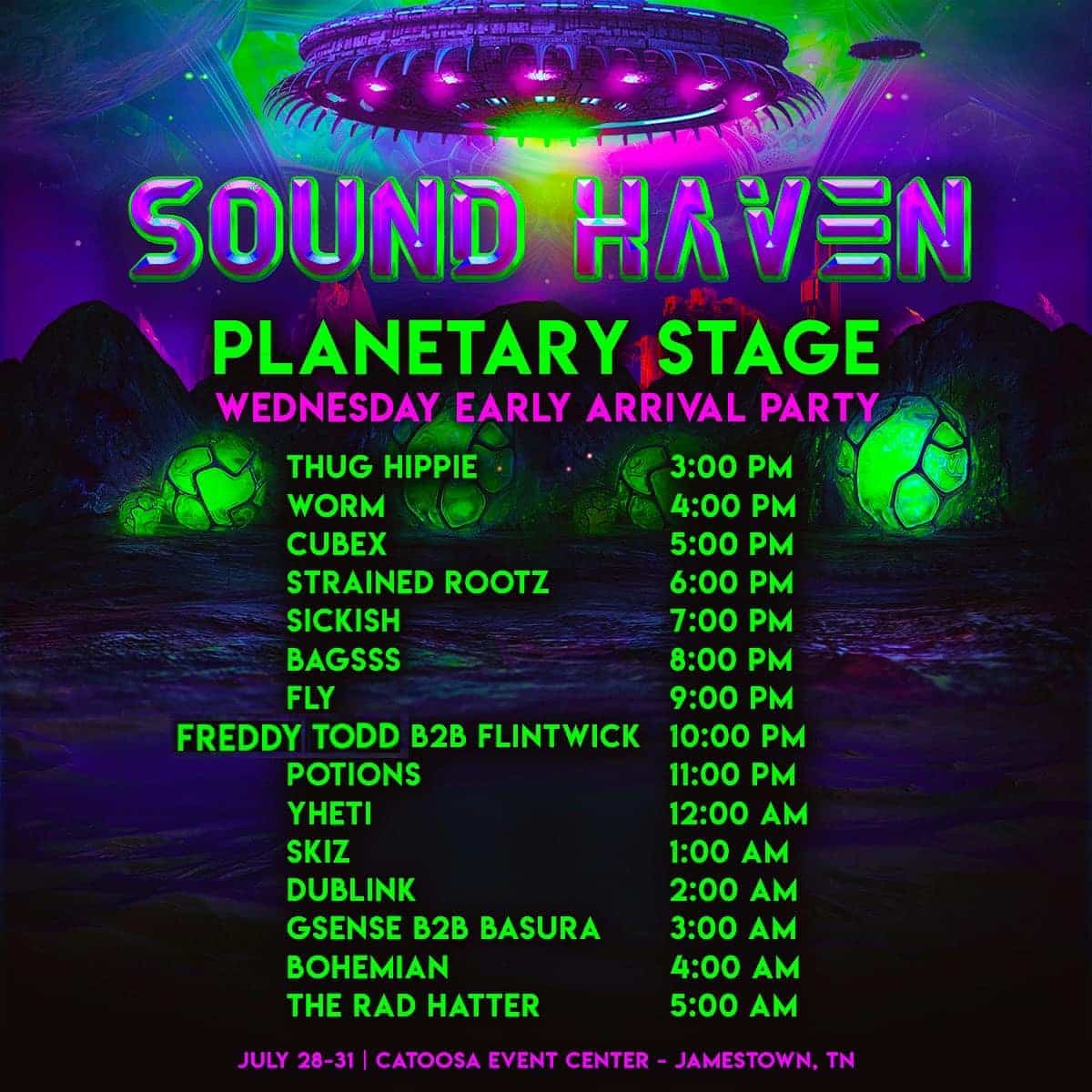 ---
Sound Haven 2022 – Festival Map:
Coming soon!
---
Reminder To Mind Your Belongings:
Unfortunately, many people have reported pickpockets, bag slashings, and theft of wallets, smartphones, purses and other valuables during this festival season. While this small number of bad apples in the bunch doesn't define an entire crowd, there are opportunistic people who come to these events to take advantage of unsuspecting partygoers and it's important to be mindful of your valuables while at Sound Haven.
Looking for tips to keep your belongings safe? Check our post highlighting some ideas!
---
Sound Haven 2022 – Do's & Don'ts:
Prohibited Items
No bad vibes
No explosives/fireworks
No air horns and noise makers
No firearms
No children under 18
No pets (service animals ok with proof?)
No totems
No open fires
No glass bottles
No weapons or items you could use as a weapon, including pocket knives
No illicit substances
No drug paraphernalia
No drones
No generators over 2KW
No noncompliant prescription medicine
No laser pointers
No amplified sound
Permitted Items
Ear plugs
Camping gear (tent, tarp, air mattress, etc.)
Canopies & stakes
Inflatable couches and chairs
Rain gear
All weather clothing (hoodies, combat boots, extra shoes, etc.)
Bugspray and bug candles
Sunscreen (30+ SPF)
Swimsuits
Sleepwear
Hats/pashminas/bandanas/masks
Your favorite festival accessories and outfits
Sunglasses
Water and reusable water containers
Biodegradable plastic wear/containers
Paper towels/toilet paper/wet wipes
Lantern/flashlight/solar powered string lights
Baggage locks/tent locks
Trash bags to keep your tent clean
---
Follow Sound Haven on Social Media:
Website | Facebook | Twitter | Instagram | SoundCloud | Twitch