Jonathan Kaspar releases Umfang – a beautiful melodic house EP that will put you in a trance; out now on Kompakt!
---
It's been just about a year since German DJ/producer Jonathan Kaspar unleashed the crispy cool vibes of "Von Draussen" on Kompakt, and this week he has circled back to the label with a lovely four-track EP called Umfang. This release comes off the back of his remix work on John Digweed and Nick Muir's "Live off The Grid" and "Stand Still," filling the month of July with beauty and grace. In true fashion, he supplies a mood that pulls on our curiosity and whisks us away to paradise, making it incredibly easy to fall in love with his ever-expanding art form.
His latest studio endeavor is an excellent example of why he has become one of Germany's most promising musical ambassadors, taking listeners on the ride of their lives with smooth melodic house flavors and vivid details. I can only close my eyes and imagine what it would be like to listen to Umfang on the dancefloor of his residency at the renowned Gewölbe club in Cologne. But, while I get lost in my daydream, it's time for you to press play and experience the vision for yourself.
Grab your copy of Umfang on Beatport, stream the EP below on Spotify, and continue reading for my take on the tracks! Make sure you let us know your thoughts on Twitter!
Stream Jonathan Kaspar – Umfang on Spotify:
---
Jonathan Kaspar fills the room with spectral energy via "Umfang," silences the chaos of the human world with "Kupfer" and "Am Raster," and invites us to enjoy a winged fantasy with "Gemach, Gemach Herr Rabe."
The title track begins with a consistent pulse before a delightful rise pulls us into a chilling domain. This track comes with a dash of auditory oddities that pounce through the speakers in an alternating left-right pattern. The refreshing sound format gleefully fizzes through the brain before evening out into a slight crescendo. Once the ting of the high hat drops in, it's game over. From here, the back and forth pattern returns, swirling like a dust devil through the air and calling all ghostly apparitions to come out and play.
"Kupfer" pulls back on the eerie vibe but keeps the atmosphere ultra chill. I'm engrossed by the somber synth that grows more confident with every blare. But, the deep bassline steals the show, rumbling firm beneath the eclectic percussion details. The mood remains calm and collected as the track progresses until the bassline drops out. Suddenly, we're lifted into a dream world featuring flickering tones, keeping the mind enraptured with the rise and fall. This type of track allows the rest of the world to melt away as you rock and sway to the beat.
"Am Raster" continues on the same trajectory, allowing the listener to forget all of their troubles and step into a different dimension. My favorite thing about this production is the quirky sound blips that flit around like fireflies in an alien sky, totally innocent yet wonderfully strange. The heavy bassline rolls along, and you'll quickly realize that you've stepped onto the mothership. The deeper you move in, the weirder it gets, and please understand that I use weird as a total compliment.
Alas, we've come to an end, but "Gemach, Gemach Herr Rabe" ensures that we leave completely uplifted. If you're a bird lover of any kind, smash play on this track quickly! Rabe translates to Raven, and the squawking of our feathered friend reflects it as the gentle melodic atmosphere allows him to take flight. Of course, the bassline offers a solid thump to keep our body activated as we feel the blackbird settling into the natural soundscape. And with that, I can only say that Jonathan Kaspar delivered an absolute smash hit spectacle with this EP!
---
Jonathan Kaspar – Umfang – Tracklist:
Umfang
Kupfer
Am Raster
Gemach, Gemach Herr Rabe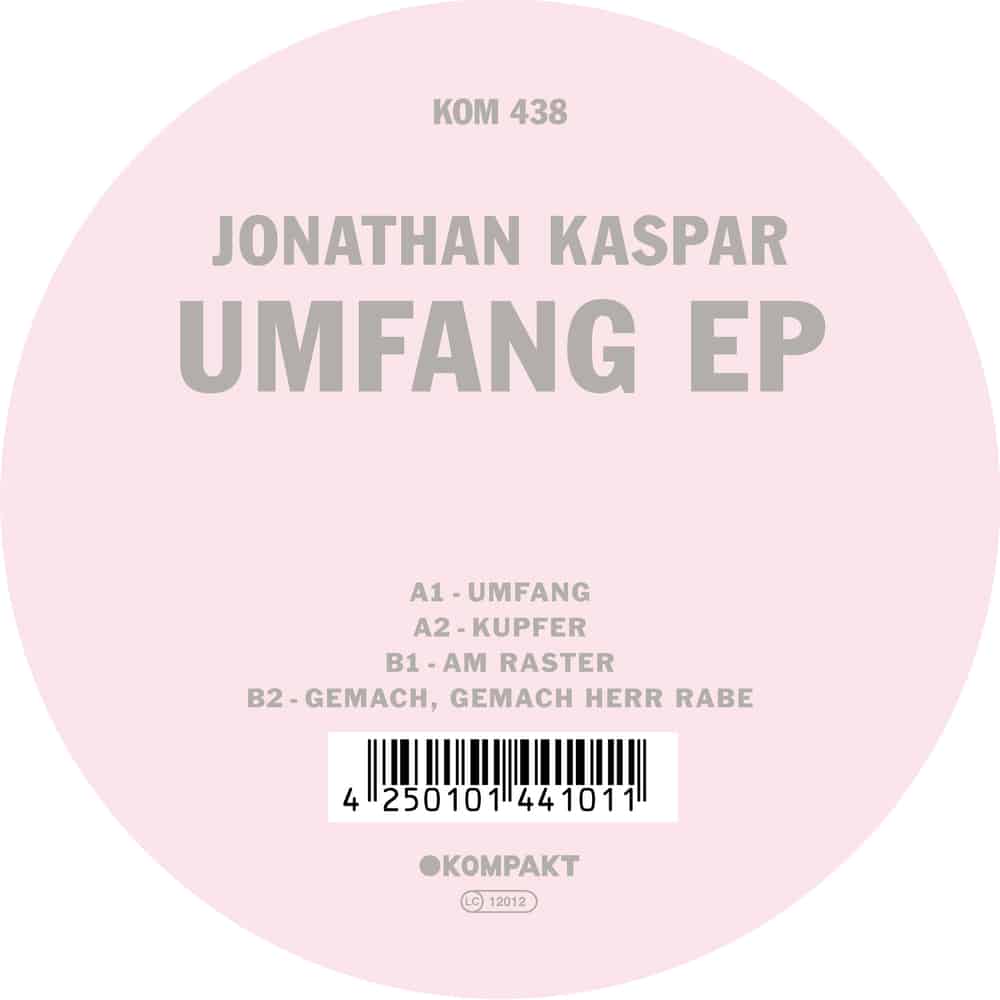 ---
Follow Jonathan Kaspar on Social Media:
Facebook | Twitter | Instagram | SoundCloud | YouTube