Are you ready to feel the heat at the debut edition of Heatwave in Chicago this weekend? Stay in the know with all of the essential info!
---
We're officially only a few days away from the inaugural Heatwave Music Festival. This weekend, festival-goers will flock to Douglas Park to dance the day and night away while immersing themselves in all the art the festival will be displaying. With three stages all with unique environments inspired by the best in pop art, the music from artists like Above & Beyond, Shiba San, RL Grime, Zeds Dead, Tiesto, and Matoma will bring its surroundings to life.
Related: Looking to get hyped up for what's to come at Heatwave? Check out our Throwbacks Playlist that's filled with quality tunes!
Whether you're hopping on the CTA from the city or traveling from out of town, we've compiled all the essential info you need to have a successful experience. You still have time to purchase your tickets to the festival via their website and if you can only make it for one day there are single-day passes as well. Read on for everything you need to know and more!
---
Heatwave Music Festival 2022 – Essential Info:
Dates: July 16-17, 2022
Hours: 2pm – 10pm, Daily
Venue: Douglass Park, Chicago, Illinois
Tickets: Purchase HERE
Acceptable Forms of Identification for Entry
Any US government-issued driver's license or ID card containing a photograph and date of birth
US or foreign government-issued passport containing a photograph and date of birth.
---
Heatwave Music Festival 2022 – Set Times: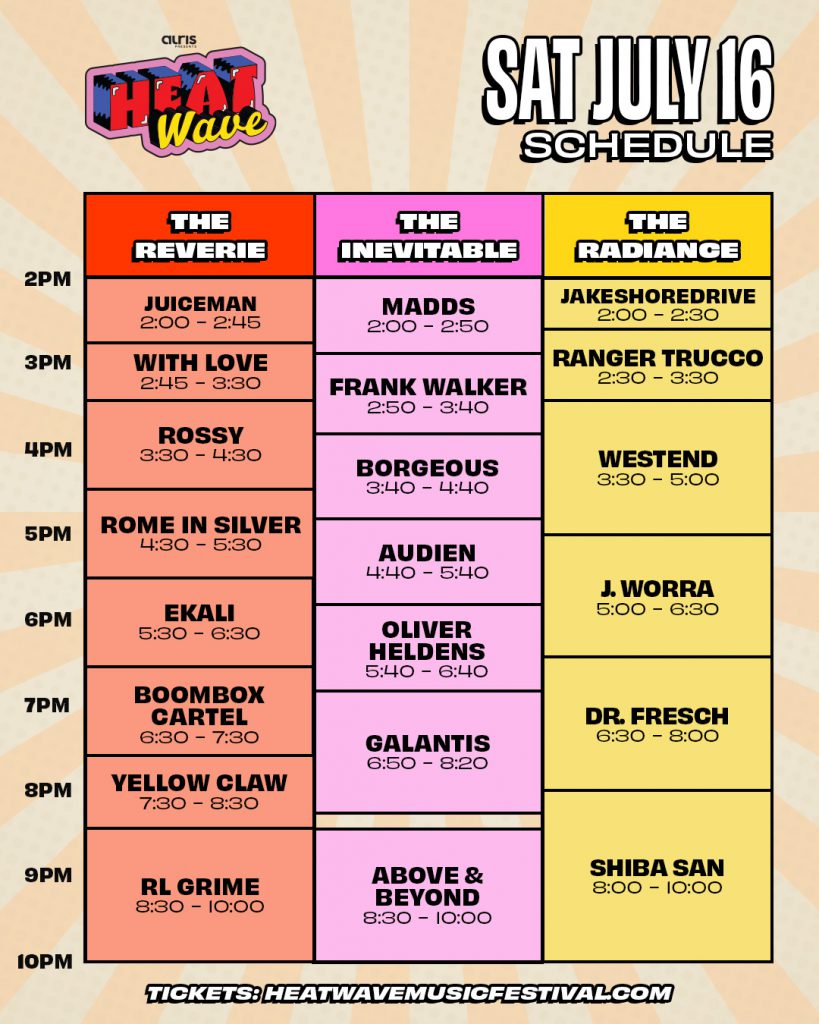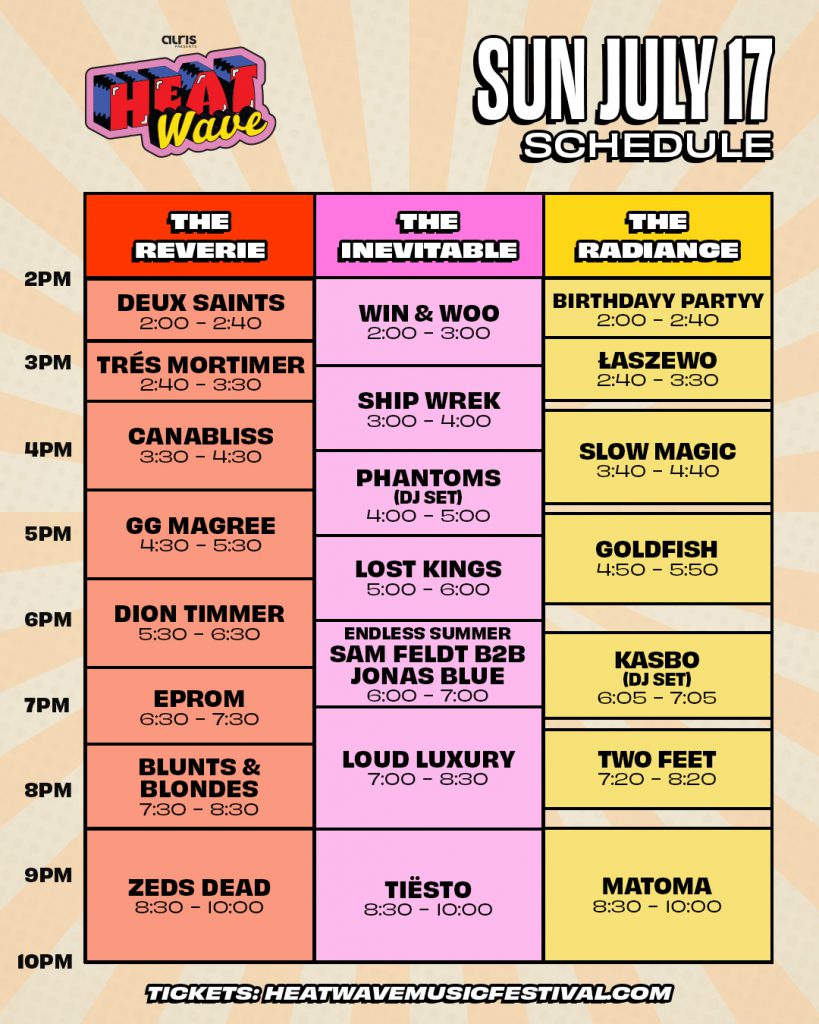 ---
Heatwave Music Festival 2022 – Festival Map:
Coming Soon!
---
Reminder To Mind Your Belongings:
Unfortunately, many people have reported pickpockets, bag slashings, and theft of wallets, smartphones, purses and other valuables during this festival season. While this small number of bad apples in the bunch doesn't define an entire crowd, there are opportunistic people who come to these events to take advantage of unsuspecting partygoers and it's important to be mindful of your valuables while at Heatwave Music Festival.
Looking for tips to keep your belongings safe? Check our post highlighting some ideas!
---
Heatwave Music Festival 2022 – Do's & Don'ts:
Permitted Items
Prescribed medication (in the container with matching ID to be checked at entry and only containing the number of doses needed for duration of event as prescribed on the pill container.)
Cell phones
Sunglasses, sunscreen
Earplugs
Good vibes
Bags/backpacks that do not exceed 12″ x 12″ (all bags will be searched by security before entering)
Small hand/clutch bag or fanny packs that do not exceed roughly 4.5″ x 6.5"
Hydration Packs that have a clear/empty/removable pouch for inspection upon entry. The outer bag does not have to be clear.
Non-professional cameras
Blankets/towels
Hand sanitizer and/or wipes (open/unsealed ok)
Non Aerosol Sunscreen (contents to be checked at entry)
Sealed packs of gum
Sealed chapstick/lipstick/eyedrops/makeup
Empty water bottles (No glass or metal)
Disposable lighters
Cell phone chargers/portable phone chargers
Factory-sealed E-cig pod/cartridges (i.e., Blu, Juul, etc.)
LED flow toys made of a soft plastic (no metal, aluminum, hard plastic) that do not interfere with others around you enjoying the festival
Prohibited Items
Large totems (max height: 4 feet)
Full-face covering masks (think: Halloween)
Musical Instruments
Flags with political/ideological statements 
Helmets
Weapons of any kind (real, fake, play or otherwise) 
Anything that could potentially be used as a weapon (metal poles, hard plastic objects, etc.)
Drugs/drug paraphernalia
Outside food + drink (outside food allowed for those who have a documented need. Must have Dr.'s note that matches ID)
Fireworks
Air horns or megaphones
Laser pointers
Glass bottles or metal containers of any kind, including metal cans and reusable metal/glass water bottles
Selfie sticks
Professional photo/video cameras
Audio recording devices
Drones
Umbrellas (parasols ok)
Chains/chain wallets
Stickers / flyers / promotional materials
Sharpies / Markers / Spray Cans
Pets (service animals ok)
Cleated shoes
Soccer balls, footballs, frisbees, or other sports equipment
Tarps or tents
Chairs of any kind
Coolers of any kind, including hard-sided and soft-sided coolers
Kites or Sky Lanterns
Bicycles, rollerblades, skateboards, scooters
Any other items deemed questionable by security
---
Follow Heatwave Music Festival on Social Media: