KOAN Sound, TRUTH, Daily Bread, Wagon Christ, Ternion Sound, The Sponges, and are set to play the upcoming edition of Submersion Festival.
---
Looking for a weekend getaway where you can express your love for bass music in what can only be seen as a lineup from heaven? Look no further as Submersion Festival emerges as a new event happening, with a curated lineup of up-and-coming artists as well as dubstep dons to grace their stages. This elevated music experience is a collaboration between Philadelphia-based production labels Aspire Higher and Rust Music, both of which showcase some of the most prolific bass music festivals and events on the East Coast.
There will be plenty of time to prepare your best dance moves for this event, as it is scheduled for October 7-8 at the gorgeous Paradise Lakes Campground in Hammonton, New Jersey with a massive pre-party on October 6 as well. What makes this lineup so special is its diversity in including well-loved headlining artists within the scene that have a wide discography of their individual sounds. Taking over the weekend include Deep Dark & Dangerous' very own Truth, as well as the prolific UK-based duo KOAN Sound returning to the US (including their own sunrise set!).
Also returning from across the pond as well includes Luke Vibert aka Wagon Christ, bringing the early 2000's vibes to the weekend for a rare sunset set. Plus, there is still one special guest blurred out on the lineup, hinted to be doing an exclusive drum and bass set! Filling the weekend with unbeatable sound, the undercard is stacked with notable acts such as Ternion Sound, Ultrasloth, VCTRE, Bricksqush, and a special downtempo set from DMVU just to name a few.
Impressively, Submersion especially was keen about booking rising artists in the scene as well, including Zen Selekta, Mirror Maze, and Inspect3r, and a special sunrise set from Entangled Mind. Those who are wishing to experience a wide variety of experimental bass, dubstep, downtempo, and other genres in the underground are to be given a cornucopia of music at this anticipated event. And to kick everything off with a bang, the pre-party, which is hosted on the lake, will include an impressive night of acts like the vibe-heavy Daily Bread, Sicaria Sound, Thought Process, Pheel., Wax Future, and UK dubstep/grime favorites Khan & Neek.
Tickets are currently available via their website, with two-day camping and pre-party options available. Don't sleep on this one, we're anticipating it to sell out – let us know what you think in the comments!
---
Submersion Festival 2022 – Lineup: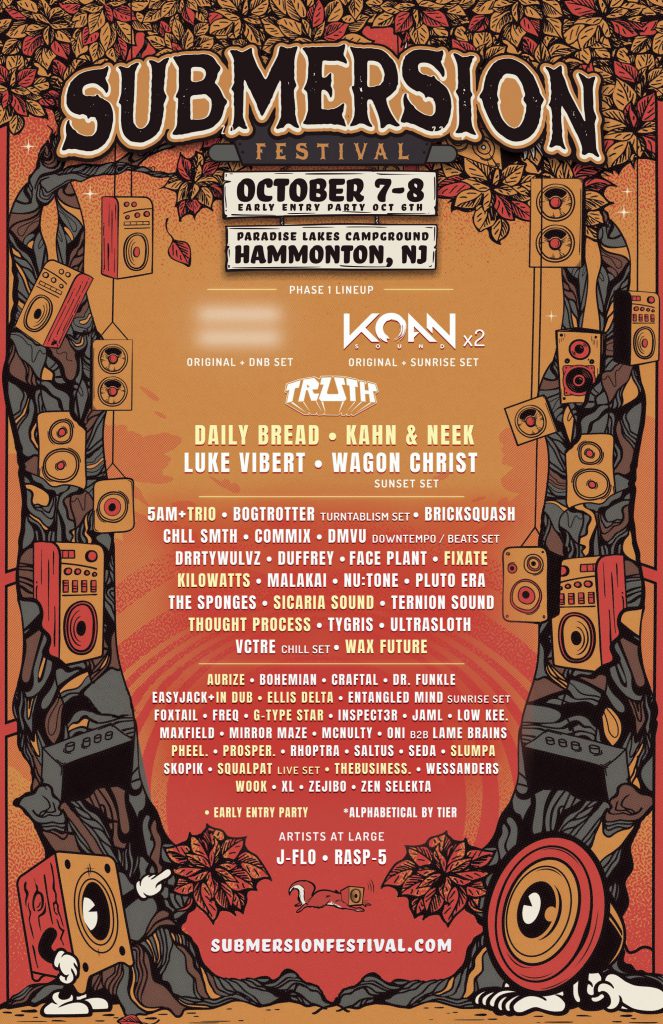 ---
Submersion Festival 2022 – Lineup By Artist:
KOAN Sound x2
???? (Original + DnB Set)
TRUTH
Saily Bread
Kahn & Neek
Luke Vibert
Wagon Christ
5AM + Trio
Bogtrotter
Bricksquash
ChLLSmth
Commix
DMVU
Drrtywulvz
Duffrey
Faceplant
Fixate
Kilowatts
Malakai
Nu:Tone
Pluto Era
The Sponges
Sicaria Sound
Ternion Sound
Thought Process
Tygris
Ultrasloth
VCTRE.
Wax Future
Aurize
Bohemian
Craftal
Dr. Funkle
Easyjack + In Dub
Ellis Delta
Entangled Mind
Foxtail
FREQ
G-Type Star
Inspect3r
Jaml
Low Kee.
Maxfield
Mirror Maze
Mcnulty
Oni b2b Lame Brains
Pheel.
Prosper.
Rhoptra
Saltus
Seda
Slumpa
Skopik
Squalpat
Thebusiness.
Wessanders
Wook
XL
Zejibo
Zen Selekta
J-Flo
RASP-5
---
Follow Submersion Festival on Social Media: