Gareth Emery announces the four-stop LSR/CITY V2 tour which will feature never before seen technology and plenty of lasers.
---
Gareth Emery is one of the most renowned producers in the scene. Over the past two decades, he's released countless hit tracks and has taken the stage at some of the biggest festivals and stages around the world, while also crafting one-of-a-kind shows that have left his fans jaws on the floor. This year has seen Gareth Emery continue to deliver surreal trance beats with releases like "Dopex," "Unity," and "This Is Not The End" and he announced his final studio album that's due to arrive later this year as well.
Now, riding the wave of that announcement, Gareth Emery dropped the details for his upcoming tour, LSR/CITY V2, that will hit four cities across the United States. The successor to his massive Laserface tour, this show made its debut at EDC Las Vegas this past May and is set to be even bigger and better. Bringing cutting-edge lasers and never before used technology, Gareth Emery and his team are stopping at nothing to make these four nights some of the most unforgettable in electronic music by incorporating a multi-sensory experience into his already jaw-dropping show.
LSR/CITY V2 will kick off on September 24 at the Shrine in Los Angeles. From there, Gareth Emery will head to the WAMU Theater in Seattle on October 15 and the San Jose Civic on November 25 before ending the quick run at the Armory in Minneapolis on December 3. This is absolutely a show you don't want to miss, and will certainly take your breath away with this unique experience.
Be sure to pre-register and grab your tickets to Gareth Emery's LSR CITY V2 shows via the official website when they go on sale on Monday, July 11 at 12pm, and let us know if you'll be attending in the comments!
---
Gareth Emery LSR/CITY V2 2022 Tour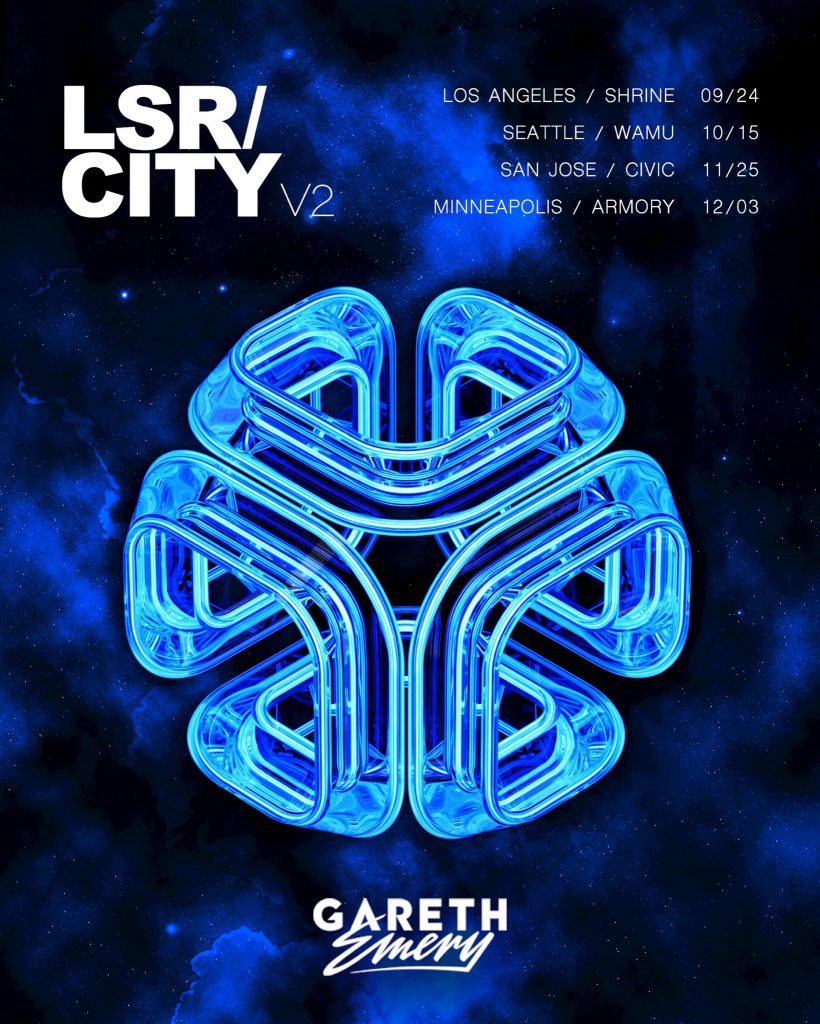 ---
LSR/CITY V2 2022 Tour – Dates & Venues:
9/24 – Los Angeles, CA – Shrine Auditorium
10/15 – Seattle, WA – WAMU Theater
11/25 – San Jose, CA – Civic
12/03 – Minneapolis, MN – The Armory
---
Follow Gareth Emery on Social Media:
Website | Facebook | Twitter | Instagram | SoundCloud | YouTube | Twitch