Ready to get lost in a trance at Dreamstate Harbor this weekend? Get prepped with the set times and other essential info!
---
Dreamstate captures the hearts of minds of trance fans yet again – this time with a summertime madness edition dubbed Dreamstate Harbor. Waterfront experiences are not only unique but craft some lasting memories filled with sunsets and good vibes only. This is sure to be true during this wonderful two-day experience at Berth 46, so make sure you do your part in creating a safe and enjoyable event.
Whether you're "Crossing Lights" with Giuseppe Ottaviani, overcoming barriers with Xijaro & Pitch, or supporting the likes of Suzy Solar, Vangar, or Adam Stark, there's something for everyone on the Dreamstate Harbor lineup. Further, there will be plenty of catapulting with energy from Mark Sherry, Liquid Soul, David Forbes, or Infected Mushroom for the trance families to dance the day away to during the warmth of the early summer days!
Related: Listen to the sounds of Futurists Volume 1 to get in a proper groove ahead of Dreamstate Harbor's debut.
To help make your experience even easier, we've compiled all the info that's available so you can stay in the know. Also, we remind you that it may get quite chilly at night given the close proximity of the venue to the waterline, so we recommend bring a layer or two to put on after the sun travels below the horizon.
---
Dreamstate Harbor 2022 – Essential Info:
Dates: June 11-12, 2022
Hours: 3 pm (15:00) to 12 am (00:00)
Venue Address: Berth 46 – Los Angeles Harbor, 3011 Miner St, San Pedro, CA 90731
Tickets: Purchase HERE
Facebook Event Page: RSVP HERE
---
Dreamstate Harbor 2022 – Set Times: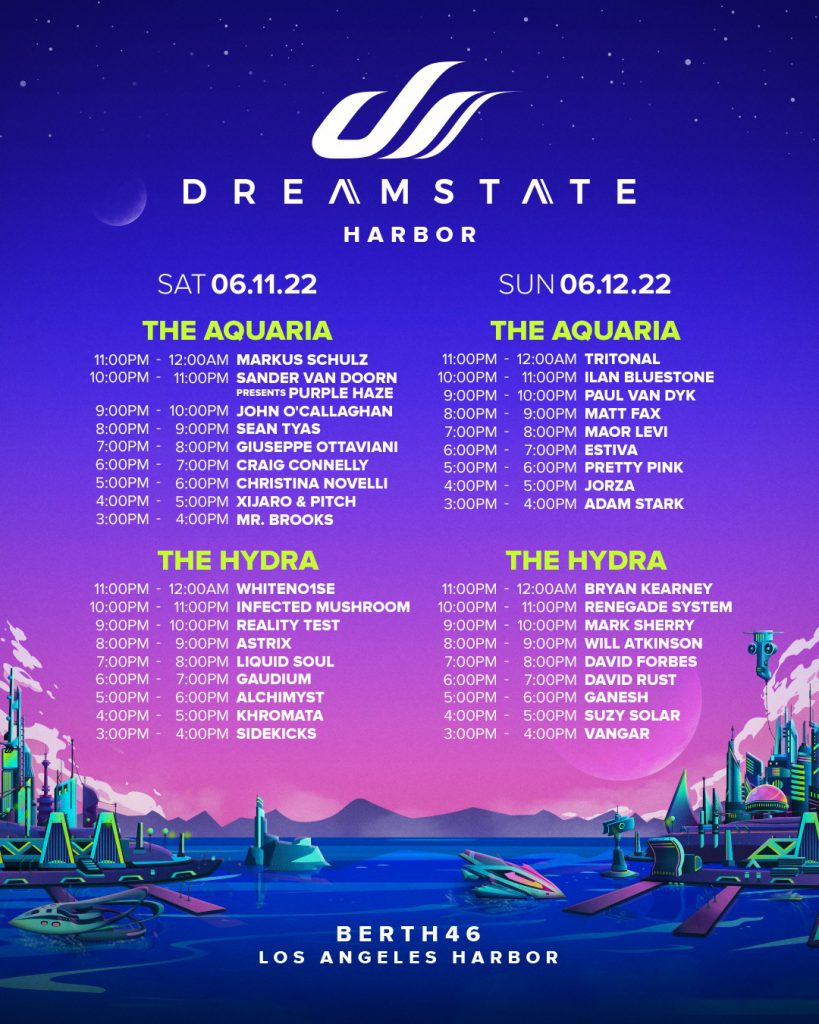 ---
Dreamstate Harbor 2022 – Festival Map: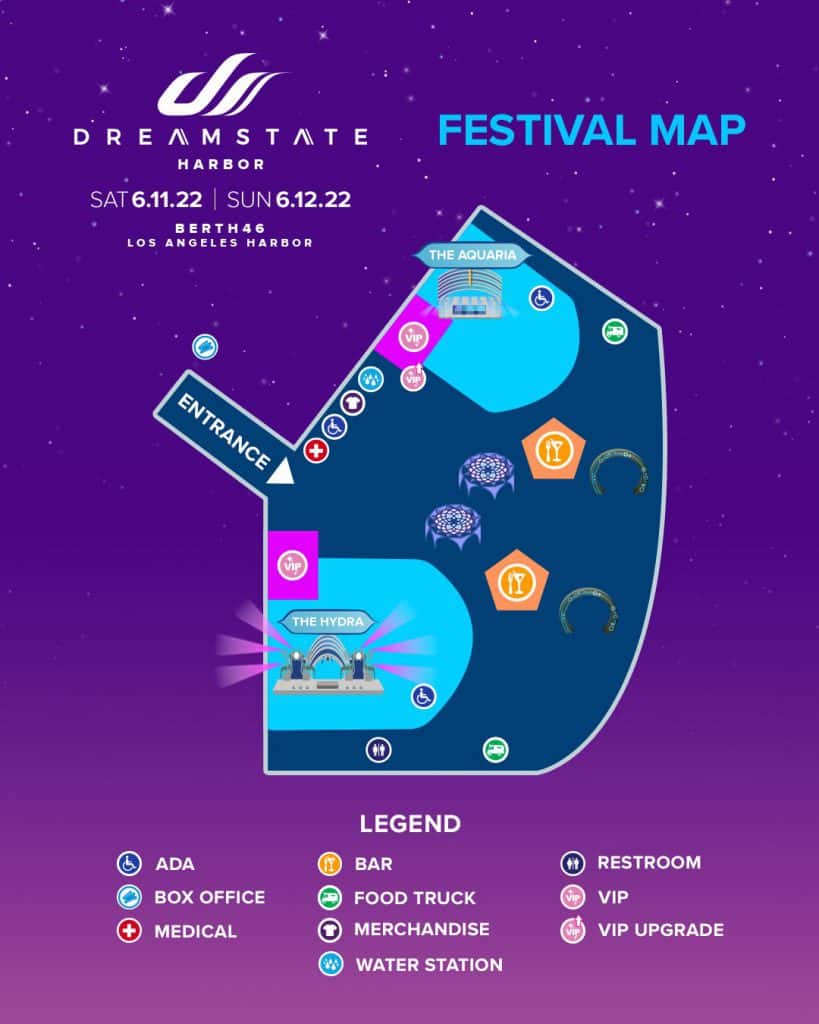 ---
Dreamstate Harbor 2022 – Parking Map: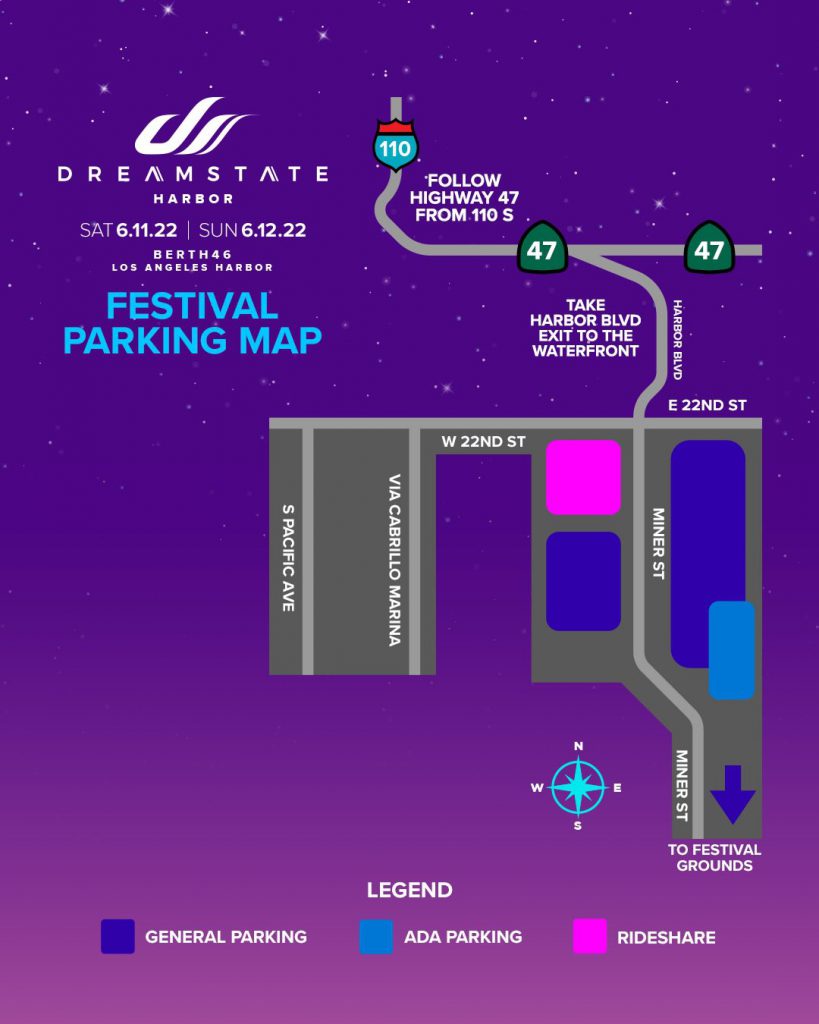 ---
Reminder To Mind Your Belongings:
Unfortunately, many people have reported pickpockets, bag slashings, and theft of wallets, smartphones, purses, and other valuables during this festival season. While this small number of bad apples in the bunch doesn't define an entire crowd, there are opportunistic people who come to these events to take advantage of unsuspecting partygoers and it's important to be mindful of your valuables while at Dreamstate Harbor.
Looking for tips to keep your belongings safe? Check our post highlighting some ideas!
---
Connect with Dreamstate on Social Media: