After dropping his latest release, "Flying," Curbi swung by to chat about his soaring musical career and forthcoming festival tour.
---
There are no lack of talents in the electronic house music scene but Curbi is a definite stand out. Known for his relentlessly energetic beats and genre-bending sound, the UK-born DJ producer continues to shatter the mold in the electronica realm by unleashing a dizzying array of dance music since the tender age of 16. From his debut single "Discharge" in 2015 to "Deja Vu" with Mike Cervello earlier this year, Curbi's unparalleled style of music production has cemented his status as a global tastemaker with a ear for the sound of tomorrow.
Touching down on Monstercat once more, Curbi dishes out his signature bass house production through a fresh lens. "Flying" is a grinding electronic output that is hugely magnetic. The energy-loaded track is punctuated with thumping beats to produce a unique sonic fingerprint that is addictive to its core. As the house prodigy constructs an endlessly playable night-out track with a compelling bassline, "Flying" is a gift truly catered towards the bass house fanatics who can keep up on the dance floor.
As he continues to unleash his magic, Curbi is poised to take on the rest of the year and beyond with an unforgettable style. This summer will see the house sensation behind the decks of some of the biggest festivals like Tomorrowland and Mysteryland. But before he sets off for his upcoming show at Elements Festival, we caught up with the promising young talent for a chat.
Get your energy soaring high by streaming Curbi's latest bass house gem, "Flying" on Spotify or your preferred platform. Read on to learn more about his meteoric rise to stardom, musical inspirations, and his YouTube series where he dishes out insightful advice on music production techniques.
Stream Curbi – Flying on Spotify:
---
Hi Curbi! Congrats on the release of your latest single "Flying", it's an absolute banger! Thanks for taking the time to chat with us, we are excited to kick off this interview. First off, we'll like to chat about your musical background – you started out making music at such a young age and released your debut single "Discharge" when you were only 16. How did you first start out your musical career and what was the inspiration behind the alias, "Curbi"?
Growing into electronic music, I began listening mostly to happy hardcore/hardstyle, which triggered me into wanting to make my own music. Gradually I became more intrigued by housier sounds and of course Oliver Heldens around the time of 2013/2014. Darren Styles & Oliver Heldens are definitely the guys to give me inspiration for my own path. 
Your recent release, "Flying," has such a deep bassline and encrypted lyrics. It somewhat cloaks a sense of darkness driven by lively synths and pulsating drum beats. What was your intention behind making this track and how is it different from the previous music that you have put out?
I think this song represents everything I kind of want to piece together with my music. You have the bounce and the melody but still keeping the edginess/deepness to it. Really happy with how this one came together. 
Speaking of festivals and tours, you have performed at some of the world's biggest stages, including Tomorrowland Winter, Creamfields, Mysteryland, and more. Are there any shows in particular that stood out to you throughout your musical career?
I think some of my favourite shows that I have ever done have been in Japan. The fans there give a different type of energy to the music. I always finish a show there with pure shock and wanting more! All shows are unique in their own way, but Japan has to be one of my favourites so far.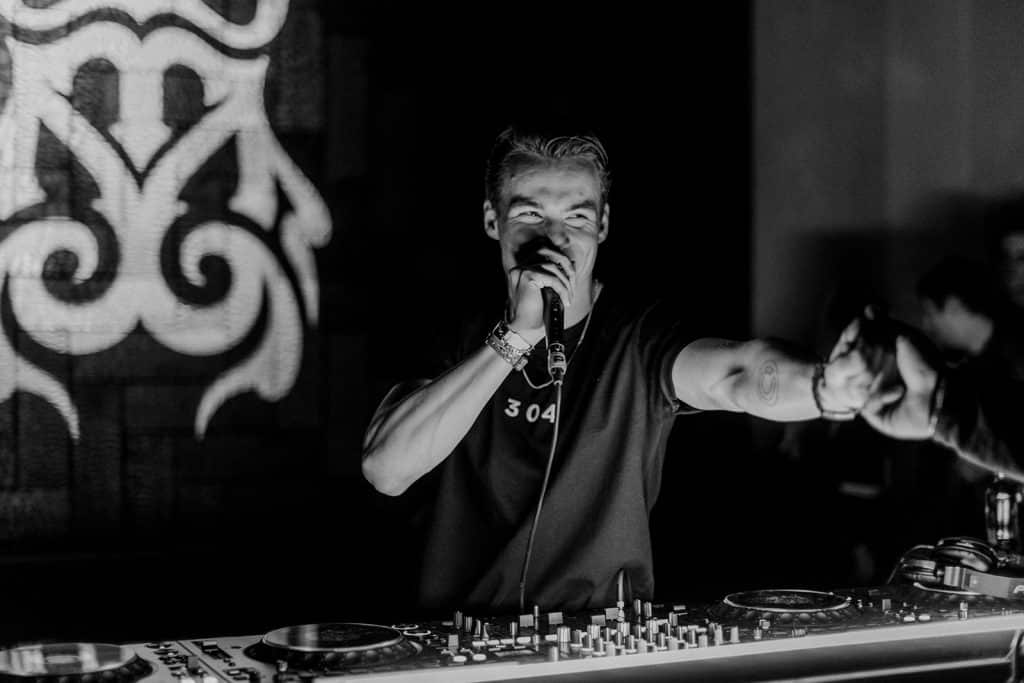 We are so excited that you'll be embarking on your forthcoming debut European headline tour, along with performances at Tomorrowland and Elements! How have you been preparing for tour life? Are there any special routines that you take on while you're on the road to keep yourself energized, healthy, and raring to go at every stop that you're on?
No special routines! Leading up to these shows I'm working in the studio making music to keep my release schedule filled and gyming as much as possible, to feel good for when I'm away.
Last year, you also released over 15 tracks with some big collaborations under established labels globally. It's wild to see your progress as a DJ taking the scene by storm! What would you say is your goal as a DJ producer as you continue to raise the bar for dance music's next generation?
I have a lot of things I'm working on besides making music but you'll see that roll through slowly next year! As of now, my full focus is on making a variety of music that I can say is fresh for my taste. Always trying to keep ahead of myself and my ideas to keep things interesting! 
Apart from making music, we love that you have also started your own YouTube series, "The Pattern" to showcase your production process and help rising producers with their music-making journey. Is mentoring something that you are also passionate about and what are some of the best advice you would give to a rising producer who is just starting out to make music? 
Mentoring isn't something I thought I'd be good at or enjoy, but with these videos, it has been fun to try to explain more of my process. Kind of learning things out while watching back and realizing I have more to learn. 
The best advice I'd have to give is don't get consumed by everything going on around you, make your own music with your own touch and of course own it. Everyone has their own special touch, so focus on yours and just create! 
Finally, with already a bunch of singles and remixes released this year, including the latest record, 2022 is looking "fly" for you! What else can the fans expect from Curbi in the next half of the year and will there be any full-length album to come anytime soon?
No album just yet. My plans are another club EP at some point, together with solos and of course bigger collabs. Keep a lookout! Working on many things and I cannot wait to share them!
---
Follow Curbi on Social Media:
Website | Facebook | Twitter | Instagram | SoundCloud | YouTube