Summer Camp Music Festival is on the horizon, so make sure you grab these essential goods to make your experience the best yet!
---
We are now entering the first week of the month of May which also means that the return of Summer Camp Music Festival is underway! As the summer season begins to heat up, so does the anticipated preparation for camping festivals in the Midwest. On May 27 (or for some with pre-party passes May 26), scampers will flock back to Three Sisters Park to set up camp, and debate between which artists from the incredibly diverse lineup they want to catch first.
Related: Want to dive deeper into the artists playing Summer Camp this year? Check out the rising bass artists we handpicked that you can't miss!
Now, with Summer Camp being only a few weeks away, we've gathered a list of essential camping goods you won't want to forget. Whether you're traveling from out of state, or only a few hours away in Chicago, it's time to prepare. Read on for what you should bring with you to have a successful camping experience this year!
Summer Camp Music Festival – Camping Essentials
---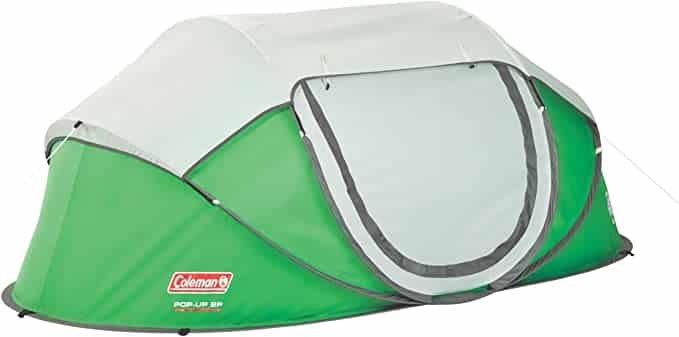 First, a tent + canopy for shade is our combo at the top of the list.
Whether you're camping alone, with a friend, or a member of your squad forgets, remembering to bring a tent is critical. The most cost-effective and simple setup tent option is the Coleman Pop-Up Tent. We suggest investing in the green over the blue tent, due to the odd fact that the green one is a little over $100 cheaper. It also comes in 2-person and 4-person size options. Making this option even more pocket-friendly, Amazon is allowing you to use Affirm to make multiple payments. If you don't want to drop a ton at one time and not spend an hour setting up, this is your ideal tent!
If you want to be a little bougie and invest in a tent that can withhold any weather condition, the KAZOO two or four-person double layer tent is for you. Being only a few dollars more than the Coleman tent above, you'll be able to enjoy an additional attached porch space. However, if you're looking for the convenience of not having to put up your typical tent, the Coleman may be the better of the two options.
Now, in order to keep the things you cannot fit, or want to fit in your tent space from getting damaged, a canopy is needed. Summer Camp is a summer camping festival in the Midwest, after all. That being said, a screened-in canopy is most definitely in your best interest. In order to not break the bank, but provide the protection needed against mosquitos and other insects, the Quest Recreational Mesh Screen House Canopy Tent is ideal. Coming in a little under a hundred dollars, you're technically getting a canopy and bug repeller in one!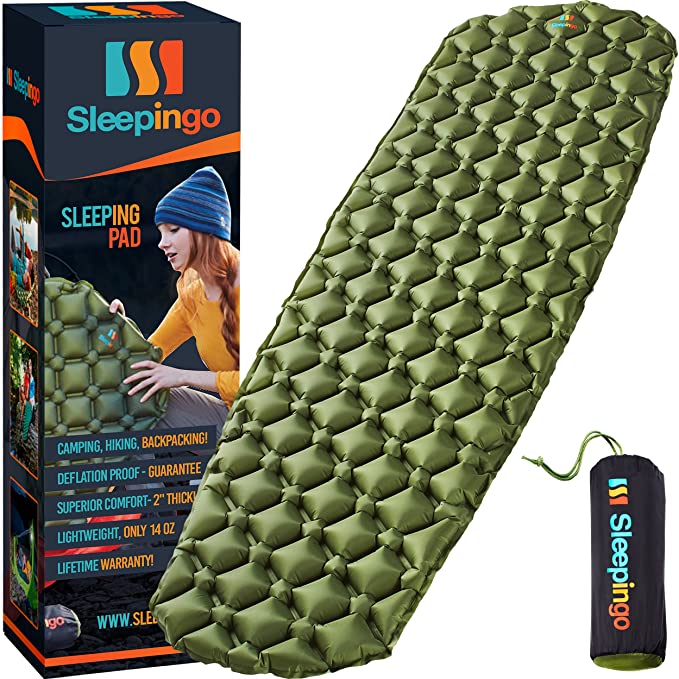 Now, let's talk about what goes into the tent and allows you to get those few hours of sleep.
First and foremost, you need a foundation to sleep on. Now you can decide to complete rough it and just lay out a few blankets, but an air mattress is a much better idea. If you're looking for an air mattress and pump-in-one, Etekcity Upgraded Camping Air Mattress has you covered. This 9″ inflatable air mattress makes the setup super simple. It comes with a rechargeable pump with AC/DC adapters, the air mattress can reach full inflation in 90 seconds. The air mattress itself comes in both twin and queen options.
On the other hand, if you're looking to try an alternative to your typical air mattress, we have a few options. The first is the Sleepingo Sleeping Pad, perfect for a solo sleeper. Just to make your life even more simple, it weighs only 14 ounces and can pack down to the size of a water bottle! Making transportation into the camping grounds less of a headache and perfect for hiking trips.
In addition to sleep comfort, we know how important it is to have a nice place to sit down during a weekend of dancing.
If you don't want to be stuck sitting on the damp ground, we suggest grabbing as many folding chairs as possible. If you want the biggest bang for your buck, Ozark Trail has a pack of four. These chairs come equipped with built-in cup holders and a carrying bag. On the other hand, if you're looking for more of a lounging chair, the TREKOLOGY YIZI GO provides superior lower back support. One of the best parts is that you can even bring it to the stage! The lightweight and packable design allow you to fit this chair in a backpack.
It was at Okeechobee where we discovered the true importance of the inflatable lounger – and our couch of choice was the Wekapo. This air sofa comes in a variety of colors and patterns and is an affordable price! Just whisk it through the air to inflate and trap the air by closing the sleeve opening before the end of each movement. Pro-Tip: You can also make your life even easier and use a fan to get air into the couch! A great way to utilize a fan in a non-annoying and effective way.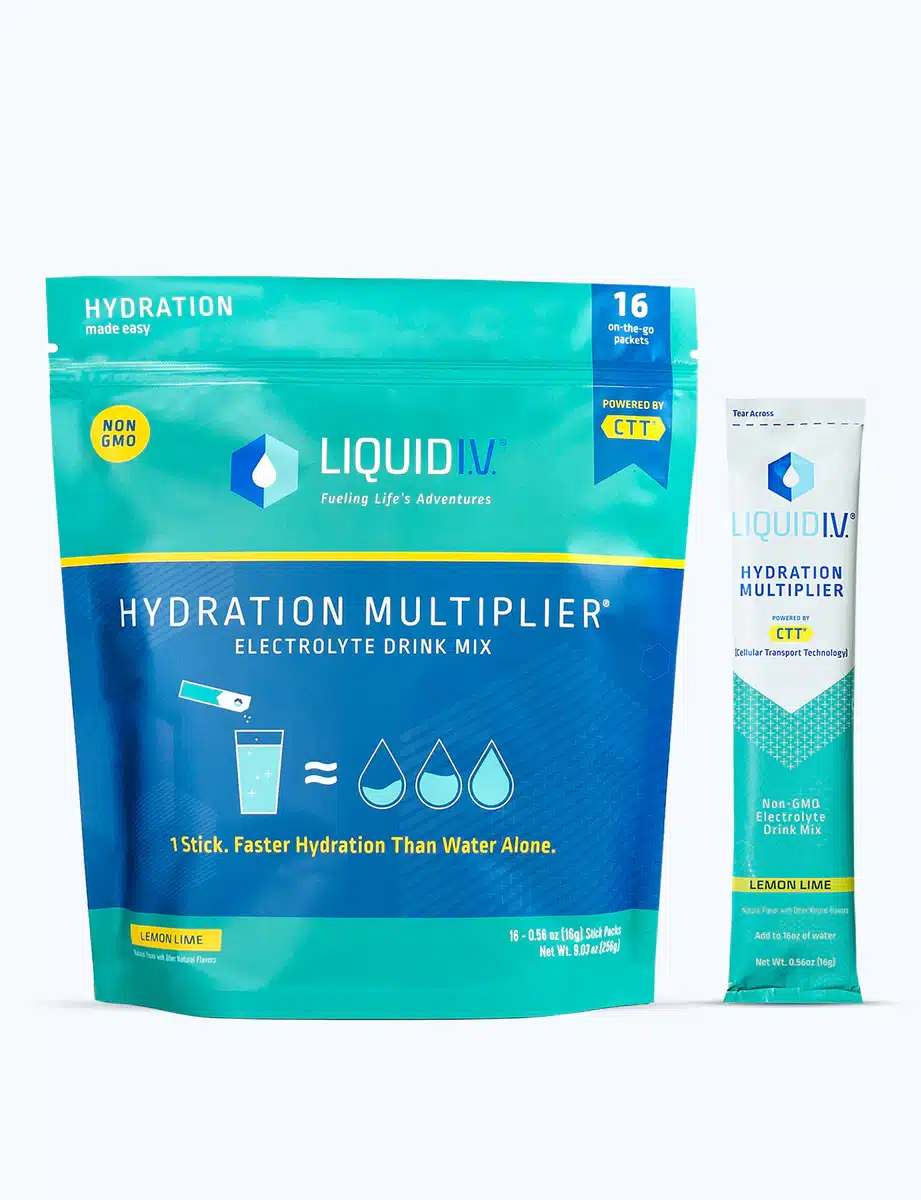 Lastly, let's talk about snack and beverage necessities to bring before you go.
Hydration is absolutely key when it comes to surviving a summer festival. But what is also important, is making sure you're getting the right nutrients and vitamins. Have no fear, Liquid I.V. Hydration Multiplier, has everything you need to recover each day. These powder packs go directly into your water and come in a variety of different flavors that serve a range of purposes. For example, if you're looking for immune support, the tangerine flavor packets are for you. Not only does this flavor provide the equivalence of drinking three glasses of water like the original, but it also provides five the daily dose of Vitamin C. We're not getting the wook flu this year!
Of course, you still want to make sure you buy enough cases of water. If you think you have enough you probably don't. We suggest bringing at least a case per person. Although for sustainable purposes we do highly recommend bringing a reusable water bottle that you can refill at the water stations around the site. In the mornings, orange juice is always a hit. Whether you want to add a splash of champagne is up to you. Aside from water and juice, boxed wine is great for making friends with your neighbors by having them "slap the bag."
Finally, snacks! In addition to the variety of food vendor options on-site, having snacks back at your campsite is always necessary. You want to always make sure that these snacks are not perishable and will last in the heat. Some great snack choices that can be bought in a variety of different package sizes include Nature Valley granola bars, Welch's fruit snacks, and beef jerky. It is also a grand idea to buy any other snacks that are high in carbs and protein so you have enough energy to dance the night away.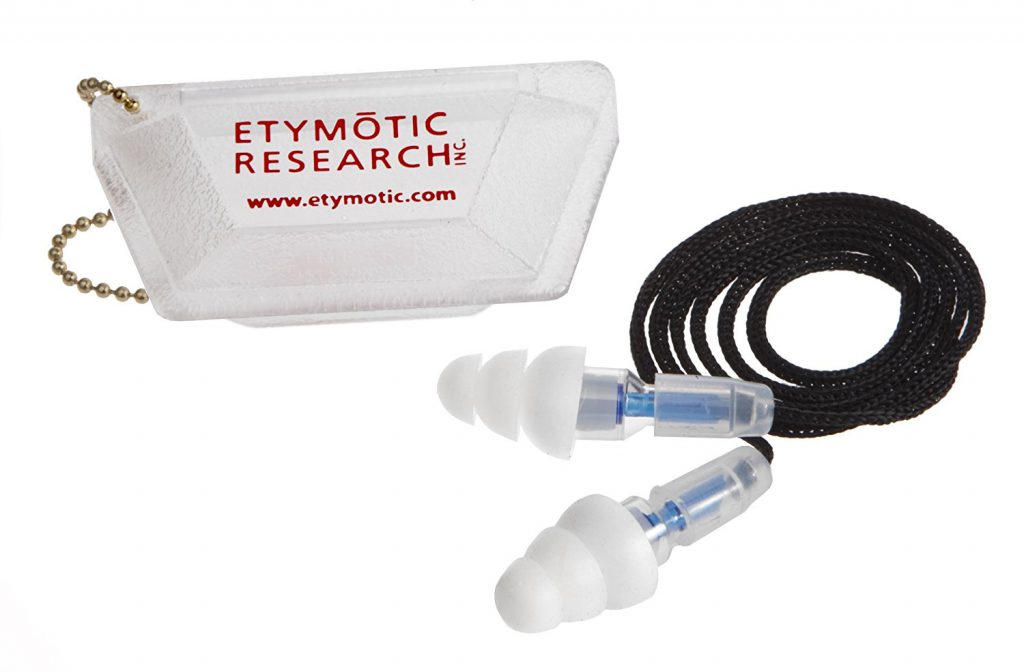 Before we forget, safety is always first. Avoid the extra headache and remember these additional items.
Whether you're dancing at a stage or trying to get some sleep in your tent, earplugs are a necessity for any festival. There are a number of different options that range in the protection offered, how they fit, and price itself – so make sure to check out our guide on finding the best earplugs for you.
One of the most crucial, yet often forgettable things to do before parking your vehicle for the weekend is filling up your tank of gas. Luckily for scampers, the festival is located right outside of Chillicothe. This way you'll be able to grab gas and any other last-minute essentials right before you head in for the weekend.
Another item often forgotten is jumper cables. Campers often underestimate how many times they decide to cool off in their vehicles. This is why making sure you pack jumper cables is super important to avoid not being able to leave when you want to come Monday morning. And don't forget to throw in a first aid kit alongside your jumper cables while you're at it. A first aid kit should always be kept in the trunk of your vehicle but is extra crucial for a weekend of camping. It's always better to be safe than sorry!
---
Additional Camping Necessities:
A wagon to carry your camping gear from your car to your campsite
A griddle for breakfast in the morning or a grill for burgers or hot dogs
A cooler to keep your beverages cold.
A moisture wick to keep the moisture out of your tent
Plenty of bug spray
Your trusty hammock
Lighting, such as a headlamp to see at night and string lights for your camp
A portable charger so you can keep your phone juiced up
A poncho, rain jacket, and/or rain boots (if it rains, it will get muddy!)
Garbage bags (make sure you have enough to separate garbage from your recycled items)
Tapestries to block out your camp from the sun
Check out more of our festival essentials over at Amazon!
---
Connect with Summer Camp Music Festival on Social Media: