Shambhala has officially unveiled all of its stage lineups for this year! Have you figured out which ones you'll be grooving at?
---
After a long-awaited three years of rescheduling due to the pandemic, Shambhala is back in action on July 22-25. This renowned event is held every year at Salmo River Ranch, a 500-acre farm in the middle of the Canadian evergreen forests in British Columbia. Shambhala has been home to many talented artists over the years – and it's exciting to see them deliver on that again with this year's lineup.
The Pagoda, a Shambhala favorite, is truly a work of art in addition to being a platform. This all-white pagoda-style stage comes to life as enchanting visuals are projected onto its tower. Get ready to dance your heart out this year to a fantastic lineup with artists such as Chris Lake, CloZee, Deathpact, Subtronics, and VNSSA gracing the stage.
The Village, a stage immersed in the middle of the forest, is known for getting wild and whompy with heavy dubstep and funky bass, and this year is no different. Shambhala regular Stylust is an absolute must-see, along with Downlink, Virtual Riot, and Dirt Monkey. In addition, Delta Heavy and ShockOne are sure to deliver on the drum and bass beat. With so many flawless artists already, it's enticing to know who will be the surprise guest at The Village!
If you're looking for the ultimate funky house music stage to rule them all, then look no further than Fractal Forest. An electric performance by the legendary DJ Jazzy Jeff is one every Shambhala-goer looks forward to each year. In addition, artists like Walker & Royce, Valentino Khan, Dr. Fresch, and BIJOU are guaranteed to get you on your feet dancing and the party going.
The AMP stage is stacked this year with artists like What So Not, Of The Trees, Apashe, and Mr. Carmack. Fans of heavier bass beats will surely flock to the Deep, Dark, & Dangerous showcase that's set to take place there as well. Additionally, The Grove stage, which is surrounded by cool forest lounge areas, will be hosting artists such as Channel Tres, Cordae, The Librarian, and Mikey Lion & Porky from Desert Hearts.
Finally, nestled on the beachside is the Living Room stage, where disco funk soul sounds radiate during the day and transform to heavier grooves and house music by sunset. Bringing the fun to the side of the river this year will be Greg Wilson, Mark Farina, Mathew Jonson, and Miguel Migs.
If you haven't secured one already, tickets for Shambhala are going fast, so make sure to buy yours today and let us know if you plan on grooving out at one of these stages in the comments!
---
Shambhala Music Festival 2022 – Lineup by Stage: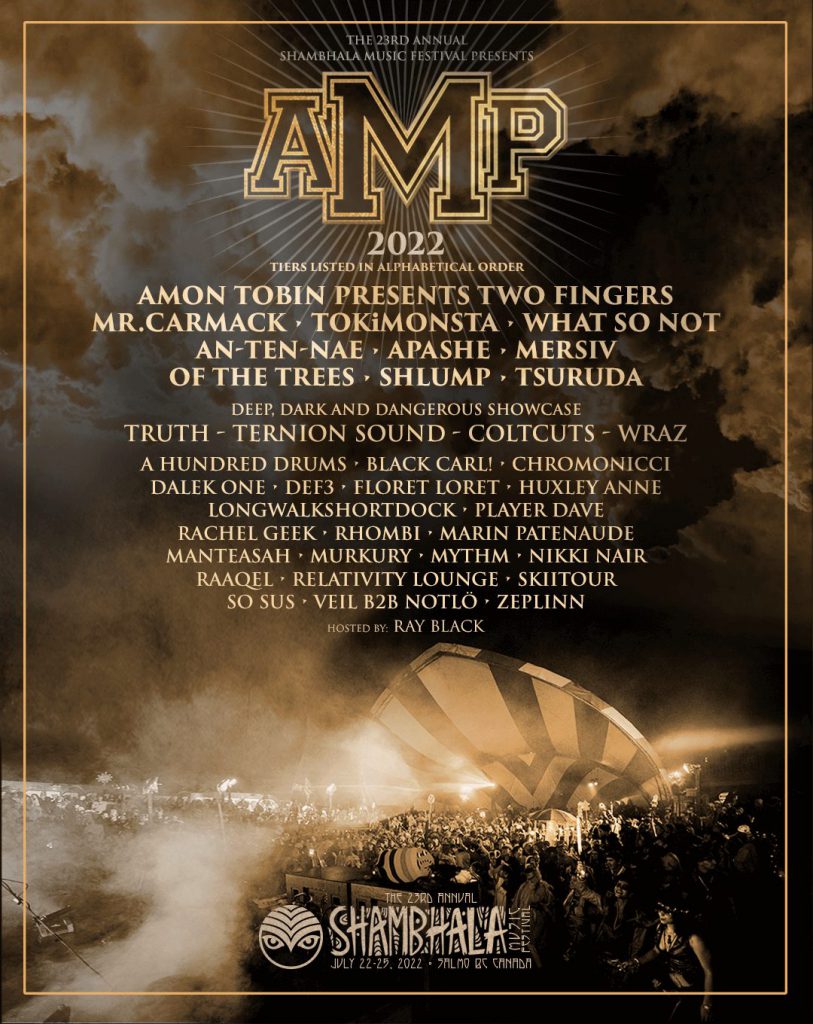 ---
Follow Shambhala Music Festival on Social Media: