Zomboy, PhaseOne, Riot Ten, HVDES, JEANIE, and more are set to dominate the decks at Wobbleland Salt Lake City this summer!
---
Update – June 9: Unfortunately Wobbleland Salt Lake City has been postponed due to Zomboy testing positive for COVID-19. A replacement headliner couldn't be found at the last minute so V2 Presents, Live Nation, and Vital Events have postponed this show to January 28, 2023. Head to their post on Instagram for more details.
---
Previously: While house and techno have taken the forefront for many in Utah, the bass side of the scene continues to thrive – especially with V2 Presents bringing in some heat at festivals like Get Lucky and Das Energi. Now, they've teamed up with Live Nation and Vital Events to bring the latest bass-fueled offering to those in the region with the announcement of Wobbleland Salt Lake City.
Set to take place on June 10 at The Complex, which boasts three rooms to allow attendees to get their fix and shake it up, Wobbleland Salt Lake City is gearing up to be a night filled to the brim with wubs and deep growls. Headlining the show is legendary artist Zomboy, who will be joined by PhaseOne and Riot Ten to deliver even more impressive bass tunes to those in attendance – but that's not where this lineup ends in the slightest.
Also joining in on the fun is a flurry of talented artists including HVDES, JEANIE, Versa, Eliminate, Yultron, OddProphet, and more who will help satiate the cravings of bass music lovers. And rounding out the lineup in support are the likes of Vertekz, Cacophonic, ATL, and Anrkey, making it clear that you should arrive early for this one-night affair.
Tickets for Wobbleland Salt Lake City go on sale Wednesday, May 4 at 10am MDT. Head over to their website for more information and make sure to snag your passes when they're available!
---
Wobbleland Salt Lake City 2022 – Lineup: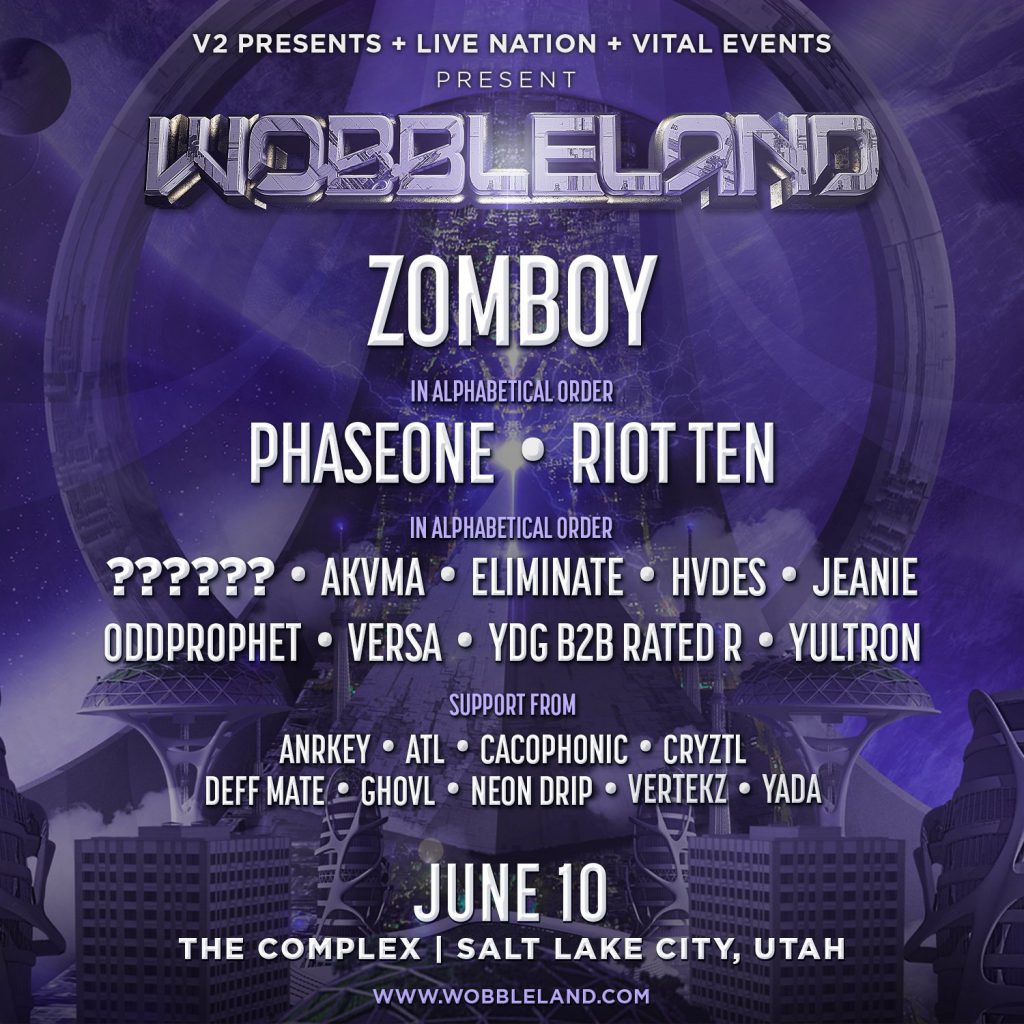 ---
Wobbleland Salt Lake City 2022 – Lineup By Artist:
Zomboy
PhaseOne
Riot Ten
??????
Akvma
Eliminate
Hvdes
Jeanie
OddProphet
Versa
YDG b2b Rated R
Yultron
Anrkey
ATL
Cacophonic
CRYZTL
Deff Mate
Ghovl
Neon Drip
Vertekz
Yada
---
Connect with Wobbleland on Social Media: