Following the release of "Marching Band" with Nitti Gritti, Surf Mesa dropped by to chat about his first experience at Miami Music Week and more.
---
Since getting his big break into the dance music scene with the viral hit "ily (i love you baby)" in 2019, Surf Mesa has continued to impress fans around the world with his captivating dancefloor pop offerings. Describing himself as a "dreamer," the 21-year-old producer has cemented a name for himself as a promising young talent through his electronic music offerings that gift a sense of triumphant nostalgic energy.
It did not take long for Surf Mesa to show the world that he is an unstoppable force with his follow up singles like "Another Life" featuring FLETCHER and Josh Golden, as well as the highly anticipated collaborative project "Carried Away" with Madison Beer in 2021. This year, the producer who aims to make "music for good feels" teams up with DJ Nitti Gritti for a stunningly vibrant single, "Marching Band," just in time to usher in festival season.
Brimming with a dazzling and upbeat tone, the song opens with a smooth melody that carries a breezy light-heartedness. This gentle introduction instantly attracts the listeners as cascading drum beats and Latin-tinged horns start to fall into the wonderful mix. It was evident that the duo have enjoyed working on this release as the crowd reacted with rousing energy when Nitti Gritti joined Surf Mesa on stage during Miami Music Week to perform the song.
Building off an electrifying momentum since the start of the new year, Surf Mesa will soon return to the road for a busy year of festival shows. Before that, we were delighted to catch up with him as he reflects on his debut experience playing a host of stacked parties at Miami Music Week, how gaming has influenced his career, and drops some of the top tips for fans to have the most fun at his shows.  
With that, get ready to march into the reinvigorating spring season by streaming Surf Mesa's latest song on Spotify or check it out on your favorite music platform, and read on for the full interview.
Stream Surf Mesa and Nitti Gritti – Marching Band on Spotify:
---
Hi Surf Mesa! It's such a pleasure to chat with you, thank you for taking the time to do this interview. First off, we loved the stacked lineup you were on for Miami Music Week and the surprise set you did at Ultra Miami was such a blast! Since it was your first trip to Miami, was there anything memorable that stood out and made the week unique for you?
Thank you so much! First off the idea of playing a set used to be pretty nerve-racking to me. From my first festival performance at Splash House to playing at clubs, it's all been such an anticipating experience. I'd wake up early to get on a flight the day before, fly to the state, sit in my hotel for the day, then finally… I'd go play my set.
That week in Miami helped me push passed these nerves. I played seven sets in five days. It really helped me and my mentality with playing shows. The reality is people just want to have fun! And if you're there to match their energy and show a good time, there's no way to mess that up. But my favorite moment of the weekend was definitely meeting Adam Russakoff from Ultra. He spontaneously asked if I was around that Sunday and I jumped fast on the opportunity. That opened the golden gate to play at Ultra!
During Miami Music Week, Nitti Gritti also hopped onto the live set one night where you played your latest collaboration "Marching Band" to the enthusiastic crowd. How were you feeling in that special moment seeing the crowd's reaction to the new song?
It is really special to follow the journey of a project from sitting at your computer scratching your head trying to come up with a good idea to then performing it with your friends! Nitti and I have become really proud of how this song turned out. I felt really excited during that moment and even got to show off the SHM edit I made!
Speaking of that track, the fusion of Latin-tinged horns within the production is such a refreshing take on the track. How did the both of you come about to work on this track together? Were there any reasons for making a song that resonates so strongly with a marching beat?
The writer Lowell sent me this sick idea that included the horns and her singing "your love is like a marching band". The vibe felt really Kill Bill to me. Ominous and energetic. Nitti and I were in the studio together and I pulled this project up. We added drums and a driving bass line to bring it to life. The way it turned out was exactly how I imagined it in my head.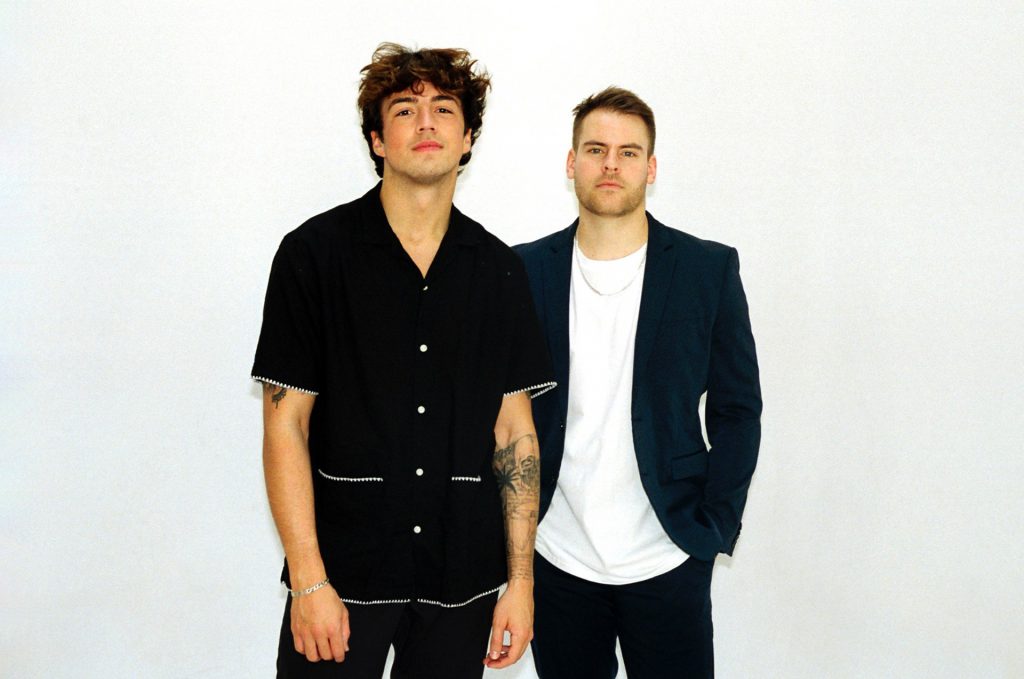 With Ultra Miami kicking off the festival season, it is definitely a busy year ahead for you as you are also set to play upcoming shows like Red Rocks, Hangout Music Festival, and Lollapalooza. Can you share what you're most excited for in the coming months?
Wow even just reading the names of those festivals makes me excited. Yeah, I can't believe it! Growing up I didn't attend a lot of festivals. In fact, I never went to any at all. I didn't see a lot of crowds or anything. There were a few rap concerts I went to but that's basically it. Now that I get to play at these huge festivals it all just feels surreal. I'm very lucky and wouldn't trade it for the world.
With all the momentum marching (no pun intended) into spring and the summer festival season, what would be your ideal type of live show experience? Do you prefer to play in an indoor club arena or an open-air festival outdoors with the blistering sun and sweaty crowd that gets all the grooves going?
My shows are high energy and just a good time. I'm so excited to play these edits of "Marching Band" I've prepared. I want people to be reminded of what dance music is about and show it as a reflection of how I see it. A curated experience to remember. Euphoric and energetic! I love a good outdoor venue. Not too hot outside. A perfect example I can remember is Escapade in Ottawa Canada. Such a beautiful place with a nice outdoor venue!
We read that you are a huge gamer and Counter-Strike has been on the top of your gaming list. It is so intriguing that you even got inspired by one of the maps within the game where you got your name. How has gaming influenced your music production and do you see yourself evolving towards the space of creating electronic music synonymous with gaming?
Yeah, I love Counter-Strike! Even now I've been playing a lot of Valorant with Zedd! In the big picture, gaming has been a big part of my life. It has shown me how vast there can be a reality outside of my own. I played a lot of world of Warcraft growing up and that game has some of the most beautiful landscapes ever. See for yourself and look up World of Warcraft landscapes. It can inspire a lot and I'm sure it has for fellow music producers. Gaming will always be a nice hobby for me. A great escape and nothing to be taken too seriously.
Last but not the least, we are just as excited as the fans to catch you at the upcoming festivals! Do you have any pre-show rituals or routines that you take on to get amped up for the crowd? Any top tips for the fans to have the most fun at your live shows?
Just show up and have a good time :). Me on the other hand, yeah lol. I sit in the greenroom and enter the ozone. What's the Ozone u may ask? It's a place where I just focus and am free of human error. Everything goes smoothly. I created a safe space and a mindset for myself to manifest into. It's important to dive into that. If you tell yourself to be calm, you'll calm down. If you tell yourself you're scared, you'll panic. You can create an emotion within yourself and enter it on your own. To me, that's what the ozone is. A reality where there's no fog between me and the reason why I do this. My ozone. 
---
Follow Surf Mesa on Social Media:
 Facebook | Twitter | Instagram | SoundCloud | YouTube | TikTok