Desert Hearts Festival is just under a week away so we've gathered all the essential info you need to know before setting out to Lake Perris.
---
After a two-year hiatus, those seeking a dose of house, techno, and love will finally be coming home to Desert Hearts Festival. The festival is celebrating its ten-year anniversary and for the first time is at a completely new venue at Lake Perris. While the venue might be new, Desert Hearts' deep commitment to their community, traditions, and the music itself haven't changed. There are plans for even more in store for those attending this year, and they announced that there will be two stages, Desert and Heart, which are set to play at opposing times to keep the "one-stage, one-vibe" mentality.
The lineup itself is teeming with talent with artists ranging from Carl Craig and Rinzen to Latmun and DJ Heather set to play, along with a number of rising stars including Memo Rex, Life On Planets, and more. Further, the Desert Hearts Family Set will once again close out the weekend in style, so make sure you stay until the final beat drops on Monday.
Whether it's your first time or you're a ten-year veteran of the Desert Hearts Festival, this edition is sure to be one of the best yet. Ahead of the weekend, we've compiled all the necessary info you need to know before you go. So read on for the set times, what not to bring, and more – and be sure to check out Lee Reynolds' Playlist, for a great thing to listen to on your drive up to Lake Perris.
---
Desert Hearts Festival 2022 – Essential Info:
Dates: April 28 – May 1, 2022
Venue Address: 18095 Lake Perris Dr, Perris, CA 92571
Tickets: Purchase HERE
Facebook Event Page: RSVP HERE
---
Desert Hearts Festival 2022 – Set Times: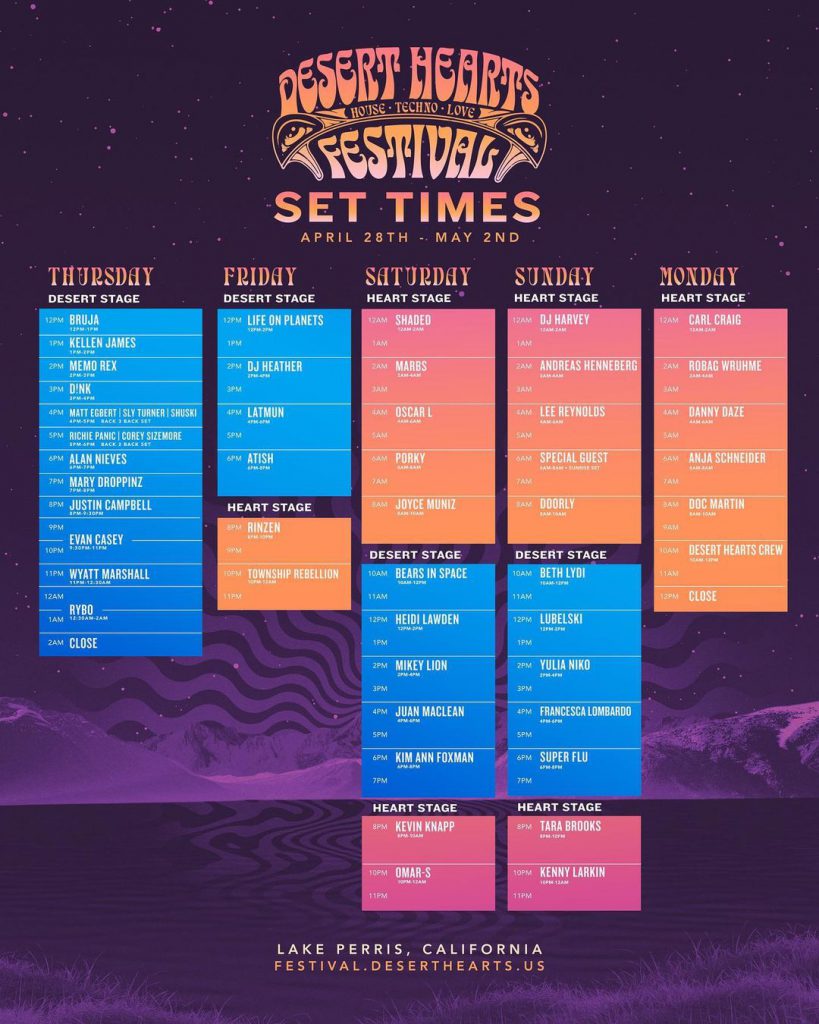 ---
Desert Hearts Festival 2022 – Map: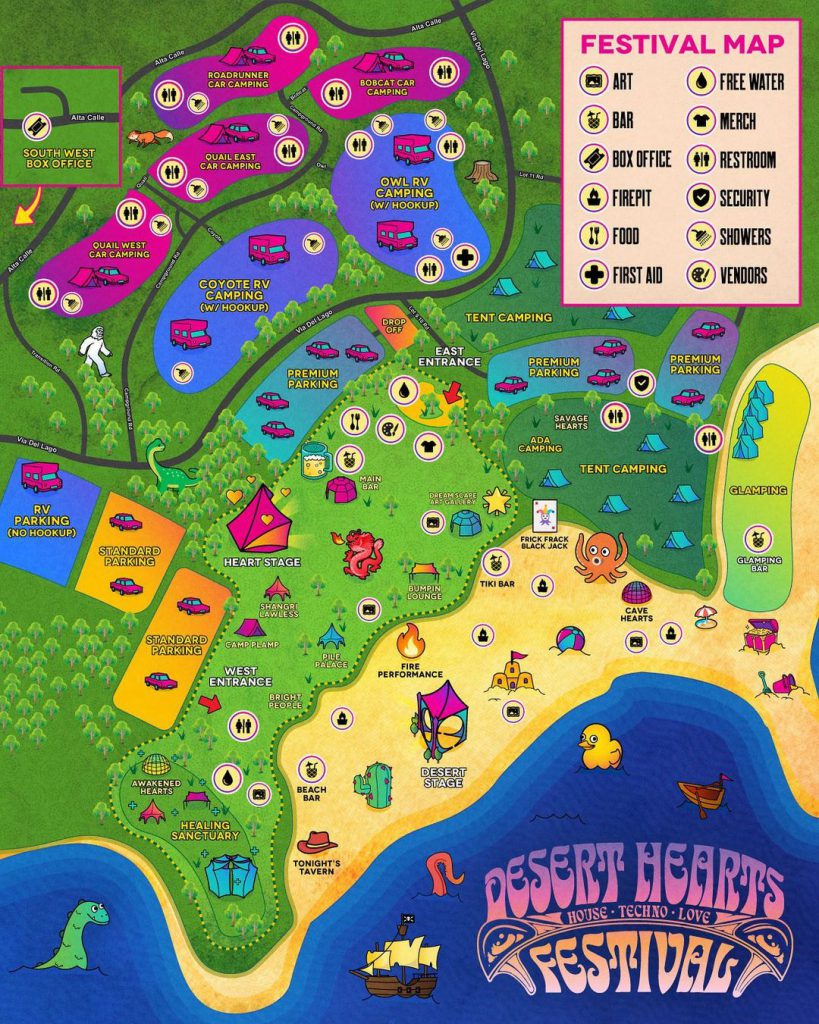 ---
Reminder To Mind Your Belongings:
Unfortunately, many people have reported pickpockets, bag slashings, and theft of wallets, smartphones, purses and other valuables during this festival season. While this small number of bad apples in the bunch doesn't define an entire crowd, there are opportunistic people who come to these events to take advantage of unsuspecting partygoers and it's important to be mindful of your valuables while at Desert Hearts Festival.
Looking for tips to keep your belongings safe? Check our post highlighting some ideas!
---
Desert Hearts Festival 2022 – Dos & Don'ts:
Prohibited Items
ABSOLUTELY NO ILLEGAL SUBSTANCES OR ILLEGAL BEHAVIOR OF ANY KIND. Desert Hearts has a strict Zero Tolerance policy and anyone caught with illegal substances will be escorted from the event and handed over to the proper authorities.
21 & Up Event; IDs will be checked at the gate.
No weapons of Any Kind.
No Dogs/Pets
No Glass (please don't bring glass to the beach)
No Kegs
No Fishing Gear
No Fireworks, Fire Tools
No Propane Lanterns
No Charcoal Grills
No Drones
No Portable Gas-Powered Generators
No Sound Systems / Speakers larger than a handheld Bluetooth speaker.
No re-entry if you leave the festival. Bring what you need for the entire weekend.
No renegade sound systems–basically anything larger than a small speaker.
Amplified sound is NOT permitted in the camping areas. If you want to enjoy the music, please join the dance floor and the central heartbeat. One Stage, One Vibe has always been our policy.
No littering. Be especially mindful of bottles and cigarette butts. Do your part to help clean up trash when you see it.
No parking anywhere other than designated areas by a member of our Red Artery Traffic team. You will be subject to towing if you park along the roadsides, block traffic, or otherwise put your vehicle where you shouldn't. Be smart and be respectful.
Desert Hearts Code of Community
Foster free creative self-expression and self-discovery
Encourage free-thinking and individuality
Focus on our community first
Consent is MANDATORY!
Look out for one another and lift each other up in a positive way
Hold one another accountable with both our personal integrity and the integrity of our collective community
Strive to give back to our local communities
Encourage participation and self-reliance
Respect the natural environment
Believe in the balance of both the sacred and the temporal
Inspire one another to proliferate these values in the world
YOU BRING THE VIBES
Any creative energy you can bring to the gathering, please do! Have some cool deco for your camp? Have some tripped-out clothes or costumes? Have any paintings or art sculptures? Like to dance like no one is looking? Well, this is the place to do it! Let your creative genius flourish because that's what makes our community so beautiful and unique.
Desert Hearts is built by our community. It's our love, creative expression, and our respect for ourselves and one another that makes this festival so unique. Remember that you're stepping into a beautiful place that we can create in the world at large. Be an example to others – and to yourself – of what's possible when we lead with love.
---
Connect with Desert Hearts on Social Media:
Website | Facebook | Twitter | Instagram | SoundCloud | YouTube