This year's edition of Beyond Wonderland SoCal was packed with unique, energetic sets, incredible art and production, and plenty more.
---
Beyond Wonderland SoCal returned to the NOS Events Center less than a year after the 2021 edition and was one of the best to take place so far. With less than a year for production and planning, there were some concerns about how Insomniac would make this year's edition one that felt special and different compared to the previous one – but rest assured knowing that they delivered on that in full. Beyond Wonderland SoCal boasted of its newly expanded footprint, some of the top artists in the scene taking the stage, and plenty more that attendees could explore.
We arrived at the festival shortly after the gates had opened on the first day, raring to get into the festival grounds to catch some sets. The process upon entry was smoother than ever before as we made our way through security in mere minutes from entering the line. We saw the swing carnival ride and The Caterpillar's Garden right in front of us as we entered. We immediately ventured off to the nearest water station and set out to catch the end of Sippy and a bit of Juelz at The Mad Hatter's Castle.
Related: Be sure to check our full photo gallery from Beyond Wonderland SoCal 2022 on Facebook!
Located in the newly expanded area, The Mad Hatter's Castle was one of the best places to be at Beyond SoCal. The stage is wide, which allows people to spread out to dance, and the production setup is versatile hosting lasers or pyrotechnics. Most importantly, the stadium seating located at the back offered higher views for those needing a break from being on their feet.
After the final minutes of 4B, we headed to The Looking Glass to catch some of the Anjunadeep action going on that night. Inside the warehouse were minimal lighting and all the Factory 93 vibes you could wish for, including their signature black diamond hanging above the stage. There were also speakers positioned outside of the stage itself, which allowed those who got too hot, like we did, to dance outside and still hear the set. That was a pretty welcome surprise.
Soon after, it was time to head to The Caterpillar's Garden to watch ALPHA 9.
As I walked around the lake to head to ALPHA 9, a pyro show began exploding from the pond. It felt surreal as I walked past headliners swinging on light-up LED clouds while the fire was shooting up behind them. The entire waterline of the pond was full of people eating, talking, and resting – which made for a great meet-up spot. ALPHA 9's set was fluid and beautifully uplifting as the crowd danced to his originals and remixes, but before I knew it, it was time to make my way back to The Mad Hatter's Castle to catch Nitti Gritti.
Nitti Gritti was packed with energy, and the crowd came to dance.
Nitti Gritti's set was dynamic, with almost every genre getting some representation throughout the journey he took us on. There was also an emotional tribute for his longtime friend and manager Jacob Mandell during his set, which had everyone in tears. Jacob had just passed away that day, and Nitti Gritti dropped some hardstyle that Jacob would have loved. It was bittersweet but looking around at all the people dancing and thriving was exactly what I needed.
Tinlicker was taking the stage close by to bring the first night of Beyond SoCal to a close.
There was no better way to put a bow on the first night than grooving at The Looking Glass to a set from Tinlicker. The Anjuna presence was visible as totems and shirts seemed like they were everywhere – it was incredible to witness. After a long day spent dancing away, though, it was time to head out, so we started the walk back to our car with the psytrance rhythms of Blastoyz's closing set at The Caterpillar's Garden, keeping our energy going just outside the gates.
Blossom kicked off the second day for us at the Queen's Domain and brought a fiery set.
The sun was setting, and Blossom was throwing down some bass house tunes as the queen oversaw the set from above. Don't sleep on her sets in the future if you're looking to have a good time – I can't recommend her enough. Ship Wrek took the stage after her and brought the house down during their performance. This dynamic duo's mix of house bangers and groovy tunes had the crowd moving in waves. Their whole set was a party, and I was living for it.
Then, it was time for some food and even more house music from Biscits, so we made our way over to where he was set to play. The food vendor offerings included chicken tenders, rice bowls, burritos, tacos, burgers, and more, which is a solid change of pace from other festivals not hosted by Insomniac. Eating a funnel cake by the water while the pyro was exploding from the lilies was the ultimate vibe. As I danced away to Biscits set, I sipped on a watermelon agua fresca; there's no better way to cool down from the hot day than that.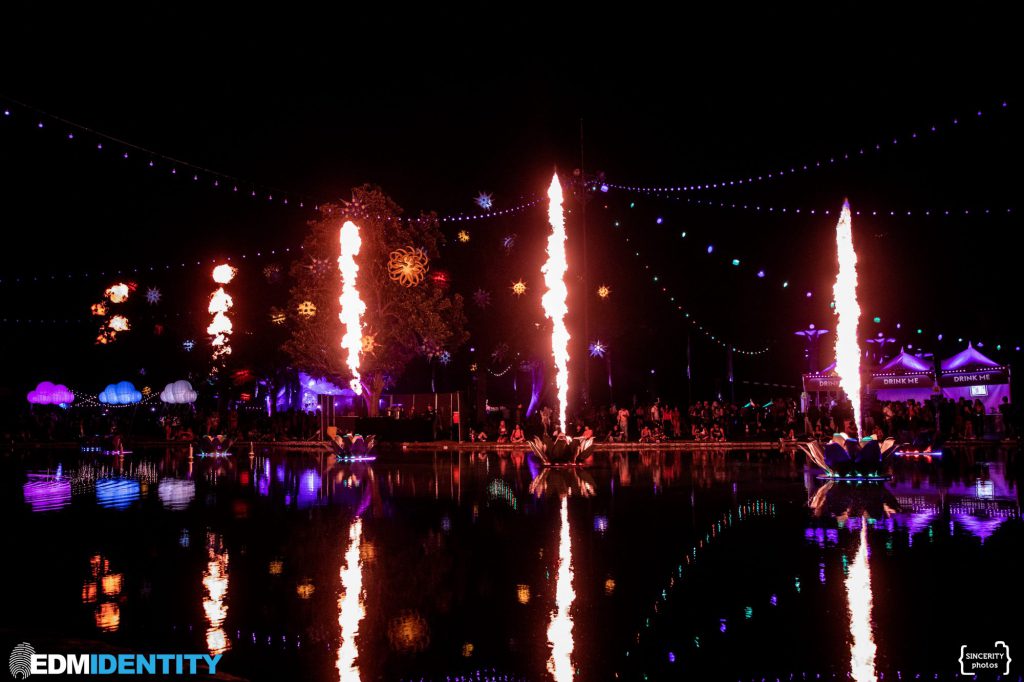 Craving some techno tunes, I headed back to The Looking Glass to catch artists like Layton Giordani and Patrick Topping.
Layton Giordani and Patrick Topping killed their sets at The Looking Glass, but the persistent fan clacking coming from attendees had become overly annoying. This was something that plagued other stages of the festival, but it was frustratingly apparent when inside that warm warehouse and harshed the vibe. Few things will throw you out of a groove, like a fan clacking that's not to the beat of the track – I cannot urge people enough to please stop doing this at shows.
Looking to escape the madness of the fan clackers, we headed over to the Insomniac Passport lounge to take a break.
One of my friends was set to play in this exclusive area of the festival, so it was a treat to catch him there with such an intimate crowd. As he finished his set, we all headed over to see J. Worra at The Caterpillar's Garden to get another dose of house music. I hadn't seen her spin in quite some time, so it was energizing to hear her heavy basslines permeate the speakers once again – she only further proved that she's one to watch in the scene with her set.
Seven Lions and Zeds Dead were on our bucket list to catch for the final two sets of the night.
Seven Lions was about to take the stage over at the Queen's Domain, and the crowd was already at peak fullness. It was seemingly impossible to find a spot that wasn't packed with people, even at the very back of the crowd. Once we did end up settling somewhere with some good company around us, it was time to let loose. True to form, Seven Lions' set was a mix of melodic dubstep with a touch of trance and a hearty helping of uplifting elements for good measure.
Once the set ended, we wanted to get down and dirty to some heavy bass – and that's what Zeds Dead would give us. Their set was filled with some of the biggest hits and newer tunes, and the crowd swelled to its greatest size all weekend long. Even though it was packed, everyone I encountered was so friendly, and we all sang along to their tunes while putting on our best bass faces. There was no better way to bring Beyond SoCal to a close.
This year's edition of Beyond Wonderland SoCal was something I didn't know I needed to revitalize my soul.
The magic of sharing musical experiences, random occurrences, and new friendships was a refreshing reminder of what keeps me coming back to this festival. Hopefully, the expanded footprint and fresh layout are permanent now that we've seen two editions because they enhanced the space and made it feel like the wonderland that Insomniac set out to create – but I do wish those fan clackers will stay at home. See you all there next year!
---
Follow Beyond Wonderland SoCal on Social Media: