Headliners flocked to Beyond Wonderland SoCal for their latest trip down the rabbit hole, and there were some pleasant surprises this year.
---
Each year, thousands of dance music lovers looking for an escape make their way to Beyond Wonderland SoCal to immerse themselves in the stunning production elements from Insomniac and groove out to some impeccable sets. While last year saw the festival shift to late August as the scene continued its return from the pandemic, this year brought it back to its usual spring dates – but with just as much heat.
The heatwave that consumed San Bernardino during Beyond Wonderland SoCal sure made it feel like summer was upon us all, but the weather wasn't the only thing kicking up the temperature. The stacked lineup made it an experience for the ages as each stage boomed with some of the most impressive names that the scene has to offer. There was simply no shortage of tunes, whether you were getting down to some bass, shuffling to house and techno, getting a dose of trance, or losing your mind to some hard dance.
Now that the dust has settled from the weekend and there's been time to reflect on our latest journey down the rabbit hole, we've selected five standout moments from Beyond Wonderland SoCal that made this year's edition special. Check them out and share your favorite sets and memories in the comments!
Five Things We Loved About Beyond Wonderland SoCal 2022
---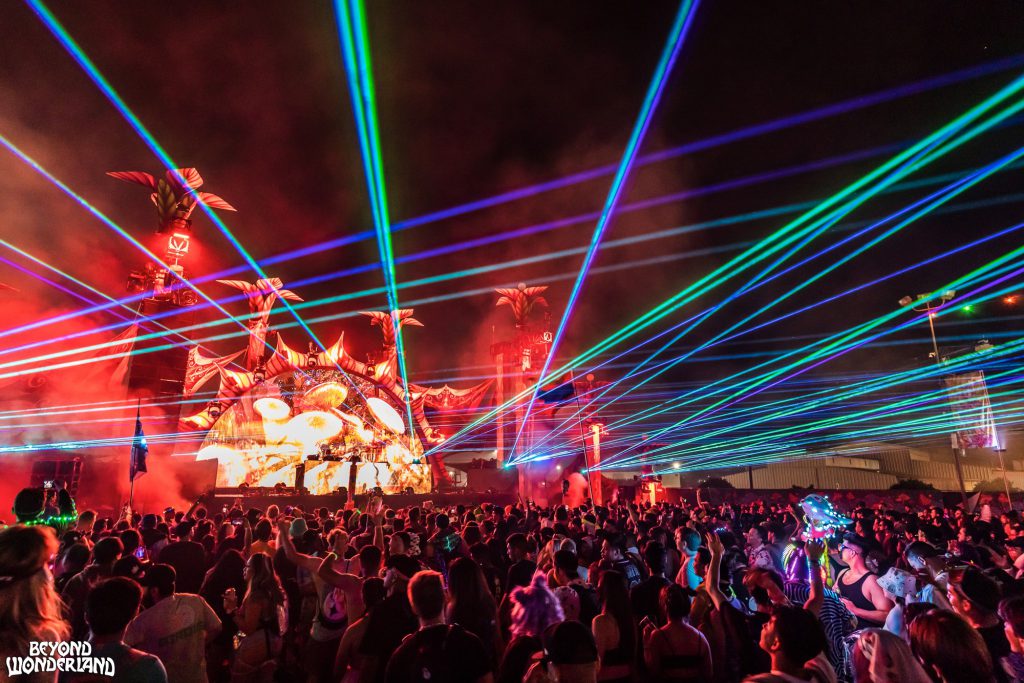 Trance having its moment with the Dreamstate takeover of Caterpillar's Garden.
After the return of Dreamstate SoCal this past year and a bevy of support arriving in the form of Dreamstate Miami and Dreamstate Harbor, the cravings of trance family members only seem to grow by the day. That craving was satisfied, at least briefly, with the brand's takeover of the Caterpillar's Garden stage this year as they curated the first night's festivities.
Dreamstate didn't skimp on who would be playing throughout the evening. After it began with Taylor Torrence, Pretty Pink, and atDusk, the vibes were kicked into high gear. Sets from Elevven, Giuseppe Ottaviani, John O'Callaghan, Paul Van Dyk, and ALPHA 9 offered a range of different styles in the trance realm to dance away to before Blastoyz kept things hotter than ever with a psytrance set to close the night.
---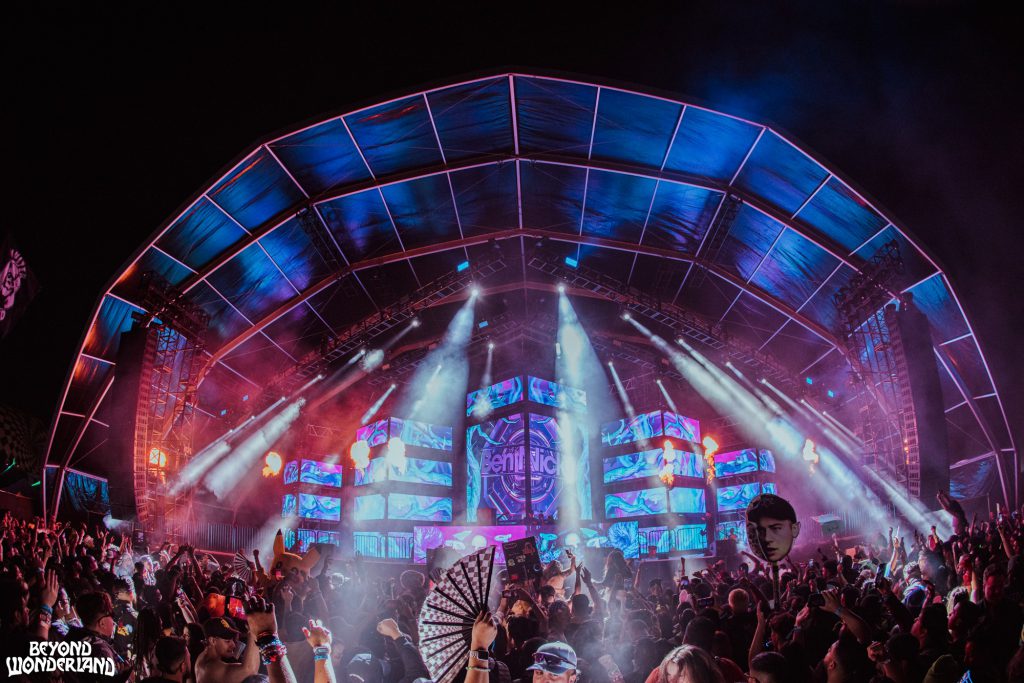 Basscon's massive takeover of the Cheshire Woods stage on the second day was fantastic.
Although hard dance has sat on the sidelines when it comes to popular genres, it has continued to foster new fans and reside deep in the hearts of those who have fallen in love with the energetic beats. One of the biggest ways to get niche genres out to the masses is to give them a taste of what they're missing out on, and that's what happened when Basscon took over the Cheshire Woods stage at Beyond SoCal.
Instead of being pushed to one of the side stages, this year's Basscon takeover was central to the madness that ensued at the festival. No matter where you went from stage to stage, it was nearly impossible not to feel the energy booming through its speakers. Sets from Soren, Geo, and NTXC kicked off the festivities, and they were followed by Lady Faith, Sub Zero Project, Noize Suppressor, Junkie Kid, and Coone. And if you wanted to have some fun, there was no doubt that Ben Nicky's XTREME set was the place to be as he delivered a helping of classics that were twisted in a unique way.
---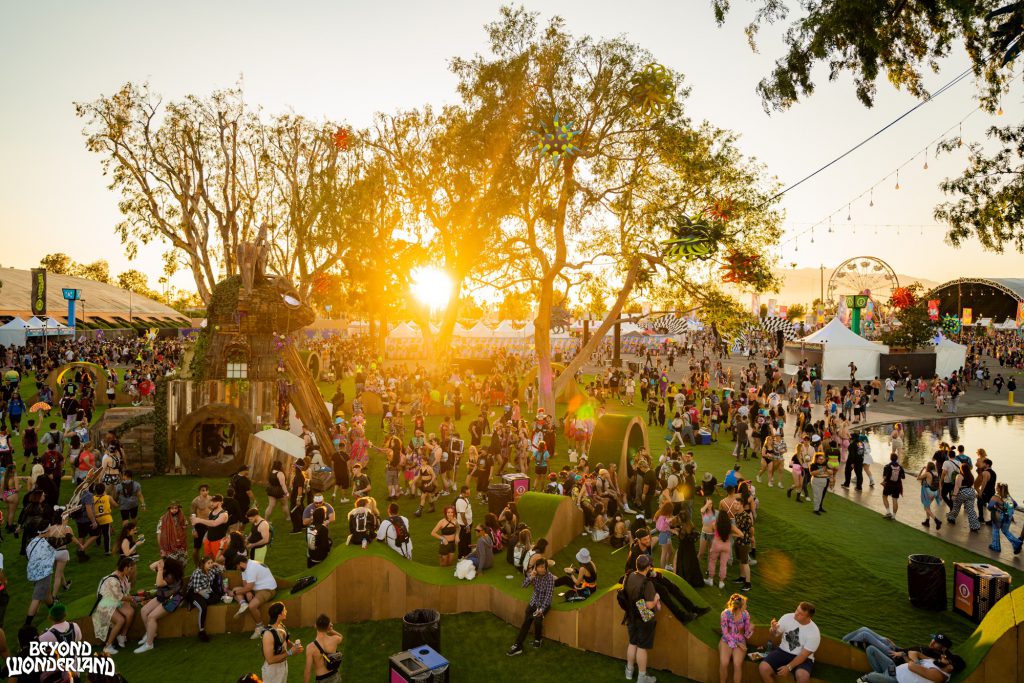 A plethora of places to explore and chill out at the transformed NOS Events Center.
While some might argue that real ravers shouldn't sit down at an event, those who have been in the scene for years know how crucial it is to take breaks. Typically, the concrete and asphalt surface of the NOS Events Center makes sitting down comfortably pretty difficult, but Insomniac completely transformed the venue to provide a number of places to chill.
From utilizing art pieces and the green artificial turf that was recently seen at Camp EDC, to bringing back surprises like The Doorway that allowed for a break in the madness, plenty of map points were offered for attendees to explore. The expansion of the venue to include the racetrack for the Mad Hatter's Castle stage also gave anyone catching artists like Netsky, 4B, and Zeds Dead the chance to kick back and watch the show comfortably.
---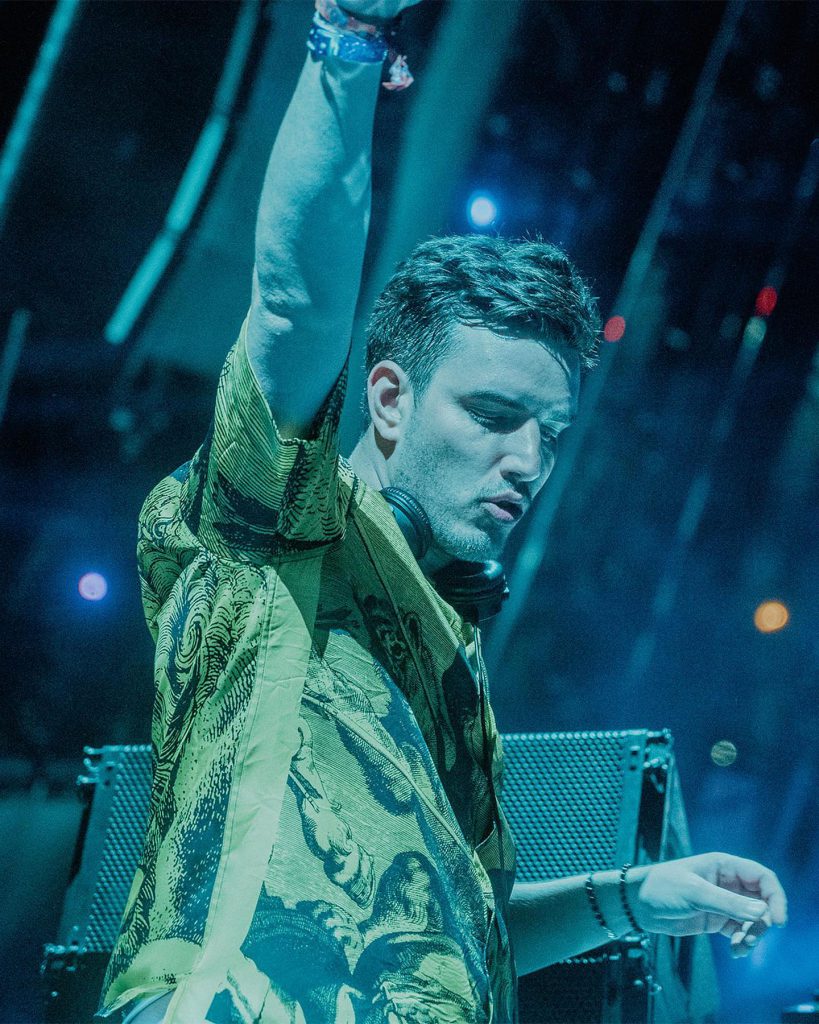 Netsky's set dominated anyone in its path at the Mad Hatter's Castle.
With its continued surge in popularity in the US, drum and bass legends have flexed some of their best sets and releases yet. One of them is Netsky, who has further proven his abilities as a dynamic producer and performer over the years – and his set at Beyond Wonderland SoCal was one of the best of the weekend.
Netsky arrived back in Southern California hot off the release of his first single this year, "Broken" with Montell2099, and some epic performances in 2021, making it clear he was an artist not to miss at the festival. He decimated the crowd during his set with his own tunes and others from Sub Focus, Mefjus & Camo & Krooked, and plenty more, providing the perfect amount of energy to contrast with the set's vibe-inducing moments.
---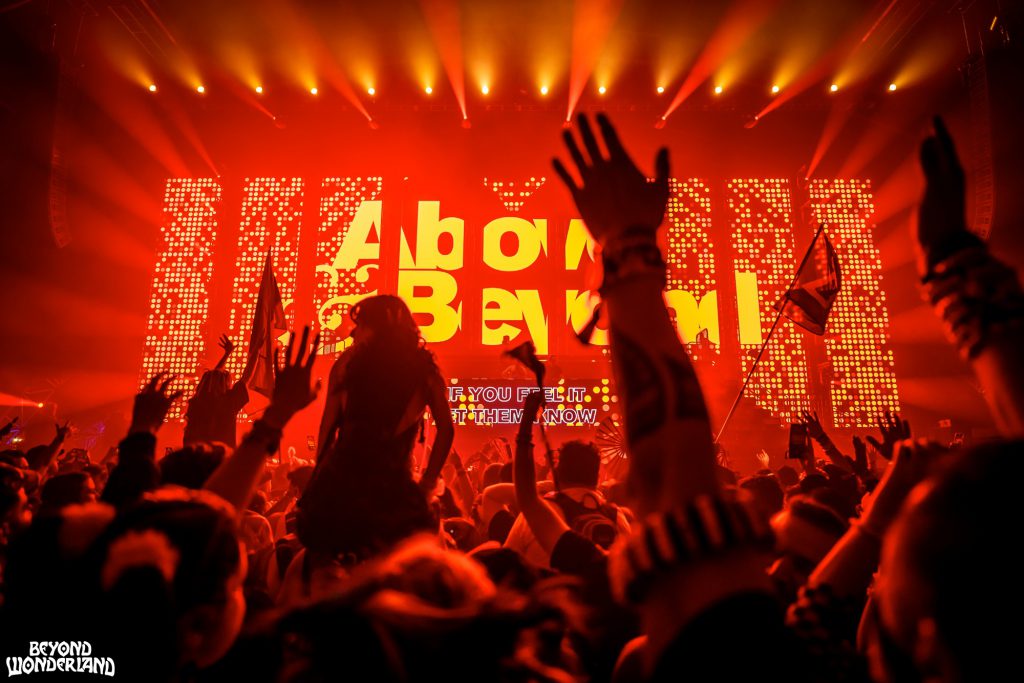 Above & Beyond closing out the festival with the announcement of ABGT500 in Los Angeles.
When Above & Beyond was announced to play this year's edition of Beyond Wonderland SoCal, it was a no-brainer that we needed to be at their set. After fellow Anjunafamily member Seven Lions brought a set filled with melodic dubstep and a touch of trance to the Queen's Domain, the stage was set for Above & Beyond to take control of everyone's souls.
While we wished they had longer than an hour to perform, they churned through some of their beloved tunes like "Love Is Not Enough," "Blue Sky Action," and "Alone Tonight" while also spinning Jason Ross' remix of "Rebound" and Genix's "Higher & Higher." Above & Beyond then closed their set with "Thing Called Love" and displayed their final message that ABGT500 would officially come to Los Angeles later this year. Tickets for that show and the Anjunadeep Open Air showcase the following day will be on sale soon, so don't sleep on snagging them if you plan on heading to the milestone show in October.
---
Follow Beyond Wonderland SoCal on Social Media: