After dropping bb u ok? last year, San Holo dropped the news that a deluxe version is coming with new remixes and more!
---
From releasing tunes that are dripping with emotion to helping usher in a new wave of talented creatives on bitbird, San Holo has only further proven his love for the dance music scene each year. His 2018 album Album1 helped pave the way for his rise to the top of the hearts and minds of his fans, and in 2021 he delivered bb u ok? to much praise from tastemakers and fellow artists alike. Now, San Holo has announced some news for those who fell in love with the album by dropping the details of its deluxe version.
Officially due out on May 6 via Counter Records / bitbird, bb u ok? Deluxe will pair the original 20 tunes from the album with a fresh single from San Holo called "i don't feel anything anymore." But that's not all that he had in store for those who tune in to this new version as a second disc will be offered along with it that features a whopping 12 remixes from members of the bitbird community and one from their fearless leader himself.
Taking the remixing reins on the second disc of bb u ok? Deluxe is a flurry of established and rising artists alike that include everyone from Chet Porter and Elohim to Tsu Nami and Laxcity. While the most notable track to be remixed from the album is its title track, others such as "you've changed, i've changed," "find your way," and "black and white" also receive the remix treatment. And fans won't have to wait too long to get a first taste of what's in store either as LP Giobbi's remix of "bb u ok?" is available now for their listening pleasure as she twists it into a house heater.
Listen to LP Giobbi's remix of "bb u ok?" on Spotify and make sure to pre-save the deluxe version of the album ahead of its release on May 6. Don't forget to catch San Holo on tour this year as he makes his way across the US.
Stream San Holo – bb u ok? (LP Giobbi Remix) on Spotify:
---
San Holo – bb u ok? Deluxe – Tracklist:
Disc 1
i am thinking of you
IT HURTS! 
new one (feat. Bipolar Sunshine) 
bb u ok? 
black and white 
i just wanna fucking cry (feat. The Nicholas) 
heal (↑%) 
lonely in LA 
the great clown Pagliacci
i get lonely around people, too 
thoughts and chemicals (feat. American Football) 
MY FAULT 
make this moment last 
find your way (feat. Bipolar Sunshine) 
do you see me? 
FEELS RIGHT 
ewing street 
wheels up (feat. Rivers Cuomo of Weezer) 
you've changed, i've changed (feat. Chet Porter) 
one more day (feat. Mija & Mr. Carmack)
i don't feel anything anymore
Disc 2
find your way (San Holo Lofi Remix)
bb u ok? (LP Giobbi Remix) 
find your way (Elohim Remix) 
black and white (Nils Hoffmann Remix)
you've changed, i've changed (Chet Porter Remix) 
bb u ok? (Tsu Nami Remix) 
bb u ok? (Sam Day Remix) 
bb u ok? (Laxcity Remix)
bb u ok? (Skygate Remix)
bb u ok? (Darby Remix)
find your way (Hundaes Remix)
bb u ok? (kittito Remix)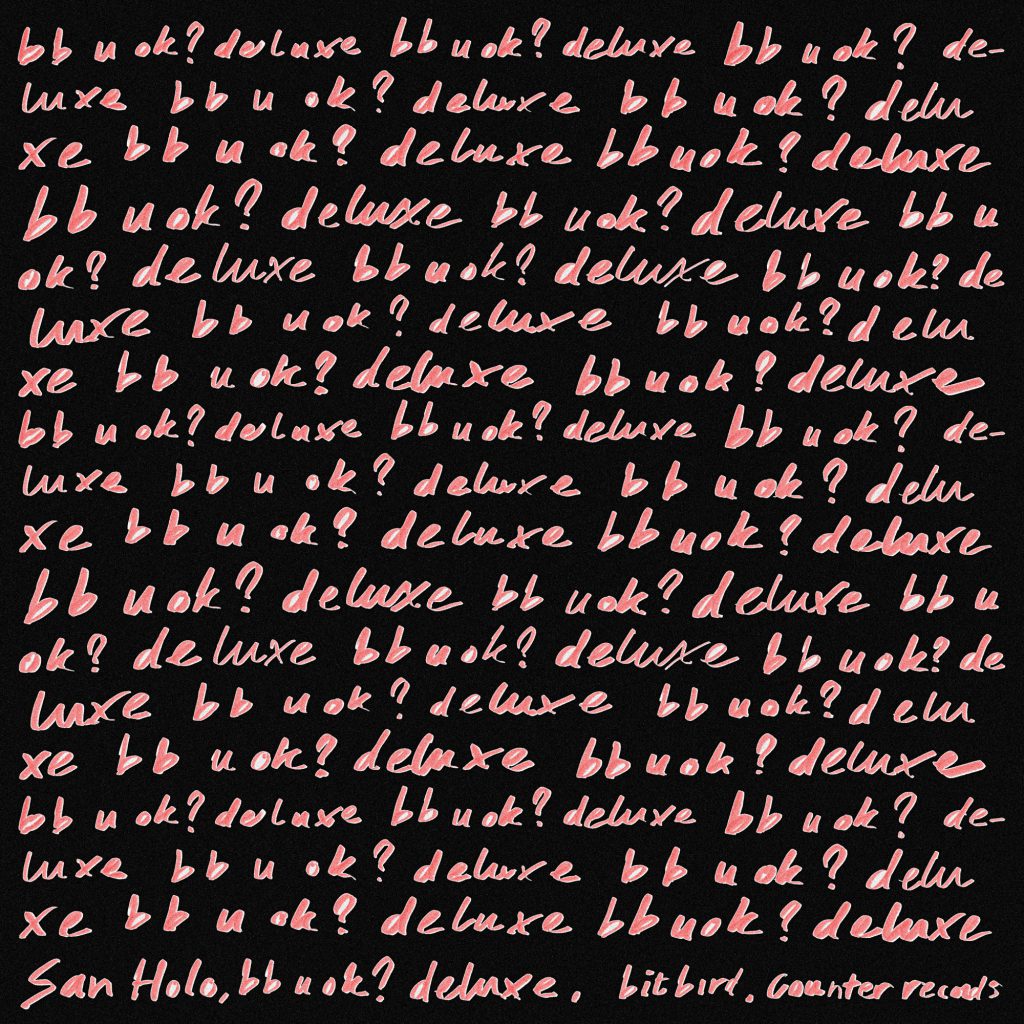 ---
Follow San Holo on Social Media:
Website | Facebook | Twitter | Instagram | SoundCloud | YouTube | Twitch