New York-based duo Crush Club is heading to Day Club Palm Springs to get some sun this month and shared a playlist to get you groovin'.
---
Great music and even greater vibes have been the name of the game for Crush Club since they first emerged on the scene. Over the past few years, they've dropped some serious heat for house and disco lovers to groove out to on labels like Tinted Records, Another Rhythm, Ultra Music, Club Sweat, and more. This has led the New York-based duo to quickly gain a fervent fanbase and become one of the most desired acts to catch, especially during the strong summer heatwaves the world has experienced lately.
Beyond their solo work, Crush Club has teamed up with artists such as Purple Disco Machine on "Take It Easy" and LP Giobbi on "Angel," giving further proof that these producers have the ear of tastemakers as well. Now, as they ride the wave of their latest single, "Taking Back My Life," which just dropped last month on Never Worry Records, the duo has set their sights on Palm Springs for their latest in-person appearance.
On Friday, April 22, Crush Club will take the stage at Day Club Palm Springs to help get everyone moving to the beat ahead of sets from Hayden James and Duck Sauce. If you haven't yet caught them spin then you're surely in for a treat as they pack a hearty helping of disco and house grooves into each performance – making them a fantastic addition to this lineup in the hot, desert climate. And if you hadn't secured your tickets for the weekend yet, you're in luck as we've teamed up with Day Club Palm Springs to give away a pair of passes for the entire weekend.
Listen to Crush Club's playlist on Spotify and make sure to enter our contest for your chance to catch them and more during the second weekend of Day Club Palm Springs this month.
Win a Pair of Weekend 2 Passes to Day Club Palm Springs
Stream the Crush Club's Palm Springs Vibes Playlist on Spotify:
---
Tracklist:
Purple Disco Machine & Crush Club – Take It Easy
Sofi Tukker – Original Sin (Crush Club Remix)
Patrick Cowley – Megatron Man
Soul Reductions – Got 2 Be Loved
Duck Sauce, A-Trak, Armand Van Helden – Mesmerize
ABCDJ – If You Wanna Get Down
Turbotito – Cancao Para Laia (Jkriv Remix)
Lifelike, Kris Menace – Discopolis (mix cut)
Crush Club – Taking Back My Life
James Hayden – Feelin' – KIDDKITT remix
LP Giobbi & Amazonian Rockstar – Say A Little Prayer For You
Cosmos Midnight – Can't Do Without My Baby
Dirt Crew, Linus Loves – Night Music (Dirt Crew Music)
L'Imperatrice – Sequences (Pete Herbert & Dicky Trisco Remix)
Rayko – Looks Like Love
Soulsearcher – Can't Get Enough – Vocal Club Mix
LP Giobbi & Crush Club – O Retha
Crush Club & Supermini – We Dance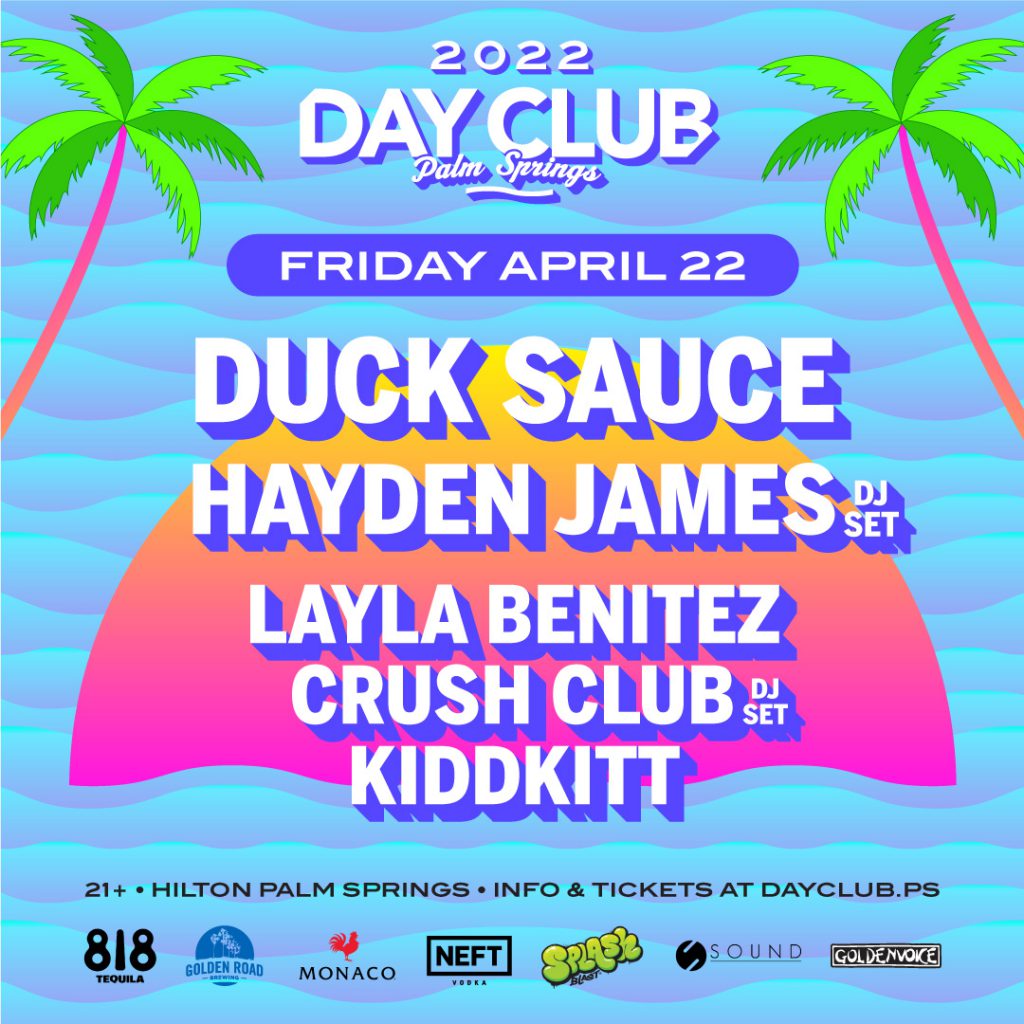 ---
Follow Crush Club on Social Media:
Website | Facebook | Twitter | Instagram | SoundCloud