We caught up with illustrious drum and bass producer Netsky and collaborator Montell2099 as they dish on their new single and more.
---
Anyone familiar with the high-energy, powerfully intense drum and bass sound is sure to have at least one favorite track by the legend of the genre, Netsky. The Belgian artist has carried the flag for drum and bass fans everywhere, lifting the genre back out of dingy warehouses and onto the main stages of the world's most prominent festivals. From global hits such as 2012's "Come Alive" and "Love is Gone" to the instantly recognizable 2016 anthem "Rio," featuring Digital Farm Animals, Netsky has steadily built a legacy for himself that few have rivaled within the genre. Yet not before his most significant work to date.
The pandemic saw Netsky breathe life into drum and bass fans around the globe with the release of his full-length album Second Nature. This breath-taking collection featured 18 tracks that can easily run from top to bottom without hitting the skip button once. Netsky finds his unique sound as an artist within these tracks while highlighting his powerful collaborative abilities, including one of the album's strongest tracks, "Mixed Emotions," which featured Montell2099.
Montell2099 ushers in Netsky's first significant release of 2022, "Broken." An esteemed producer himself, Montell has worked with legendary artists such as Lil Wayne, RL Grime, and 21 Savage. He hails from the drum and bass haven of New Zealand, where the two met on tour and forged instant chemistry between them.
Now the time has come to unveil a brand new collaborative smash between these influential producers and all-around good guys, and when the chance to chat with them arrived, we jumped at the opportunity. So read on to dive inside the mind of Netsky and Montell2099 to find out what it's like when these two brilliant artists capture lightning in a bottle.
Stream Netsky and Montell2099's "Broken" on Spotify:
---
Hey Netsky and Montell2099, thanks for chatting with us today. First, congrats on the new single, "Broken," it's an absolute banger. Could you elaborate on how that came to life and how you guys got back into collaborating?
Netsky: Thanks, man. Yeah, Monts, do you want to go ahead? You started the beat.
Montell2099: Oh yeah, it was similar to the other track we did, "Mixed Emotions." We shared a Dropbox folder and just sent ideas to each other, and then whatever one we both felt viable, we just kept working on that. That's what resulted with this track. I think I had a really basic idea and sent it to Boris [Netsky], and then he and I added some layers, and we found this vocal.
Netsky: Yeah, yeah, man, Monts had this cool ID called "Zero." I think the melody stayed the same. The main lead melody was something Monts had programmed on a typical kind of halftime, and it hits super hard. But it's obviously kind of in the same world as Drum and Bass. I think that's where we like to find that our beats work well together sometimes because it's the opposite thing: the same tempo, but just half and double of it. 
The melody just worked well under Drum and Bass, and then we started developing a little more, and I had this song called "Broken" that I'd written here in LA with this incredible songwriter. And I remember stepping into the session with you Monts in Auckland.
Montell2099: Oh, yeah.
Netsky: We put the vocal on the beat together in Auckland in New Zealand. And, I mean, we both loved it from the start. It was such a perfect match. We developed it from there.
Just looking into 2022 in the new year, where do you think your guys' sound is heading not only as individual artists but just drum and bass in general in North America? Is there anything you guys are specifically striving for in capturing the growing audience in North America?
Netsky: Yeah, I think it's obvious that [Drum and Bass] is going to a peak. There's lots of interest from other DJs, some in different genres, and it's really interesting to see. And you know, people like Sub Focus and Dimension are getting the slots on festivals where it would normally be the dubstep act or established act in the States, and that's amazing.
I mean, I played a show with Brownies & Lemonade here in LA, which was just amazing, that for me, really showed it's not underground right now. It's very popular in the underground, and I guess it's really in that mix in between. And it's just great to see that man; there's so much talent here in America as well, that's what we need here in America – people to hold the flag, playing Drum and Bass shows all the time. 
It could be a slow start, but I truly believe this genre works here. And you know, people at EDC might want to get some 174 BPM next to all the dubstep acts they're used to seeing, and I welcome that. As much as I like dubstep and the acts here in America, I think that's real room for this tempo and this genre and this energy, and I'm just really, really happy to be part of it. 
I'm in LA right now and keeping that in mind. And I know that there's a space that we're going for. It's super exciting, and I think some ways haven't been explored yet properly, and it's like taking hip hop and r&b into that drum bass world – it has been done before, but it feels like that could be a sweet spot right now. Finding a cool catchy song and just making it as high energy as drum and bass could make it here.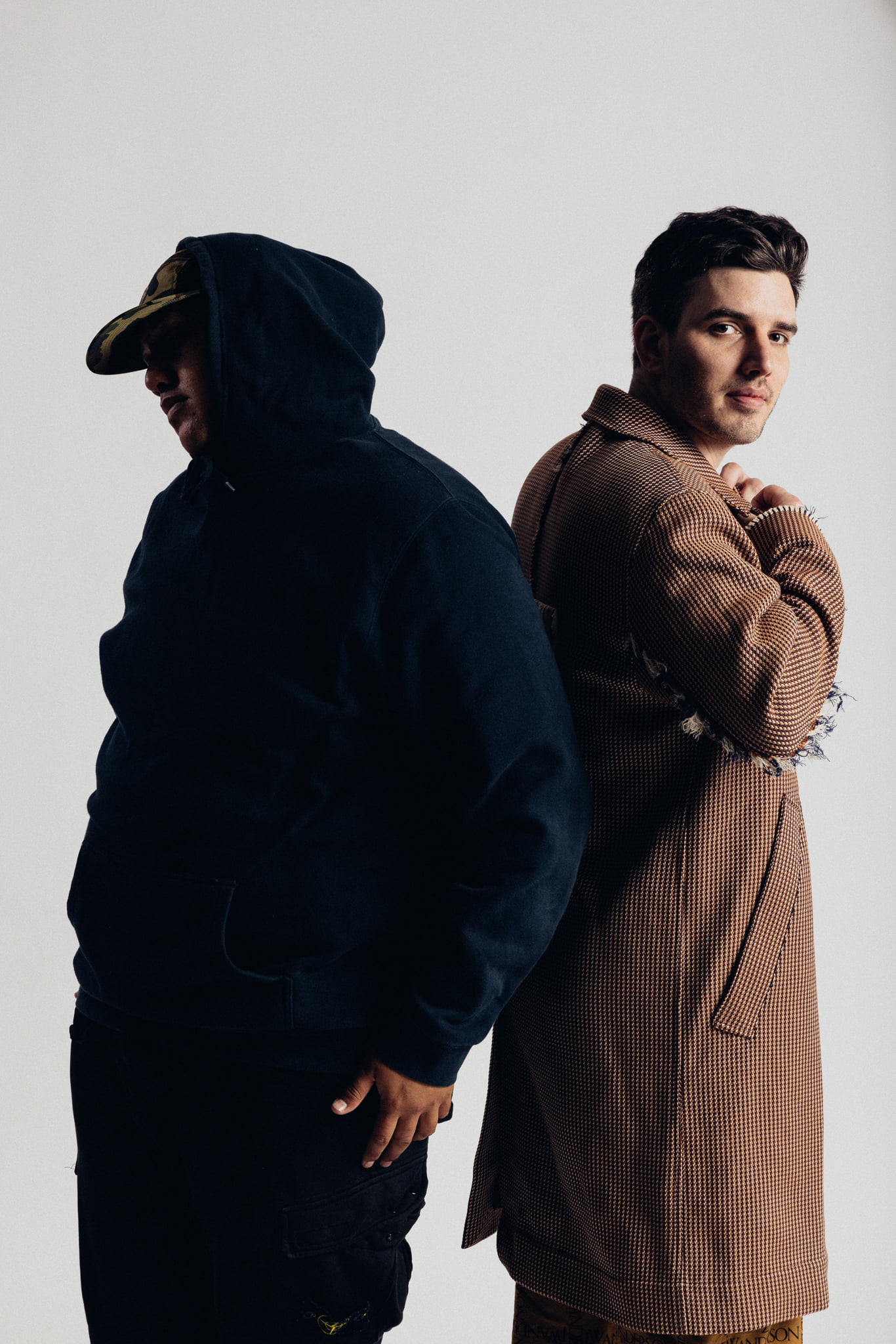 How do your crowds vary from place to place? Does it affect your experience on stage when interacting with the crowd from place to place?
Montell2099: Yeah, yeah, I haven't been to Europe and stuff as well, though. But the shows in New Zealand, obviously drum and bass is the top electronic genre here pretty much; it's everywhere. Every festival you go to, all the top-billed artists and up-and-coming DJs are all playing drum and bass. So there's a different, a bigger culture here. 
But I had been to the US late last year, and I'm just going around seeing what was happening maybe four or five years ago in New Zealand, and it's starting to happen over in the US. The crowd might not necessarily understand the tempo and the rhythm yet, but they're getting there, and other big established DJs are starting to play it in their sets. Many big DJs are playing drum and bass now, so now it's amazing to see what the genre is doing.
Netsky: I love what happens next to artists like yourself and RL Grime, and I love how diverse lineups can be here. Like in New Zealand, many people might not know this, but as Montell said, it's so popular there. But I love festivals where there are three or four different genres programmed right after each other. I'm excited to share stages with you, Montell; you're killing it, and that's just exciting.
Awesome. Right on. It's one of my personal favorites from the record. And I know it just briefly touched on it when we first got going but looking back to Second Nature back in 2020 and your guys' big hit from that one, "Mixed Emotions." Can you elaborate on that one?
Netsky: Yeah, that one was quite weird because it was. It was called ​Katikati. I remember the original project.
Montell2099: Yes, it was named that because of the first COVID lockdown in New Zealand. I was staying in my hometown called Katikati. It was just one of the first ideas I came up with in lockdown, and yeah, I called it  "Kati DnB." I think Boris hit me up if I had any ideas, and that was one of the ideas I sent, and he did his thing on it.
Netsky: For some strange reason, just Dropbox that we share our files in, I produce music that sounds like Montell, and you do your drum bass tunes in it. [Laughs] So it's really fun with that one. I think it sounded brilliant, and what I liked about it was that your drums sounded so different than any drums I would do on a drum and bass tune. So I think I changed the melody up a little bit. You had that vocal snippet that we worked around. 
That whole track and everything around it was amazing because we recorded a beautiful video in New Zealand. Go check it out on YouTube if you haven't. It makes me think of New Zealand and all these amazing memories, so it's very special to us.
That's amazing, man. Montell, this one is specifically for you. As a blossoming artist, you've worked with powerhouses aside from Netsky, such as RL Grime, 21 Savage, and Lil Wayne. What was it like working with such big names?
Montell2099: It was cool, man. I've been a big fan of all those artists you named, so yeah, now it's always super humbling getting to work with them, and they're cool people as well, which is always nice. They're just lovely. So that's really cool to get the opportunity to work with people like that. And Boris as well. 
After successfully proving your production skills in the bass/hip-hop game, how did you fall in love with drum and bass? Do you see many comparisons between the two from a producer's point of view?
Montell2099: It was a weird development for me because I kind of came up around the early SoundCloud era, around 2014-15. So I was inspired by artists like Mr. Carmack and Sam Gellaitry – that's the kind of music I was making. And then, as I got a little bit older and started going to clubs, I started hearing a lot of drum and bass, and I just fell in love with the genre.
I think the music and just going to drum and bass shows, and just the feelings there. It's euphoric. So that's what propelled me into the genre. Every time I'd come home after the clubs, I just took a stab at trying to make some drum and bass. I've got that background of the old SoundCloud era kind of stuff, and hip hop and r&b. So I'm kind of bringing that into the genre in my back pocket a little bit. But yeah, that's kind of how I fell in love with drum and bass. 
Can you tell us a bit of what the drum and bass scene is like in your home nation of New Zealand? If I remember correctly, New Zealand was the only place to successfully pull off an arena show while the rest of the world was in lockdown. 
Netsky: Yeah, it's mainstream radio, so it's out there. It's crazy. You can't walk the streets without a car passing by and hearing the sub of a drum and bass song. It's funny because it's probably the only country in the world where it's on such a big scale. All these DJs from the UK and Belgium, we come in there, and we're amped up. It's a fantastic opportunity to bring that genre that doesn't have that kind of scaffolding and some other places of the world to propel it with, as you said, huge arena shows. 
The show I did with Ben Dalgleish, Montell works with him as well, (he's) this incredible show designer from New Zealand. Yeah, I mean, he does everyone now. It started with Post Malone, then he's doing Billie Eilish, and I think all the headliners at Coachella. He was kind of stuck in New Zealand with lockdown and stuff, well, not stuck, but he went back home for that, and I ended up living with him for a couple of months in this house. We were all just in this crazy house with all these super talented creatives, and the show that came out of that friendship and that group was just amazing. 
It was one of my favorite shows of my life. That arena shows in New Zealand, we called it Glass House, and we can't wait to bring it to the rest of the world. LA is definitely next, then we're doing Printworks, we're doing Antwerp, my hometown in Belgium, and it's time to bring the show to other places. It's super exciting. 
That's badass, and I was just going to say I think that the Glass House setup would be perfect for a big festival like Coachella. I think it would do well here over here in America, just from a production standpoint, you know?
Netsky: I feel like it's such a beautiful idea. Especially in Europe after lockdown and being so far from each other, bringing everyone together and being so close to the crowd. And that was kind of the original idea behind it in New Zealand as well. Like, let's get as close to the crowd as possible and be surrounded by it – there's something beautiful about that.
Looking back in time a bit, Netsky, back in 2014, you brought your now legendary live show to Coachella. First of all, thank you for one of the best DnB sets of all time, but I have to know. Will that live show ever return? It was indeed in a league of its own at the time and would remain so today.
Netsky:  I appreciate that, man. I mean, some of the best memories of my life. We were with that band on that tour bus in America. That was amazing. And yeah, I miss it, too. I really do like this. There's something about sharing a show and the ups and downs with a family on stage. From the crowd, it's a different show, of course, but for me, just to grow something and go through that, it becomes a family after a while. It was just an amazing experience. It elevates the whole thing to such a different level than DJing. As much as I love DJing, it's a different world. 
But to answer your question, I don't have an answer. I'd love to bring it back at some point. I think it's essential to have the right songs for it. It has to be a project that we write an album for to tour. The thing about live bands, especially when there are 16 people involved, you have to fly 16 people in and get them all American visas. There's a lot of work around it. We'd have to organize it well with the right album, and it has to be a smash. And I'd love to do a world tour with it at some point, but it's something I'm thinking of.
Finally, what do you hope for the future of Drum and Bass? I don't see its popularity waning any time soon, and things can only continue to improve.
Netsky: Well, the world is slowly opening up again. Many changes are being made by a lot of artists internally in teams and people that they work with, including me. It's an exciting new start, but I see this as the start of something new. I'm in the writing process now for our next step. 
And I say my next step because Montell is doing his own projects. He might be touring next weekend, and we're taking it slow. Because it's just opening up again, we're doing Tomorrowland, and we're doing Printworks, we're doing shows all over Europe and in the summer. I'd love to look at America properly in September. I know we've got something done for New York, but there's not much more I can say.
---
Follow Netsky on Social Media:
Website | Facebook | Twitter | Instagram | SoundCloud | YouTube
Follow Montell2099 on Social Media:
Facebook | Twitter | Instagram | Soundcloud | Youtube | Spotify