Viv Castle dropped by to chat about coming up in the UK scene, his experience as a DJ in Atlanta, and his track "Control" on Hausa Groove.
---
If you've ever come over to Atlanta to party, chances are you may have had a run-in with house music aficionado Viv Castle. Born and raised in the UK, he quickly fell in love with the bustling nightlife, and fate would have it that he was actually a talented DJ himself. When he moved over to the states, he found his footing among fellow industry members, and with an Atlanta residency secured, the world began to fall under Viv Castle's spell!
You can catch Viv Castle wowing crowds at some of the best venues in the city, including Believe Music Hall, District, and Opera (now known as Domaine). He's also set to play Imagine Music Festival again this year. After years of dominating the dancefloor, you can rest assured that whenever he gets behind those decks, your body will proceed to shimmy shake and groove all night long.
Next on the agenda, he would focus on his debut release, proceeding to pour all of himself into "Control." Out now on Hausa Groove, this track features spicy vocals, playful drums, and a festive bassline pump that will easily transition the party into a state of unbridled mayhem. With "Control" marking the start of a new chapter for Viv Castle, we had to catch up with him and get to know a little bit more about the man behind the music. So, settle in, turn the volume up on his exclusive guest mix below, and read on for our chat!
Stream EDMID Guest Mix 317 || Viv Castle on SoundCloud:
---
Hello Viv Castle, thank you very much for chatting with us today! To kick things off, I'm interested to learn about your experience coming up in the UK club scene? Can you take us back to the '80s and early '90s when you were a club-goer at Manchester's legendary Haçienda and Thunderdome?
Hey, thanks for having me. That takes me back. It was weirdly similar to today but ever so different. Any time you have hundreds, or thousands, of people packed into a space, jumping and vibing to the music, there is always an energy, and that energy has not changed much. Still, there are some pretty significant differences too. The DJs were not the center of attention like they are today. 
Often the DJ was tucked away, sometimes to the point of not being seen; there were no massive LED walls or lights pointed at the DJ. This made for an environment focused on music and dancing. Seeing epic dance battles was not uncommon. You would dance face to face with people and be "forced" to interact with your fellow ravers, whereas today, you are shoulder to shoulder all facing the stage, and there's not as much interaction with fellow dancers. This closeness created a bond with your fellow ravers. As the case may be, many of those bonds would last beyond the end of the night or morning. 
I don't see those kinds of relationships happening as much at clubs of today, but it does happen more at festivals. Clubbing today is far more part of the everyday culture, which has led to a scene that is not as cohesive as it once was. Back in the day, you would see people from all walks of life, no matter gender, socioeconomic background, race, sexual orientation, or presentation, and the music bound us all.  No one cared who you were or where you were from; it was all about love and dancing. In many ways, we were hippies, just loving each other and the music. I guess you see that today as well, but it was to a far greater extent in the early days.
Musically, who were some of your biggest inspirations from that era, and if you had to pick three tunes from back then that you still enjoy to this day, what would they be and why? 
Danny Rampling, Sasha, and Alister Whitehead are masters at their craft and massive inspirations. Sasha is still a big influence on me, although my productions and DJing are more house than progressive, and of course, he's still a megastar in the scene today. As for the choonz…
A Guy Called Gerald – "Voodoo Ray" – This track has hugely impacted my productions, from the vocal layers to the vocal chops and the acid line. That last part might be a hint for my future tracks; I do love a 303.
Phuture – "Acid Tracks" (Vocal mix) – You know that 303 sound that I said I loved? Well, I don't think you get a better example than Phuture's "Acid Tracks." It is a 12-minute mind and ear-bending journey which showcases what a TB-303 can do.  
Sasha and Maria Nayler – "Be As One" – When I first started to DJ, I played a lot of trance, and Be As One was sort of my gateway into trance.  It is not really trance per se, but it started my journey in that direction. It's another 13-minute epic that will always be in my top five tracks of all time.
Now let's talk about your music career in the States. What led to your decision to make Atlanta your new home? Did you face any challenges breaking into the scene there?
I had been living in North Carolina; I went to college there. I felt the need to move to a bigger city. Atlanta was a city I had DJd in before and seemed like a logical place to move, but damn, it gets hot here! When I lived in North Carolina, I worked with Liquid Groove (now Liquified) many times as they threw events all over the South Eastern US. When I moved to Atlanta, it was pretty easy to pick up where I left off with Liquified, which quickly grew into a residency. Once I had my foot in the door in Atlanta, it was easy to start working relationships with other venues.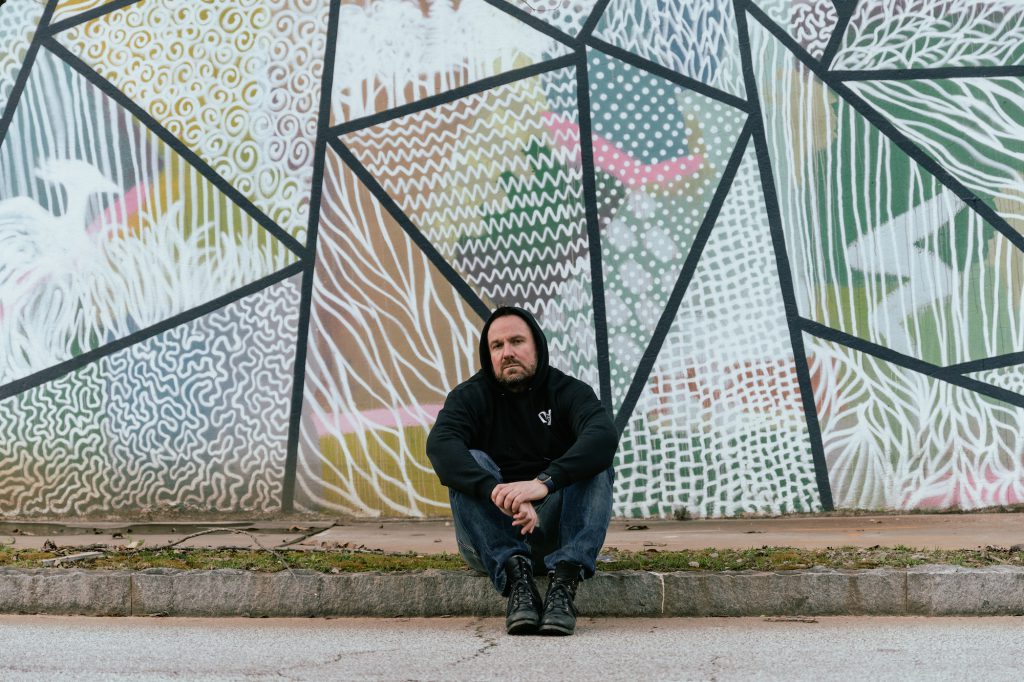 You've played all over Atlanta (under your previous moniker, VIVID) at some of the best venues the city has to offer, including Believe Music Hall, District, Opera, and the Tabernacle, as well as the ever-expanding, Imagine Music Festival. Can you talk about how working at so many beloved venues has shaped you professionally and personally?  
I have been very fortunate to play at those venues, and each has its own vibe and crowd. Honestly, I think it's a symbiotic relationship.  While I have to navigate a different crowd and vibe, I feel that part of my work is to make the crowd love the music that I love so much. 
I always ask myself, if I were in the crowd, what would I want to hear. But without playing such a varied group of venues, my ability to read a crowd would not be where it is today. While I ask myself what I would like to hear, I also think the ability to read the crowd is essential.  If we are not on the same page, I need to regroup and redirect. I guess that is what I learned from playing different venues. 
To the second part of your question, how has it shaped me personally? It has made me humble. It's one thing to play one venue, you know, and they know you, but stepping outside of that comfort zone can come with some brutal shocks. It keeps you working hard and on your toes. Music is fun, and I love it, but it does not come without dedication and lots of hard work.
If you could change one thing about the Atlanta scene, what would it be, and how would you change it?
This is a loaded question. Atlanta has such a long history with Hip-Hop, which spills over into the dance scene and has for decades. Back in the 90s, it was funky breaks and drum n bass; now, it's dubstep and trap. While those are great forms of music, I'm a house head at heart and would love to see our dance music turn more to house. I see Atlanta moving more towards house and techno, but it is a slow transition.
While honing your craft behind the decks, you've also been working hard in the studio, and this month you released "Control" on Hausa Groove. First and foremost, congratulations! Can you walk us through some of the production highlights and what you found to be the most challenging aspect of its production? 
Thank you!! I'm so proud of this track. It was the first track that I walked away from and said, "this is done!" The hardest part was finding lyrics. You need to find one you connect with and that works well with your track. Unless you're making your own lyrics, you pick from the same pool as all other producers. We all have our favorite sources for vocals, but there's a little bit of competition to use the good samples first.
You just recently played the DJs For Ukraine livestream charity event to help raise funds for the people of Ukraine, currently caught up in an unprovoked war. Can you give us your thoughts about using our creative platforms as a catalyst for change in the world?
Many people seem to think music should be free from any messaging, political or otherwise; I do not share that view. We can look back through modern music and see the punk movement, hippy movement, rock n' roll, hip hop, industrial, all of which have had strong political and social voices. Most take a stance against prejudice, bigotry, freedom, and civil rights issues. Shoot, Rage Against the Machine, what do you think the machine was? Rave and dance music had that too. 
Lyrically, I don't think it was so overt as some other movements, but I mentioned in the first question originally, ravers came from all walks of life and became one under the banner of "raver." There was no hate. There was just this comradery where we were all one. Chuck Roberts said it best on Mr. Fingers' rework of his track "Can you Feel" from 1998, which incorporated a lyric that many house heads see as the calling card for house music and dance music in general….. 
In the beginning, there was Jack, and Jack had a groove, And from this groove came the groove of all grooves, And while one day viciously throwing down on his box, Jack boldly declared, "Let there be House!" and house music was born. I am, you see, I am the creator, and this is my house! And in my house, there is only house music.
But, I am not so selfish because once you enter my house, it then becomes our house and our house music! And, you see, no one man owns house because house music is a universal language, spoken and understood by all. You see, house is a feeling that no one can understand really unless you're deep into the vibe of house.
House is an uncontrollable desire to jack your body. And, as I told you before, this is our house and our house music. And in every house, you understand, there is a keeper. And, in this house, the keeper is Jack. Now some of you might wonder, "Who is Jack, and what is it that Jack does?"
Jack is the one who gives you the power to jack your body! Jack is the one who gives you the power to do the snake. Jack is the one who gives you the key to the wiggly worm. Jack is the one who learns you how to walk your body. Jack is the one that can bring nations and nations of all Jackers together under one house. You may be black; you may be white; you may be Jew or Gentile. It don't make a difference in our house. And this is fresh.
We always love to end on a fun one, so what's one weird/quirky habit, hobby, or interest that you have that your fans would be shocked to hear about?
On nights when I don't have a gig, I'm in bed before 10 pm, and I always take a nap before every gig.
---
Follow Viv Castle on Social Media:
Facebook | Twitter | Instagram | SoundCloud