Slushii stopped by to chat with us about his new album on Monstercat, E.L.E (Extinction Level Event), and his growth as an artist.
---
Slushii is a gift who must be protected at all costs. He entered the scene with a fresh perspective and sound that piqued the interest of many, and his following grew big, pretty fast. People were hooked, and that happens when something new comes around. Since breaking onto the scene, Slushii's library has grown with impressive tunes like "Candy Flip," "Watch Yo Back," and "All I've Ever Wanted." And he's collaborated with some of the biggest names, including Steve Aoki, Dion Timmer, and Marshmello – and he's only 24.
Growing up, Slushii was diagnosed with Asperger syndrome and harnassed his explosive creativity as a means to express himself. Because of this, he's becoming an expert at integrating all his favorite things, like gaming, anime, fashion, and music. This type of ingenuity is rare these days, and Slushii has it, which makes him that much more of a gift.
Currently, Slushii continues to blaze on his path with the release of his latest project, E.L.E (Extinction Level Event), via Monstercat. This 14-track album offers so much, and it's his best work yet. The collaborations are divine, and the range is simply beautiful. In addition to the album, Slushii is hitting the road this spring for his E.R.U tour with additional stops at Ultra Music Festival later this month in Miami and Tomorrowland in Belgium this summer. You can purchase tickets via BandsInTown.
Be sure to listen to E.L.E (Extinction Level Event) on Spotify or your favorite music platform and check out our conversation with the man of the hour below!
Stream Slushii – E.L.E (Extinction Level Event) on Spotify:
---
Hi Slushii, thanks for taking the time to chat with us today. We have so much to discuss. First things first, how're you doing these days? You're glowing. 
Thank you! I've really just prioritized myself during the pandemic and tried to make sure that I re-entered the scene the same way as I did in 2016; to the fanfare of anime noises and robot sounds!
The last time we chatted with you was in 2017 at EDC Orlando, and you had just released your debut album, Out of Light. Since then, so much has changed. How have the last five years impacted Slushii and the music you're creating now?
I feel like you can accurately track my journey through my releases and my online footprint. It's been three years since I have released anything of substance, in my opinion. I totally get why artists reach a point where they denounce everything they've made before a certain time in their career because it doesn't reflect their current taste or artistic skill. But I do think it's cool how you can really see when an artist gets in their groove and hits the point in their trajectory where they become fearless. I'm not there yet, but I'm aiming to smash through the glass ceiling with my ragtag pack of dance music renegades!
Speaking of music, let's talk about your new album, E.L.E (Extinction Level Event), via Monstercat. It's a great album, full of diverse records and rad collaborations. How does E.L.E differ from previous projects like Dream III and Find Your Wings? 
This project is truly me getting the budget and creative direction to make something that is very unapologetically me. I now understand why artists like Tyler, the Creator, and Porter Robinson reject a lot of their work prior to when they emerged from their creative metamorphosis because it feels like we're attempting to climb the mountain initially by following the rest of the pack. Slowly afterward, you realize that by making your own little pathways and only competing with yourself, that's really the key for me personally.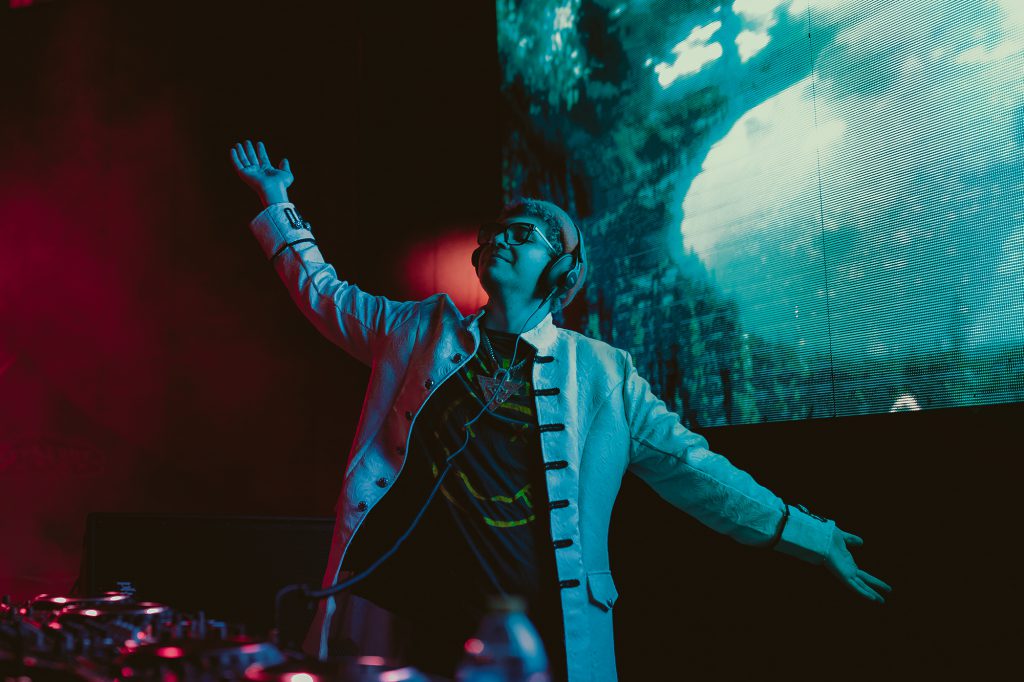 Let's talk about the collaborations. You joined forces with an eclectic group of artists and producers, including Kiesza, Mackenzie Sol, Trilla, Rickyxsan, Ruvlo, and Volt. What was it like collaborating with your peers during the pandemic?
The pandemic definitely didn't help or hurt the project, I think. A lot of musicians in the current climate are collaborating over Zoom or Facetime with Dropbox and WeTransfer being very valid modern-day solutions to the recording studio, at least for standard bedroom producer work. Being able to care for this album through all of its ever-evolving track listing and cast of characters really was a group effort, and in the end, it all worked out.
E.L.E is packed with range and genre-bending records like "Valhalla," "All I Need," "Secrets," "Invaders From Mars," with Rulvo, and "Carousel," featuring Kiesza. Walk us through your creative process and how you made the whole album feel and sound cohesive? It's pretty impressive.
I think that the Slushii sound and my personality is heard and felt throughout this album for sure. It's the little playful Slushii samples or whatever ear candy catches you and hooks you in. I am a huge fan of concept albums, like Pink Floyd's The Wall, that take you on a full journey and really make you think about your life and where you are.
It's no secret that you do your own vocals. Records like "Cry For U," "Sweet Illusion," and "Wait For Me" are such a treat. Your vocals sound stronger and more controlled. What have you been doing differently? Whatever it is, it's working well.
I feel like the confidence I've gained from being able to take control of my life really makes itself present more through my songwriting and vocal stylings now. I finally have the opportunity to say what I'd like to say exactly how I want to say it, and that feels really good. When you have a voice, and you figure out how to use it to positively influence the masses, it's a great feeling.
Let's talk about you. As I mentioned earlier, you're glowing these days. Can you tell us what motivated you to change your lifestyle and how you feel about it?
I just felt that during the time while I was stuck in the house, I was able to swiftly exit my last situation and really get my mind right. Taking an extended mental health leave to really pin down what needed some reshuffling and revamping. Who would've known that uncapping creative potential and letting it all flow would be the answer!
You've been in the scene for a while now. Compared to how things were when you arrived, what are your thoughts on where dance music is heading and the community surrounding it all? 
I feel like going into 2022 and 2023, we're going to see a lot of the underground disrupt what's currently hot and explode into a new creative renaissance. We've all been cooped up in our houses the last two years, and it's time to spread our wings and release all of this pent-up emotion creatively.
I created E.L.E to let people know that I haven't turned my back on the scene. I'm not going to just leave for commercial gains and not feed the underground because the Philly District 9 riddim shows are my stomping grounds. There are so many killer artists out there like Moore Kismet, Kaivon, Leotrix, Ace Aura, Helloworld, and so many more. I'd love to create a record with these cats. They're really the future.
You entered the industry at a young age like Porter Robinson, Martin Garrix, and Dion Timmer, and you're growing up in the public eye. What advice would you give 2016 Slushii? And what growth have you noticed in yourself?
I would say, be you. The one thing that makes us all unique is that we have specific interests and influences that creatively pull us down a multitude of paths. Focusing on one trend vs. being the trendsetter is what's really going to set you apart, not how much money [you make] or how many watches or cool cars you have. But I WAS smart to hold on to all of my YuGiOh cards! Also, it's a never-ending search for new peaks and summits that are exciting, as well as growing with the people that brought you here in the first place. 
Lastly, your style continues to evolve. It's fun and uniquely you, and you seem more comfortable expressing yourself. Who are some of your favorite designers, and how would you describe your style?
Rick Owens, Raf Simmons, and Ye are my favorite designers. I feel like they merge the feeling of high fashion with the duality and comfort that is really unmatched. Whether you want to look brooding and creative or dashing and professional, if you rock a pair of Creeches with a Raf turtleneck and some Yeezy 450s, I think it's safe to say that you're going to have a very comfy day. Also, shouts out to Ye for doing his thing and creating the stem player. I think the creative implications for this product and the impact it is going to have very soon is palpable.
---
Follow Slushii on Social Media:
Facebook | Twitter | Instagram | SoundCloud | YouTube