Slander, Rezz, Zeds Dead b2b Subtronics, AC Slater, Noizu, and more are set to take the stage at Ever After Music Festival this summer.
---
After years of sitting idle due to the pandemic, Ever After Music Festival sets its sights on making a huge splash when it returns this summer. Set to take place on August 12-14 at a new venue just an hour North of Toronto, Burl's Creek Event Grounds, this unique experience will surely draw in thousands who love the sounds of bass and house music with its jam-packed lineup that just dropped.
Headlining Ever After Music Festival on Friday is Slander, while Saturday is set to bring Rezz to the stage and a massive b2b featuring Zeds Dead and Subtronics will close everything out on Sunday. But the headliners are only a taste of what this multi-day festival is planning to offer as the rest of the list is teeming with talented artists as well.
Friday is set to bring a touch of house music with AC Slater, Noizu, and Nostalgix on the lineup that day. Some epic b2bs will also take place between SVDDEN DEATH and EPTIC, as well as FuntCase and Midnight Tyrannosaurus, while others such as Yultron, Fox Stevenson, and Ace Aura are sure to pack a punch.
Saturday keeps the vibes at an all-time high with Dr. Fresch, Dillon Francis, Corrupt UK, and SIDEPIECE throwing down some house heaters. Additionally, Noisia, Virtual Riot, Kompany, Liquid Stranger, and CALCIUM are sure to draw crowds to hear their bass-heavy tunes as well.
The final day of the festival will see the emergence of SVDDEN DEATH's VOYD project, along with other bass b2bs featuring PEEKABOO and Blunts & Blondes, HE$H and HOL!, and Boogie T and Dirt Monkey. Other performances of note on Sunday include OG Nixin, EPROM, ARMNHMR, LAYZ, Arius, and Reaper who will all deliver a hearty helping of wubs.
Tickets and camping packages for Ever After Music Festival go on sale Thursday, March 10 at 10am ET. Head over to their website for more details on different packages and to make your purchase.
---
Ever After Music Festival 2022 – Lineup: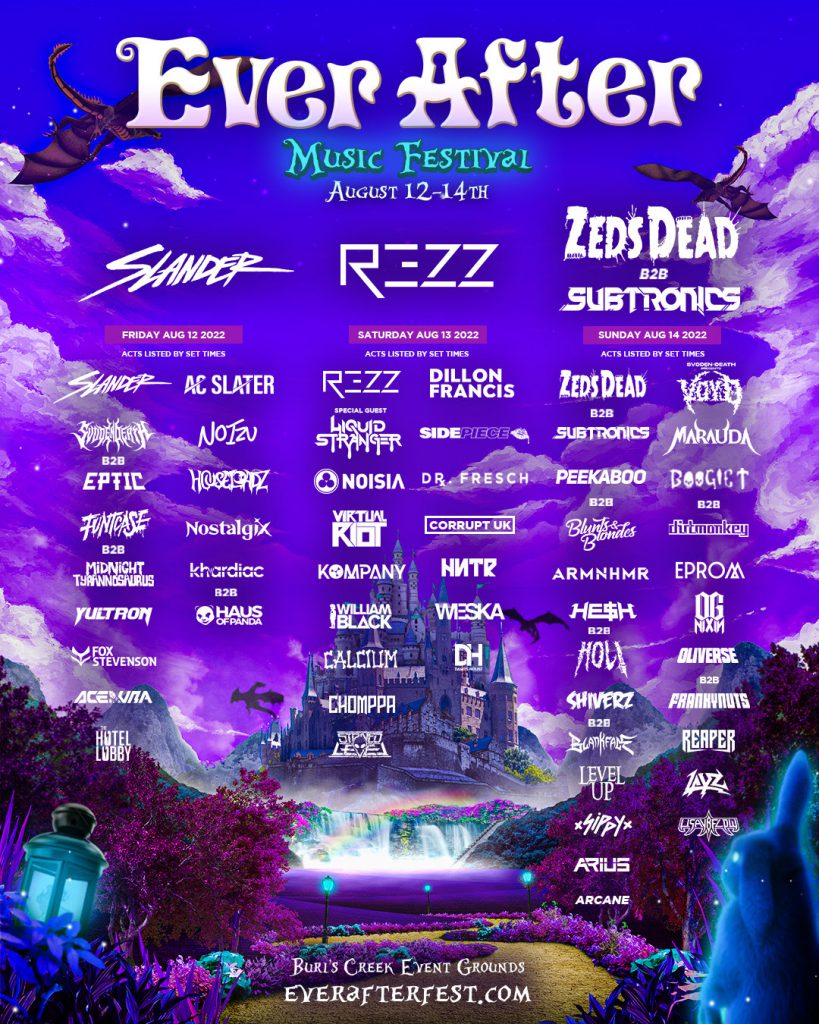 ---
Ever After Music Festival 2022 – Lineup By Artist:
AC Slater
Ace Aura
Arcane
Arius
ARMNHMR
Blankface
Blunts & Blondes
Boogie T
Calcium
Chomppa
Corrupt (UK)
Dames House
Dillion Francis
Dirt Monkey
Dr.Fresch
EPROM
Eptic
Fox Stevenson
Franky Nuts
Funtcase
Haus of Panda
HE$H
HNTR
HOL!
Hotel Lobby
Houseloadz
Khardiac
Kompany
LAYZ
Level Up
Liquid Stranger
Marauda
Midnight Tyrannosaurus
NOISIA
Noizu
Nostalgix
OG Nixin
Oliverse
Peekaboo
Reaper
REZZ
Shiverz
Sidepiece
Sippy
Slander
Stoned Level
Subtronics
Svdden Death
USAYBFLOW
Virtual Riot
VOYD
Weska
William Black
Yultron
Zeds Dead
---
Follow Ever After Music Festival on Social Media: