Destructo teams up with Chromeo and Tima Dee for "F With Me" and announces dates for his forthcoming North American tour.
---
DJ, producer, and tastemaker Gary Richards, aka Destructo, has become renowned over the past three decades for always bringing a party along with him wherever he goes. From curating some of the best festivals on the planet to dropping solid tunes that energize the feet of listeners around the globe, there's no stopping this behemoth in the scene. Now, Destructo continues his trend of sublime dance music releases with his latest single, "F With Me," which sees him team up with Chromeo and Tima Dee.
Out now across all platforms via All My Friends, "F With Me" is a funky track that is sure to get anyone grooving along with it. The signature, bouncy style that Chromeo brings with their productions permeates the runtime and plays with the hypnotic melody while Tima Dee's vocals take this track to the next level.
To celebrate the new single and to get everyone dancing to the beat, Destructo is set to embark on the F With Me tour on May 13 with the first stop in Chicago. From there, he'll traverse North America with shows in cities including San Diego, Houston, Seattle, Tempe, Vancouver, Boston, Las Vegas, and Denver before closing his run in Portland on July 30. Playing in support on select dates are some of the fastest rising stars in the scene right now including Mary Droppinz, Nostalgix, and DJ Glen – so make sure to arrive at doors to catch them spin.
Listen to "F With Me" on Spotify or your preferred platform, check out the full list of tour stops below, and grab tickets by heading to Destructo's website.
---
Stream Destructo – F With Me (feat. Chromeo and Tima Dee) on Spotify:
---
Destructo's F With Me 2022 Tour: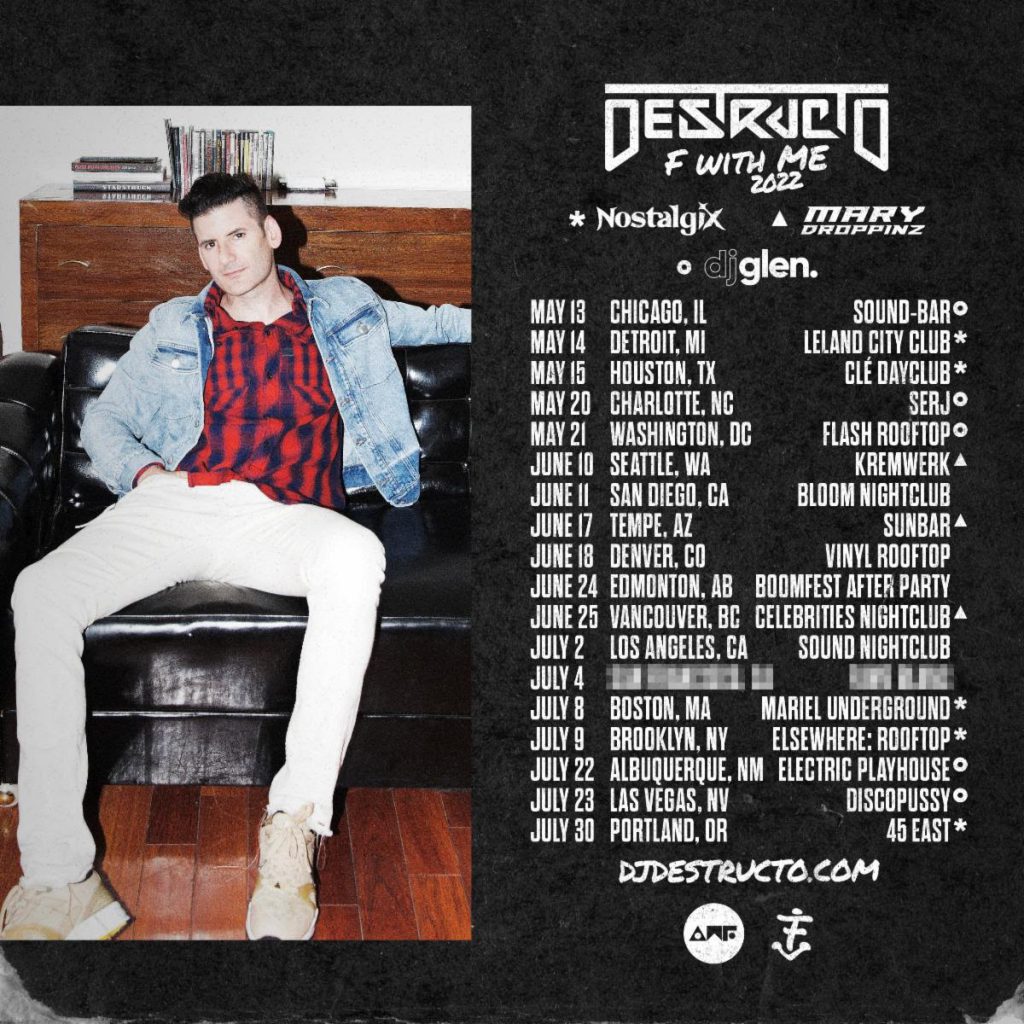 ---
Destructo's F With Me 2022 – Tour Dates & Venues:
Friday, May 13 – Chicago, IL – Sound-Bar (O)
Saturday, May 14 – Detroit, MI – Leland City Club () Sunday, May 15 – Houston, TX – Clé Dayclub ()
Friday, May 20 – Charlotte, NC – SERJ (O)
Saturday, May 21 –Washington, DC – Flash Rooftop (O)
Friday, June 10 – Seattle, WA – Kremwerk (^)
Saturday, June 11 – San Diego, CA – Bloom Nightclub
Friday, June 17 – Tempe, AZ – Sunbar (^)
Saturday, June 18 – Denver, CO – Vinyl Rooftop
Friday, June 24 – Edmonton, AB – Boomfest After Party
Saturday, June 25 – Vancouver, BC – Celebrities Nightclub (^)
Saturday, July 2 – Los Angeles, CA – Sound Nightclub
Monday, July 4 – TBA
Friday, July 8 – Boston, MA – Mariel Underground () Saturday, July 9 – Brooklyn, NY – Elsewhere: Rooftop ()
Friday, July 22 – Albuquerque, NM – Electric Playhouse (O)
Saturday, July 23 – Las Vegas, NV – Discopussy (O)
Saturday, July 30 – Portland, OR – 45 East (*)
Key:
(O) – DJ Glen
(*) – Nostalgix
(^) – Mary Droppinz
---
Connect with DESTRUCTO on Social Media:
Website | Facebook | Twitter | Instagram | SoundCloud | YouTube