Big City, Elderbass, Emorfik, Sagz, and plenty more are set to play Wub N' Dub, a three-day Art and Music Festival in North Carolina.
---
Festival season is just getting started, this April festival-goers gather in Willard, NC for Wub N Dub Arts & Music Festival. Running from April 7-10, this event will bring some hearty helpings of experimental bass, dubstep, house, and plenty more. Additionally, this festival will offer full visual and sound production on two stages, workshops, art, silent disco, and well over 50 artists that will have anyone "spring" into action this upcoming season.
Influential producers such as MeSo, Nasser Baker, and Bawldy at the top of the list, showcases the variety of sounds on this lineup that still stick to the real wub n dub each hand-selected artist brings to the festival. Other names such as Elderbass, Vibe Emissions as well as Big City really wobble the grounds you're standing on. Further, Sagz, Emorfik, and uSAYbFLOW will have headbangers running to their sets to throw elbows and break some necks.
The second phase of artists stacks this lineup even higher with Actual Garbage, Chris Maze, and Empti who all make that experimental, wonky bass that this wub n dub festival is really capturing. Others, such as Phoenix, are really mellow compared to TYLR who brings the hard bass. Not to mention, Warzone brings the more experimental, lo-fi drum and bass approach. While Xtals can turn a dancefloor around with his unpredictable sound design with the occasional melodic texture for a unique sound.
There's also an impressive collection of silent disco artists. This lineup carries names like Brewtal, Drizzy, and Emonix who bring hyped energy to your headphones as you're on the floor with your crew. Pixel Dust brings to you the bouncier low-fi beats, along with a set from Zeni. Then there's Sfynx, who you never know what he is going to invade your earholes with.
Early Bird tickets and camping are already sold out. Full weekend and two-day passes are still available for attendees to purchase. Don't forget you'll need one camping pass per car to park next to your site. Those planning to attend can access all of the ticket and camping options available via their website.
You'll have plenty to do with various wellness and flow workshops, yoga, sunrise sets, live painting, and so much more than just music at Wub N' Dub. Grab your tickets for Wub N Dub Arts & Music Festival before they're gone, let us know who you're most excited to catch in the comments!
---
Wub N' Dub Arts & Music Festival 2022 – Lineup: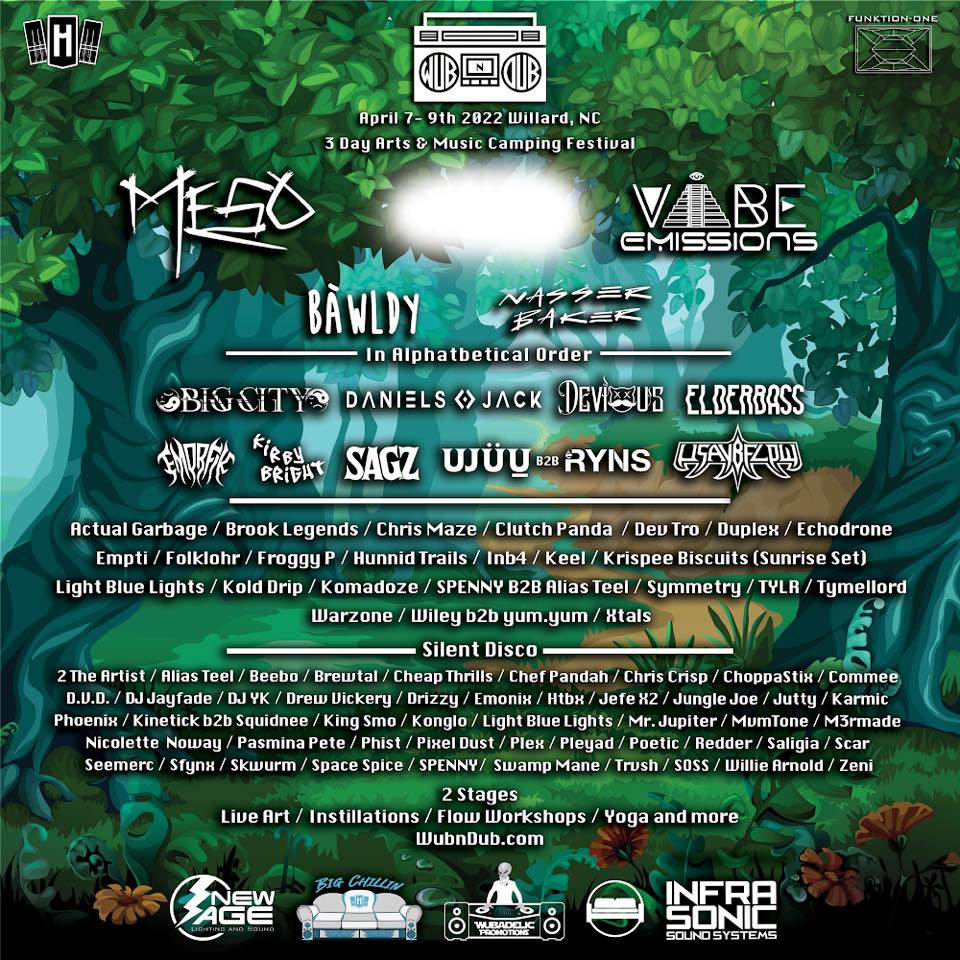 ---
Follow Wubadelic Promotions on Social Media:
Website | Facebook | Twitter | Instagram | SoundCloud | YouTube | Twitch