SOFI TUKKER releases their new single "Original Sin" from their upcoming album, WET TENNIS, and announce 2022 tour dates!
---
SOFI TUKKER has amassed a global following with their irresistibly groovy productions and outgoing personalities. From their Grammy-nominated debut album, Treehouse to chart-topping hits like "Sun Came Up" with John Summit, this duo continues to dominate the dance scene as of late. Even during the pandemic they further fostered a deeper connection with their fans via Twitch, hitting an insane streak of performances that ran 300 plus consecutive days. Now, SOFI TUKKER is back with the announcement of their sophomore album, WET TENNIS, as well as the release of the first single, "Original Sin."
WET TENNIS, which is due out April 29 via Ultra/Sony Music, is an acronym for "When Everyone Tries to Evolve, Nothing Negative Is Safe" – which encapsulates the yearning for growth and positivity that Sophie and Tucker are all about. The creation of this album stems back two years, with SOFI TUKKER pulling inspiration from the hardships of the pandemic and carefully piecing together a consciously curated piece of art.
The first taste of the album, "Original Sin," begins with a bouncy house beat and is stamped with colorful lyrics that are sure to be stuck in your head from the first listen. Bringing the track to life is an accompanying music video that features a plethora of dancers and, of course, tennis. In true tennis fashion, the video shows a back and forth between Sophie and Tucker's vocals while cutting to playful seductive scenes between dancers. Ultimately, the video ends in a climax of color with everyone being covered in paint.
Paired with the album announcement is news of the WET TENNIS tour, which starts on May 21 in Washington, DC. From there, SOFI TUKKER will make stops in 19 different cities throughout the US and Canada. The pre-sale for the North American leg starts Tuesday, February 8 and the general on-sale begins Friday, February 11. Links to sign up for pre-sale access as well as general on-sale tickets are located in the list below.
Listen to "Original Sin" on your favorite streaming platform, check out the full list of 2022 tour dates below, and follow SOFI TUKKER on socials to stay up to date on all their upcoming releases!
Watch the music video for SOFI TUKKER's "Original Sin" on YouTube:
---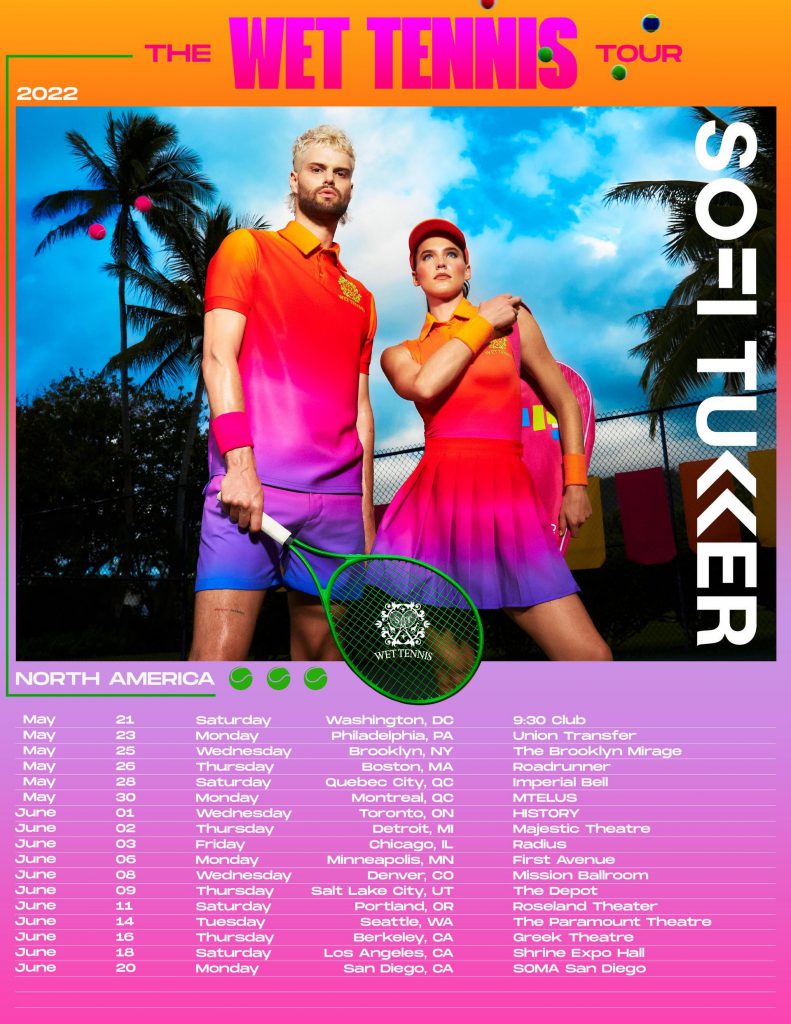 ---
SOFI TUKKER Wet Tennis 2022 – Tour Dates & Venues:
---
Connect With Sofi Tukker on Social Media:
Website | Facebook | Twitter | Instagram | SoundCloud | YouTube | Twitch