Alison Wonderland is hitting the road this spring on the "I am not quite ready to share my album title or artwork yet" tour. 
---
Alison Wonderland isn't afraid of vulnerability. It's her superpower. When you listen to songs like "Fuck U Hate U," "I Want U," "Bad Things," or "Sometimes Love," you hear her raw emotions come through powerfully. Not only does Alison Wonderland produce, but she also sings, plays the cello, and is pretty funny on social media, making her the total package and someone who deserves more recognition in the scene. She continues to give all her counterparts a run for their money, and it's been an honor to see her blossom in a male-dominated industry.
This year, Alison Wonderland is entering a new era. You can see and hear that evolution in her new single "Fear of Dying," a stunning tune that unpacks the brutal reality of anxiety and the crippling fear of losing someone close to you. In addition to releasing new music, the queen herself has more exciting news for fans about her forthcoming tour, and she released it in an unconventional way.
During a FaceTime conversation with her manager, Garth Crane, he insisted that she announces the name of her new album, but she explains it's not the right time. As a result, Alison and Garth agreed to move forward with The "I am not quite ready to share my album title or artwork yet" tour. An iconic tour name for someone who does what she wants when she's ready and we love to see it.
The tour kicks off on March 21 in Puerto Vallarta, Mexico, for the Brownies & Lemonade Spring Break and ends May 11 at the Greek Theatre in Berkeley, California. Along the way, Alison Wonderland will make stops at Ultra Music Festival, Buku Music and Art Project, Ubbi Dubbi, and Forecastle Festival. In addition, cities like Los Angeles, Chicago, and New York can expect new music, lights, visuals, and new stage production in a more intimate setting which will definitely be a delightful treat for all who attend.
While details on support acts are still to come, pre-sale for the "I am not quite ready to share my album title or artwork yet" tour are available now so head over to the official Alison Wonderland website to get your code. Tickets go on sale to the general public on Friday, February 4 at 10am local time.
---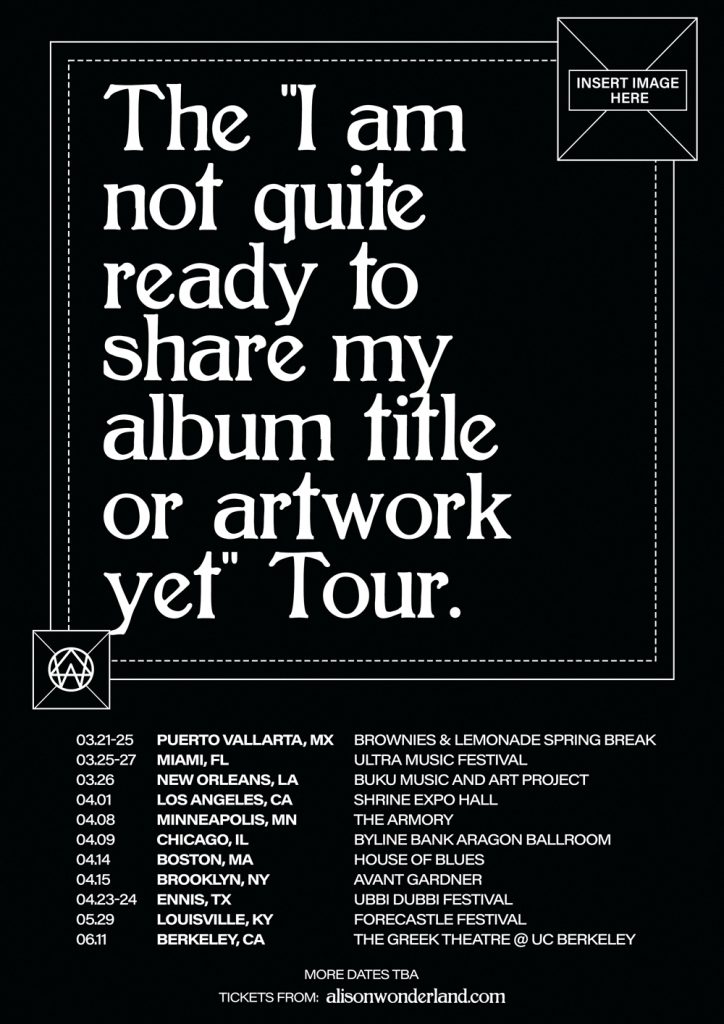 ---
Dates & Venues:
MAR 21 – Brownies & Lemonade Spring Break – Puerto Vallarta, MX
MAR 25 – Ultra Music Festival – Miami, FL
MAR 26 – Buku Music and Art Project – New Orleans, LA
APR 1 – Shrine Expo Hall – Los Angeles, CA
APR 8 – The Armory – Minneapolis, MN
APR 9 – Byline Bank Argon Ballroom – Chicago, IL
APR 14 – House of Blues – Boston, MA
APR 15 – Avant Gardner – Brooklyn, NY
APR 23 – Ubbi Dubbi Festival – Ennis, TX
MAY 29 – Forecastle Festival – Louisville, KY
MAY 11 – The Greek Theatre – Berkeley, CA
---
Follow Alison Wonderland on Social Media:
Website | Facebook | Twitter | Instagram | SoundCloud